Nystagmus Network Open Day 2014

Saturday, 28 June 2014 from 10:00 to 16:00 (BST)
Event Details
Nystagmus Network Open Day
Leicester (UK)
Saturday, June 28, 2014

Welcome to the online booking page for the Nystagmus Network's 2014 Open Day in Leicester on Saturday, June 28. NN Open Days give you the opportunity to learn about nystagmus and meet others affected by this eye condition.
This year's programme includes
Sarah Caffrey -- a paralympian with nystagmus

Experiences of nystagmus -- first-hand accounts from NN trustees of what it's like to live with nystagmus

Parents of children with nystagmus -- a session led by parents for parents


Research -- ask the experts in Leicester and Cardiff about what they're working on

Education -- talk with qualified teachers of the visually impaired about how to support children with nystagmus in school

Nystagmus -- causes, effects and solutions with NN development manager John Sanders
This is your chance to talk to people of all ages who have nystagmus, are parents of children with nystagmus or have a professional interest in nystagmus as teachers, orthoptists, optometrists, rehab workers, etc. We will also make sure you get to meet your neighbours by allocating everyone to tables by postcode or region.

Keynote speaker
Paralympian rower and teacher Sarah Caffrey, who has nystagmus and achromatopsia, will be the keynote speaker in Leicester. Sarah gives a down to earth -- and sometimes funny -- view of what it's like to be visually impaired. She adds that she found Nystagmus Network publications a great help when she was in her 20s.
Sarah follows in the footsteps of international yachtswoman Lucy Hodges who gave our keynote address in 2013 and was awarded an MBE this year. Lucy was described as "excellent and very inspirational" and a welcome relief to parents who had been given only bleak medical assessments of their children's future.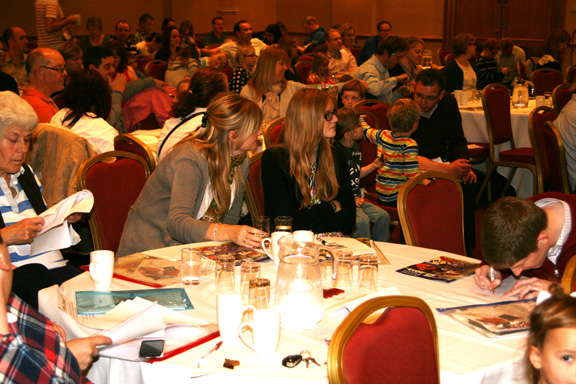 Bristol Open Day 2013

Meet the professionals

This is your opportunity to speak to medics, researchers and other professionals in an informal setting. Leicester University and the Leicester Royal Infirmary are home to probably the biggest nystagmus research team in the UK. We are also pleased to welcome researchers from other centres including Cardiff University's School of Optometry and Vision Science. 
The basics
First time and lots of questions about nystagmus? NN development manager John Sanders (who has wobbly eyes too) will be explaining the causes of nystagmus, the impact of nystagmus and what we can do about nystagmus.

NN trustees will be talking about their experiences of nystagmus too. This is where you can ask questions like what does having nystagmus mean for my job prospects? How do you manage not being able to drive? How does nystagmus affect you in social situations?
Parents
One of our most popular Open Day sessions is the one dedicated to parents of children with nystagmus. Led by parents whose children are now adults, this session shows you that you are far from alone and not the first family to face a diagnosis of nystagmus.
Education
A big area of concern for most parents and young people with nystagmus is education. Join our interactive sesion on education to get answers to questions such as: How do I make sure I'm getting the right support for my child in school? What technology helps in the classroom? How do I cope with bullying or teasing?

Booking and creche

In all, we expect at least 150 people to join us in Leicester. Places are going fast, so book early to avoid disappointment. Especially as we've frozen ticket prices -- so yet again it's £25 for members, £40 for non-members and £10 for young people aged three to 16 years (whether in the free creche or not). Babes in arms are free, but must stay with parents at all times.
If you are a member of the Nystagmus Network (this means you have paid an annual subscription and receive our quarterly Focus newsletter) you are entitled to the discounted £25 ticket price for yourself and EVERYONE in your party. We do have a creche this year and ask that all young children join the creche.

Still undecided about whether to come or not? Here's what people said about last year's Open Day in Bristol:
"Another fantastic day – see you next year! We love hearing about the research and from the academics as well as speaking with other families. – Thank you so much."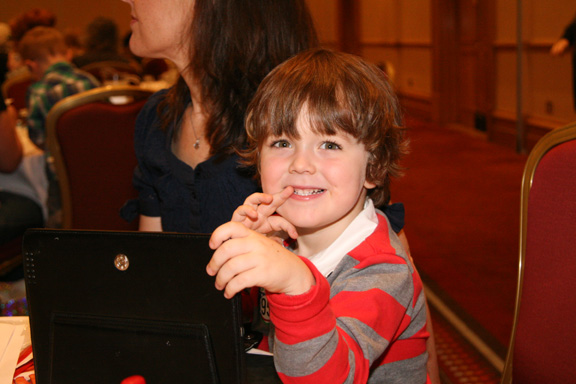 Bristol Open Day 2013

"The best part as a parent of a 6 year old with nystagmus is the opportunity to learn from the experiences of adults with nystagmus and parents of older children with the condition – a unique and invaluable opportunity." 
"Interesting to meet others with nystagmus. Given more information and felt supported."



The venue

The Grand Hotel is in Leicester city centre, only a short walk from the railway station. Ticket prices include refreshments and a buffet lunch. Many of the NN committee (as well as our two staff) will be staying in the hotel on the Friday evening and you are welcome to join us for a meal. Contact Kerry by email at info@nystagmusnet or phone John on 029 2045 4242 for further information.

When & Where

Leicester
Mercure Leicester, The Grand Hotel
Granby Street
LE1 6ES Leicester
United Kingdom


Saturday, 28 June 2014 from 10:00 to 16:00 (BST)
Add to my calendar
Organiser
The Nystagmus Network is a UK registered charity (Charity Commission number 1180450) supporting people affected by nystagmus in the UK. Nystagmus is a complex eye condition, characterised by involuntary movements of the eyes where they appear to wobble or flicker from side to side or up and down. The charity offers support and information to the 1 in 1,000 people at least who are affected by nystagmus, whilst also leading research into the condition to find a potential treatment.
Website: nystagmusnetwork.org
Email: info@nystagmusnet.org