OAKRIDGE STRIDE NETWORKING EVENT WITH SPEAKERS PANEL - Building Emotional a...
Description
We would like to personally invite you to our event on the 27th June, at Great John Street Hotel, in Manchester City Centre:

4.30pm arrival
4.45pm - 6.15pm panel discussion
Networking and drinks with nibbles - 6.15pm to 7.00pm

The topic is: BUILDING EMOTIONAL AND MENTAL RESILIENCE

Have you ever worried that you might not deliver? Do you ever contemplate how you got to where you are and asked the question, 'What do I know?"

Every person, in their working life, has felt these challenges. It's a common experience for talented people in business in that they often attribute their success to luck, discount their capabilities and fear being exposed as a fraud.

They constantly strive for better results and are generally high achievers as a result. However, this striving can lead to burn-out from an overly driven need to succeed, or fear of failure and being revealed as 'a fraud' can stop them from progressing into more senior positions.

Sheryl Sandberg (COO of Facebook and author of Lean-In: Women, Work, and the Will to Lead) says that; to lean in fully, women need to get comfortable with their success. When we really own and appreciate who we are, then we can denounce the demands of our internal imposter and realise all of our leadership potential.

During this session we will explore:
• Why do we feel like this?
• How does it impact on performance?
• How can we shift the attitudes that underpin it?
• Why successful people doubt their abilities and find it hard to enjoy their success

We will be joined by four very experienced senior women who will share their experiences of:
• finding their feet
• challenging themselves
• raising your profile in a way that feels authentic
• managing self-esteem and self-regard
• building mechanisms for coping "in the moment"
• managing the self-talk

Our panel members are:
Jennie Johnson, MBE – CEO at Kids Allowed

Jennie Johnson MBE, founder and CEO, formed Kids Allowed when she was faced with Hobson's choice whilst looking for childcare for her 2nd child. Not prepared to accept what was already out there, she took her wish list of what fantastic childcare should look like, went off and created it, with her first centre opening in 2005.

In 2016, Jennie was awarded an MBE for services to Apprenticeships.

In 2017 Kids Allowed were awarded Business of the Year (Manchester Evening News), Nursery Group of the Year (Nursery World) and Jennie was awarded CEO of the Year (the first female to win) at the UK Private Business Awards.

In 2018, Kids Allowed opened their 8th settings and topped the Nursery Chains Ofsted League table for quality as the only UK childcare provider to have all inspected settings rated "Outstanding".


Joanne Conway – Diversity, Inclusion and Belonging Strategy Lead at EY UK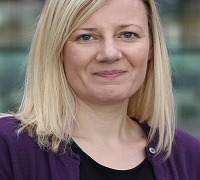 Joanne is based in Manchester and is the primary resource on D&I matters related to key talent processes, recruitment, promotion, performance, and engagement.

Providing strategic consulting and inclusiveness expertise to support our 'highest performing teams' strategy and leadership development at EY.

Joanne is passionate about championing diverse talent and volunteers with the EY Smart Futures programme in Manchester. She is studying part-time for her Masters in HR Management & Development at Salford university as well as the important job of being a mum to two young children.


Karen Campbell-Williams – Tax Partner at Grant Thornton UK LLP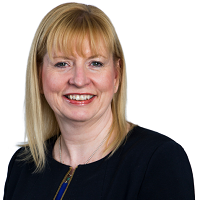 Karen has been tax partner in Grant Thornton for 22 years and led the NW tax practice for over 7 years.

She sits on Grant Thornton's national Partnership Oversight Board and Remco. She has a real passion for developing people and believes it is important to support women through sharing her experience, connections and networks and mentors both women and men within Grant Thornton and externally.

Outside of Grant Thornton, Karen is a member of the NW Development Committee for The Prince's Trust, a governor at Mount St Joseph (Farnworth) and an ambassador for Women in the Law.
Karen, and her husband have 5 children who she describes as undoubtedly their greatest achievement.

The interview panel and discussions will be facilitated by Brigit Egan, Joint Managing Director at Oakridge Training and Consulting:


Brigit has pioneered work with global leadership and management teams in the public, private and not-for-profit sector environments for over 20 years.

Brigit has nine years' Chairman experience including roles as Chair of Common Purposes' North West Advisory Board, Chair of the Institute of Directors Manchester branch, and Vice Chair of Business in the Arts.

She has won the National Network Women of Achievement Award, was listed in Yorkshire Business Insider Magazine as one of Yorkshire's most Influential Business Women and has been shortlisted two years running for Forward Ladies' Inspiring Leader awards and won the Forward Ladies Inspiring Leaders award in 2017.



---
TO BOOK TO ATTEND THE EVENT


To book please go to the link which will take you to our Events booking page:

If you have any questions which you would like to pose to the panel ahead of attending, please send these over for the attention of Deborah.larder-shaw@oakridgecentre.co.uk. There will also be the opportunity to ask questions on the evening directly to the speakers.
Cost:
· £25+VAT for Stride delegates
· £35+VAT for non-stride delegates
· £60+VAT for 2 bookings
· £100+VAT for 4 or more bookings