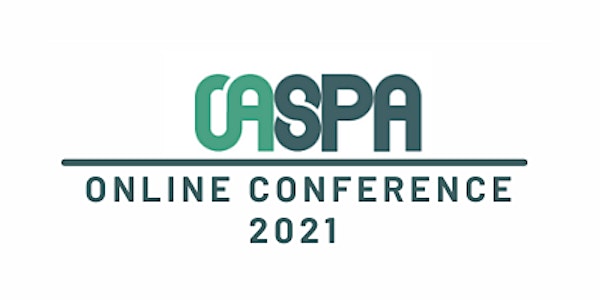 OASPA 2021 Online Conference on Open Access Scholarly Publishing
Refund policy
Refunds up to 1 day before event
Eventbrite's fee is nonrefundable.
OASPA Online Conference on Open Access Scholarly Publishing 2021 Designing 21st Century Knowledge Sharing Systems
About this event
Registration is open for the OASPA 2021 Conference which will take place online during the week beginning Monday 20 September 2021.
The program can be found here and all other information will be available on this page.
The 2021 online conference will address many timely and fundamental topics relating to open scholarly communication. These include, and are not limited to
equity in knowledge and health
preprint impacts 
21st-century knowledge sharing systems 
libraries and pathways to transformation
publishing skills and open research
the intended and unintended impacts of researcher incentives and policies on OA
OASPA 2021 will also offer a forum for collective reflection on the ongoing impact of the pandemic and our endeavours to ensure scholarship is open and accessible to all.
The conference is being discussed on social media using the hashtag #OASPA2021 Enquiries regarding the conference should be directed to events@oaspa.org
____________________________________________________________________________________________________
Registration fees
OASPA wishes to make the 2021 online conference as inclusive as possible. Therefore, the conference is free for
scholar/scientist publisher members of OASPA (Individuals or small groups of scientists/scholars that publish usually a single scholarly journal in their field of study. (The publication process is often largely subsidised by volunteer effort).
Individuals who are not connected to an organization able to fund them.
If you fall into either category, please contact OASPA at events@oaspa.org for a waiver code.
Your registration fee is based on the size of the organization you belong to and whether or not you are a member of OASPA.
(Large organizations are those with revenue over €5,000,000).
Large non-member organization registration – €350.00
Large member organization registration – €275.00
Small non-member organization registration – €150.00
Small member organization registration – €100.00
Individuals (e.g. one-person consultants or unaffiliated individuals) - €50.00
Academic organization registration (incl. small publishers based at academic organizations) - €50.00
Group registration
Organisations registering three full-rate individuals may register further (unlimited) individuals for €50.00 (€25.00 for academic organizations). Please contact events@oaspa.org for a discount code.