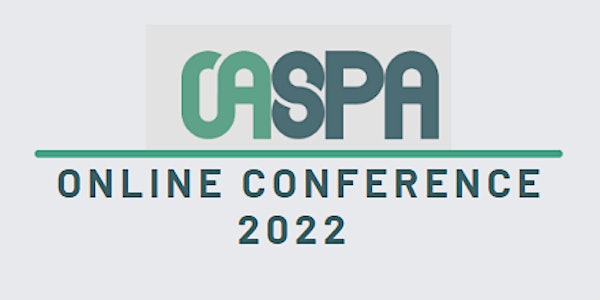 OASPA 2022 Online Conference on Open Access Scholarly Publishing
Refund policy
Refunds up to 30 days before event
Eventbrite's fee is nonrefundable.
OASPA Online Conference on Open Access Scholarly Publishing 2022 Beyond Open Access
About this event
Registration is open for the OASPA 2022 Conference which will take place online Tuesday 20 to Thursday 22 September 2022.
Information about the conference and the program as it evolves can be found on this page.
The 2022 online conference will encourage participants to think Beyond Open Access to equitable open scholarship and science practices and will address many timely and fundamental topics relating to open scholarly communication.
These include, and are not limited to
The University Leadership Role in Delivering Equitable Open Access
Connecting Vision to Practice: what needs to happen to ensure recent recommendations are met
Common Good and Open Access
Humanities and Open Scholarship
Indigenous Knowledge
Open Science Knowledge Amongst Researchers
Has open science failed to influence research assessment?
Pathways to Open Access: Values-based publishing models
OASPA 2022 will be held online to ensure wide participation and the opportunity to welcome everyone for collective reflection on our endeavours to ensure scholarship is open and accessible to all. We are pleased to have been able to freeze registration rates for the third year.
The preliminary program will be announced soon.
____________________________________________________________________________________________________
Registration fees
OASPA wishes to make the 2022 online conference as inclusive as possible. Therefore, the conference is free for
scholar/scientist publisher members of OASPA (Individuals or small groups of scientists/scholars that publish usually a single scholarly journal in their field of study. (The publication process is often largely subsidised by volunteer effort).
Individuals who are not connected to an organization able to fund them.
If you fall into either category, please contact OASPA at events@oaspa.org for a waiver code.
Your registration fee is based on the size of the organization you belong to and whether or not you are a member of OASPA. We are pleased to have been able to freeze registration rates for the third year.
(Large organizations are those with revenue over €5,000,000).
Large non-member/supporter organization registration – €350.00
Large member/supporter organization registration – €275.00
Small non-member/supporter organization registration – €150.00
Small member /supporter organization registration – €100.00
Individuals (e.g. one-person consultants or unaffiliated individuals) - €50.00
Academic organization registration (incl. small publishers based at academic organizations) - €50.00
Supporter Individual or academic organization - €40.00
Group registration
Organisations registering three full-rate individuals may register further (unlimited) individuals for €50.00 (€25.00 for academic organizations). Please contact events@oaspa.org for a discount code.