Description
Join us for an outdoor craft workshop and make a Hazel or Willow Obelisk (plant support) you can be proud of! The workshop takes place at Knights Garden Centre, Chelsham.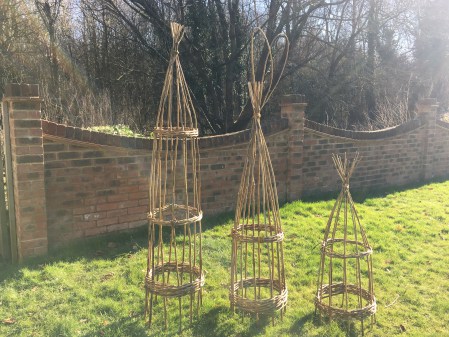 Suitability
The workshop is suitable for adults only. You will be able to work independently or in pairs.
What should I wear?
We recommend you wear comfortable, outdoor clothing and footwear. You may also wish to bring a pair of gloves, to protect your hands. You may also wish to bring something to kneel on, and your own secateurs if you have them. However, don't worry we will have some spare gloves and secateurs for you to use on the day if you don't have your own.
Time
Afternoon Workshop: 1.30 p.m. to 4.00 p.m.
We will start off with a brief introduction and an overview of what to expect from the workshop.
Cost
Adults: £40.00 per person
Gift vouchers can be provided on request.
Refund policy
You may request a full refund up to 7 days prior to the event start date.
Private workshops:
We can also arrange private group bookings (minimum 4 people). If you have any questions or wish to discuss your booking requirements and other potential dates for a workshop then please contact the organiser.

Hedges & Hurdles reserves the right to alter or vary the programme due to events or circumstances beyond its reasonable control without being obliged to refund monies.
If the course is cancelled by the organiser for any reason we will contact you as soon as possible and will always endeavour to reschedule your booking for another date, however, if this is not possible a full refund will be provided.