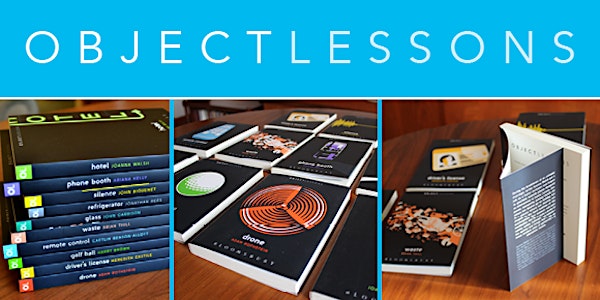 Object Lessons: a conversation about the hidden meaning of ordinary things
Location
Bloomsbury Institute
50 Bedford Square
London
WC1B
United Kingdom
Description
Where does a password end and an identity begin? Do our desires really go on holiday in a hotel? Does wearing a hood mean that rappers and Little Red Riding Hood share the same cultural significance?
Continuing the tradition of Roland Barthes in his 1957 ground-breaking Mythologies, Bloomsbury's new Object Lessons series analyses the popular culture of today. With titles ranging from 'Hair' to 'Hood', and 'Refrigerator' to 'Remote Control', in examining such objects of daily life the books argue that we find new meaning in the world around us.
Join the authors of 'Password', 'Hotel, 'Hood' and 'Earth' as they discuss the stories & inspirations behind everyday objects. They debate that they are more than just objects and instead become animated with a rich history of invention, political struggle, science, and popular mythology. By debating these fascinating details and histories our panel will bring objects in our everyday worlds to life.
Join us for drinks and a chance to buy books from a series at an exclusive discount. Listen to our panel unearth the hidden stories behind these objects in a fascinating and lively discussion!
"Be warned: once you've read a few of these, you'll start walking around your house, picking up random objects, and musing aloud" Steven Johnson, bestselling author of How We Got to Now
"Billed as books about 'the hidden lives of ordinary things… everyone a curiosity; not just an object, but a world in and of itself." Los Angeles Review of Books
Jeffrey Jerome Cohen is Professor of English and Director of GW Medieval and Early Modern Studies Institute at George Washington University, USA. He is the author or editor of 11 books, including Stone: An Ecology of the Inhuman (2015) and Elemental Ecocriticism: Thinking with Earth, Air, Water, and Fire (2015; edited with Lowell Duckert).
Martin Paul Eve is Professor of Literature, Technology and Publishing at Birkbeck College, University of London, UK. He is the author of Open Access and the Humanities: Contexts, Controversies and the Future (2014) and Pynchon and Philosophy: Wittgenstein, Foucault and Adorno (2014).
Alison Kinney is a freelance writer based in Brooklyn, New York, USA. Her writing has appeared online at Paris Review Daily, The Atlantic, Hyperallergic, the New York Times, The New Inquiry, New Republic, Narratively, and other publications.
Joanna Walsh has written for Granta, the London Review of Books, n+1, The White Review, The Guardian, Narrative Magazine, The European Short Story Network, Tate, and others. She is the author of collection of short stories, Fractals, and a visual diary of London, London Walks!, now on its third printing. Her writing has been selected for Best British Short Stories (2014, Salt Publishing).