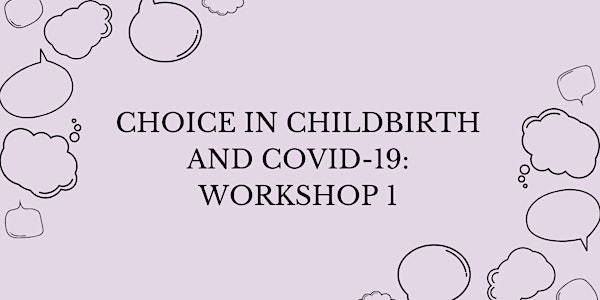 Obstetric Violence during COVID-19: Coerced/Unconsented Vaginal Exams
Choices in Childbirth & COVID-19: Workshop 1 Obstetric Violence during COVID-19: Coerced/Unconsented Vaginal Examinations
About this event
This is the first of two interactive zoom workshops designed to bring people from a range of backgrounds and disciplines together to explore the impact that COVID-19 has had on the experiences of birthing people and the lessons that need to be learned from them.
In this workshop, we will focus on the issue of unconsented/coerced vaginal examinations. We will explore how policies put in place during the pandemic have led to an increase in the number of vaginal examinations being performed without appropriate consent, and we question why this was able to happen.
Participants will collaborating in considering what lessons can be learned from this, and what measures could be put in place to safeguard against such problematic policies being introduced in future.
This workshop will be drawn live by a 'visual scribe' – an artist who specialises in creating drawings that highlight key ideas and themes that emerge during discussions. We hope that will provide a unique and useful account of the conversations which occur, and help to ensure that diverse discussions continue after the event itself.
Format
14:00 - 14.40: The event will begin with a 20 minute introductory talk from Dr Camilla Pickles, who will outline some of the key issues and harms associated with unconsented/coerced vaginal examinations. This will be followed by a short response from Anna Nelson, who will situate the discussion in the COVID-specific context. Participants will then have time to ask any questions.
14:40 - 14:55: Comfort Break
14:55 - 15:30: Participants will be placed into break out rooms to discuss these issues, and to consider what might be done in response. Discussion points, developed by the speaker and organisers, will be provided - though these will be flexible as we are keen for participants to explore other important issues or perspectives which they identify.
15:30 - 16:00: The final part of the workshop will be devoted to drawing the conversations together with a view to considering what can be done to improve the focus on choice in birthing and help reduce coercion/violence during birth.
Dr Camilla Pickles
Camilla is an Assistant Professor in Biolaw at the University of Durham. Her research is focused on women's rights during pregnancy and childbirth, with a particular focus on obstetric violence. She enjoys working in multidisciplinary groups and with organisations dedicated to protecting and promoting women's rights. Alongside Jonathon Herring, she has edited two books which focus on issues of obstetric violence; Childbirth, Vulnerability and Law: Exploring issues of Violence and Control (2019) and Women's Birthing Bodies and the Law: Unauthorised Intimate Examinations, Power and Vulnerability (2020).
Recommended Reading
If you would like to do some reading in advance of the workshops, we suggest the following blogs as a good introduction to the topic:
Anna Nelson, 'Vaginal Examinations, Consent and COVID-19' https://blogs.bmj.com/bmjsrh/2020/05/22/ve-consent-covid/
Rebecca Brione, 'Non-consented vaginal examinations: A hidden violation?' https://www.dur.ac.uk/cells/obstetricviolence/?itemno=42832
Registration for the second workshop - 'Choices during COVID-19: Restrictions on Maternal Request Caesarean Section and Homebirthing' - which will be held on Wednesday 14th April at 6-8pm is also open. Do keep your eye on social media for information about this.
** Please note: this workshop will engage with themes such as obstetric violence and medical / birth trauma. **
Financial support for these workshops has kindly been provided by the Socio-Legal Studies Association.