Ocean Colour Scene plus Special Guests Dodgy
About this event
Bedford Park Concerts are delighted to announce that Ocean Colour Scene will be performing live in Bedford Park on Thursday 9th September 2021 plus special guests Dodgy.
The Birmingham band's story is already the stuff of legend: a rip-roaring rock'n'folk odyssey set to a backdrop of over 20 years of UK pop culture at its very best.
Ocean Colour Scene have notched up nine albums, three of which went Top 5 – 1996's Moseley Shoals, 1997's Marchin' Already and 1999's One From The Modern – and a run of nine successive Top 20 hit singles commencing with 1996's The Riverboat Song.
They supported Oasis at their massive Knebworth shows that same year, and two years later helmed the biggest arena tour of any UK band to date. Their achievements have been nothing short of phenomenal.
From their days as Breton-shirt wearing disciples of The Stone Roses (debut single 'Sway') to million selling Britpop superstars ('Marchin' Already' bumped Oasis' 'What the Story' from the top spot in 1997) to long-term touring allies with Paul Weller, they have always stood shoulder to shoulder with the greats of modern British rock.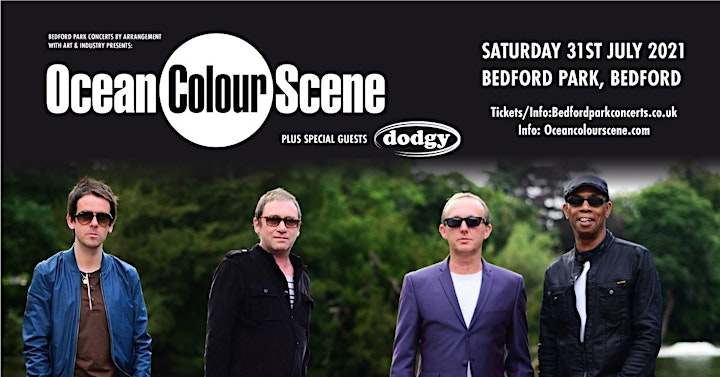 Organiser of Ocean Colour Scene | Bedford Park
LPH CONCERTS & EVENTS
Our portfolio of classical, jazz through to rock and pop artists ensures that there is something for every musical preference, and whether you bring a deckchair and a bottle of wine, or a full picnic complete with candelabra (classical shows only), LPH Concerts will royally entertain you, providing musical choice for the whole family, whatever their age.
As event designers and producers we oversee all aspects of site preparation and management, including building festival sites and temporary structures, site construction, on site logistical and operational management of technical set-up, health and safety, regulatory compliance, risk assessment, emergency protocols, access and egress, parking, transport, trakway, service installation, toilets, wi-fi, staffing, catering, guest management, ticketing, licensing, security, trouble-shooting, VIPs, filming and photography, press management, PR, ensuring the event runs smoothly back and front of house.
So, with a great range of concerts from classical events with stunning firework and laser shows to some of the top musical acts in the country, LPH Concerts have something for all tastes and all the family.