Event Information
Refund policy
Contact the organiser to request a refund.
Eventbrite's fee is nonrefundable.
Doing an Art Challenge this October? Get support, encouragement, tips, tricks and solidarity. You can do it!
About this event
October is traditionally the month of Art Challenges. Challenge yourself to draw every day for the entire month of October with the aid of a prompt list and a community of artists doing the same thing. Daily drawing will not work for everyone, the idea is to set an art goal you can manage and try to stick to it. We will help you reach your goal!
Week 1: Decide what challenge you want to do and take The Pledge!
Weeks 2 - 5: Check-in and review the week. How did you do? What would help you?
Plus: Inspiration and Art demos.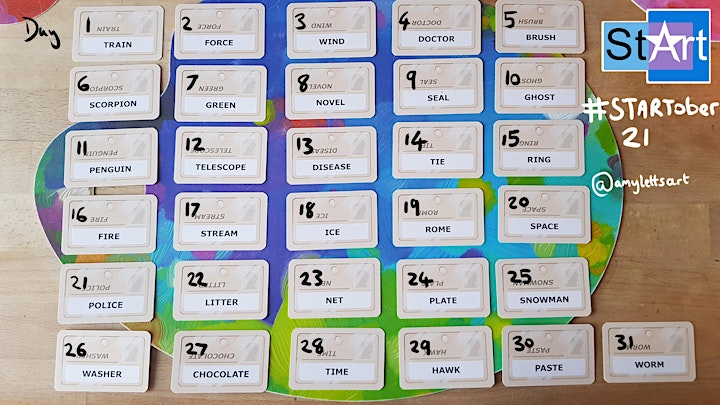 I've created my own Art Prompt List for every day in October 2021. It was generated by randomly drawing cards from the Board Game: Codenames. Feel free to use it and post to social media with the hashtags #startober and #startober21
However, you are free to use any art prompts you like or make your own!
Popular challenges happening in October include: artober, drawtober, drawlloween, printoctober, catober, inktober, witchtober, monstober, goretober, charactober, linktober and many more.
How to do an Art Challenge
Pick a prompt list (or make one)
Decide on a schedule (e.g. daily, every other day, or weekends only)
Pick a medium (pencil, ink, paint, digital) - Optional but reccommended
Do it!
You can interpret a prompt any way you want e.g. For the prompt 'Train' you might decide to draw Thomas the Tank Engine, an athelete in training, or the back of a wedding drass. It's up to you.
My aim with the 'October Art Challenge Club' is to provide support, encouragement, tips and pep-talks so you can make it all the way through to the end of your Art Challenge.
Location
Refund policy
Contact the organiser to request a refund.
Eventbrite's fee is nonrefundable.