Sales Have Ended
Ticket sales have ended
Thank you for purchasing tickets to attend the October comedy night at 'The Venue', Penwortham Arts Centre.
Sales Have Ended
Ticket sales have ended
Thank you for purchasing tickets to attend the October comedy night at 'The Venue', Penwortham Arts Centre.
Comedian's Joe Zalias and Brian and Krystal are coming to Penwortham for the October Comedy Night. Cerys Nelmes will be the MC.
About this event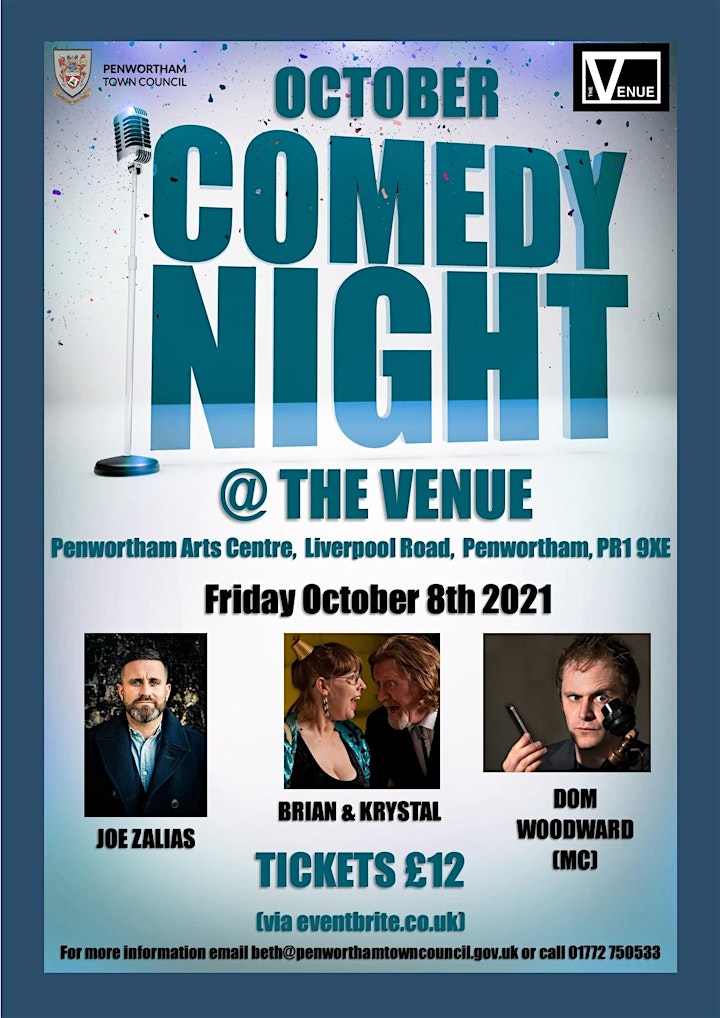 Brian & Krystal
Grumpy old cockney BRIAN DAMAGE met KRYSTAL his glamorous assistant, at THE EDINBURGH FESTIVAL in 2000. They teamed up immediately to record their own excellent CD Silly Songs and form a unique act which they have performed in places as diverse as JOHANNESBURG (South Africa), AUSTRALIA, SCOTLAND, IRELAND, SPAIN, GOZO, DENMARK and all over the UK.
Brian and Krystal have appeared for five years running at THE EDINBURGH FESTIVAL and also performed at international festivals such as GLASTONBURY, LONDON COMEDY FESTIVAL, ADELAIDE & MELBOURNE COMEDY FESTIVALS & WOODFORD FOLK FESTIVAL 2005
Wherever they go their baggage goes with them, including several musical instruments (not always musical in their hands!) and many years of experience in the entertainment industry. Much of this baggage spills forth during their unconventional vaudeville style act, punctuated by occasional silly songs, the odd bit of Spanish dancing and loads of belly laughs.
Apart from regular live appearances Brian and Krystal are not averse to TV, radio or any other media performances. They write scripts and songs and have hosted corporate functions, private parties and are suitable for many types of comedy-based events!
" Legendary Brian Damage and top strangely straight-woman Krystal are a one-off cross-genre act, but they have echoes of The Bonzos, the heyday of music hall and some rather seedy country and western club. Four stars I laughed like a drain" Chortle - Edinburgh Festival
"As daft and charming as they are funny" The Stage
"A Demon set and staggering stage presence." The Big Issue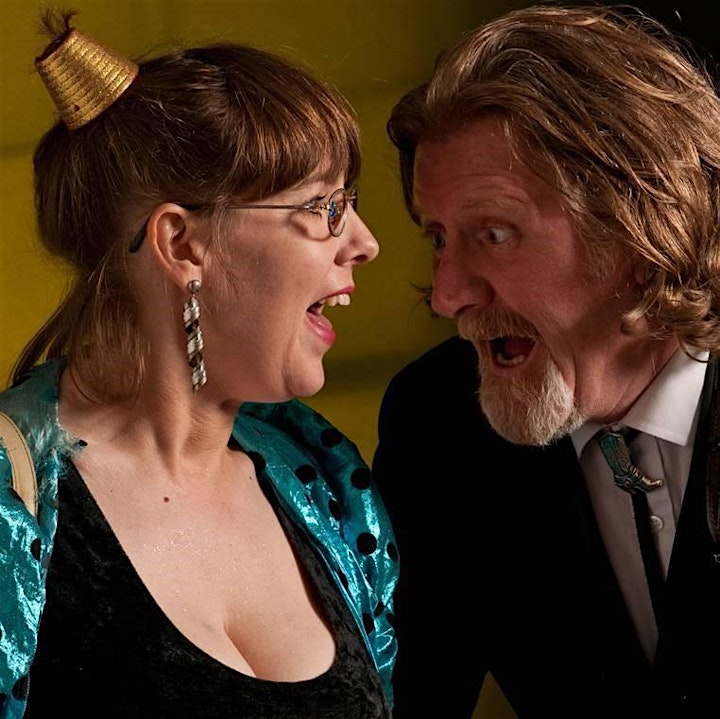 Joe Zalias
Joe Zalias has been learning the stand-up comedy craft for over ten years and his hard work has certainly paid off as his memorable stage performances have seen him entertaining audiences nationally and internationally. A devoted father, comedian, author and actor are only an insight into Joe's extensive talents. His life has been somewhat exciting and fascinating as he has ventured down various paths, including cage fighting, assisting a crime organisation, and working as a firefighter. Joe's life experiences have enabled him to put pen to paper and write two successful crime novels.
Having such a varied life, Joe has projected his experiences through dark and cutting humour, which have led him to supporting established comedy acts like Bill Bailey and Tom Stade on their tours.
Here is a stand-up comedian with a wide range of talent, which is why Joe's CV is extremely impressive – he has the following TV and performing credits…
• Wannabees ITV
• Britain at Dinner BBC
• Presenter for Spike TV
• International Work for Ted Talent
'
"Exudes natural likeability and charm" Julia Chamberlain – Jongleurs and Chortle
"I loved it – I had tears streaming down my face" Marlon Davies
"I've never seen anything like it. People came in from across the street to see what all the laughing was about." Nottingham Comedy Festival
"Amazing how you grab an audiences' attention. It's like they are hearing a friend telling them a story and they fully buy into it." Junior Simpson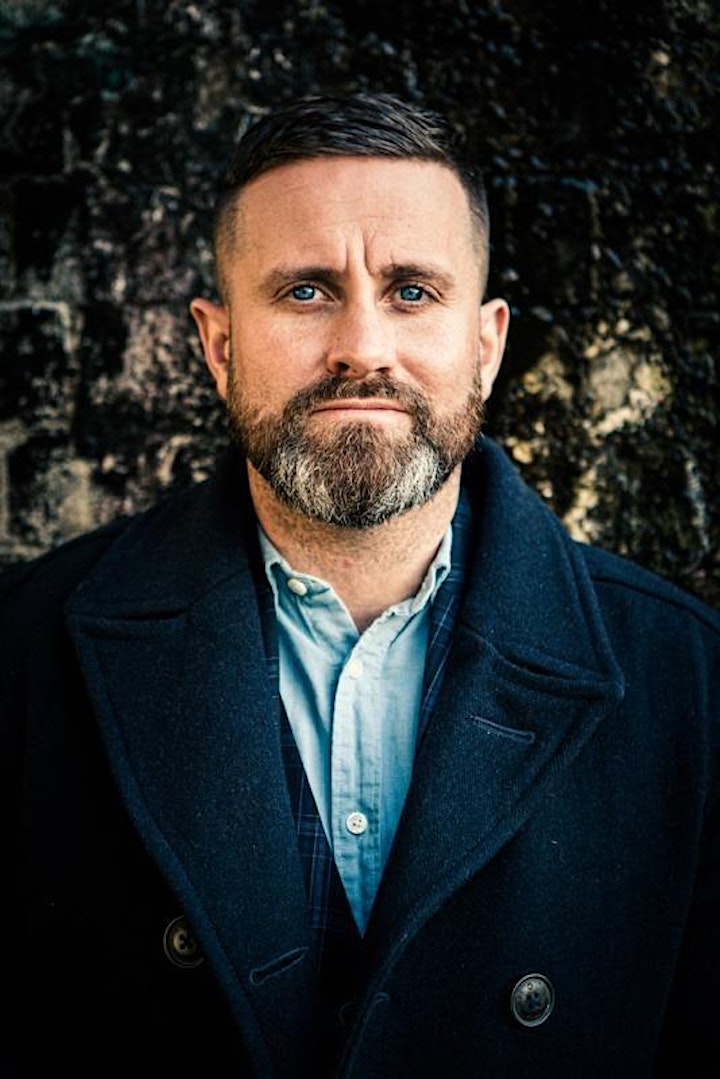 Dom Woodward as MC
From Oldham, Dominic spent 6 years working his way up the McManagement ladder at McDonalds. In 2001 he threw in the McTowel when he saw comedy as a way out of his McJob. Since then he has quickly risen to a regular performer on the professional stand-up circuit. Dom's confident and cheeky (sometimes grumpy) persona charms audiences as he paints images of the quirky people he meets. Always in demand as headliner, support and compare he performs regularly all over the UK.
He has performed live on BBC 2 and ITV and was a regular in MEN@Work The Comedy Store's topical show in Manchester.
Nominated for Best Breakthrough Act at the Northwest Comedy Awards 2004.
His set is a fast paced ride through his life and the things that annoys him most. He explains in sidesplitting detail why he hates driving, gives an invaluable lesson on how to steal from the post office and reveals all about his days behind the McDonalds counter.
"Effortless delivery" The Times
"Engaging material" Manchester Evening News
"Dominic has a keen eye for observational comedy and genuine funny bones." bbc.co.uk
"Insightful and humorous observations." Guardian