Of, For and By the People: The Legal Lacuna of Synthetic Persons
Description
Of, For and By the People: The Legal Lacuna of Synthetic Persons
Dr Joanna Bryson explores the impact of AI on our society, governance and legal processes.
IMI Thematic Semester talk

When: Wednesday 18 April 2018, 2.15 - 4pm

Venue: University of Bath, Building 8 West, Room 2.1

Audience: FREE event at the University of Bath, open to all with a ticket

Computation, unlike mathematics, is a physical process that takes time, energy, and space. Humans have dominated this planet's ecosystem by learning to share and consolidate the outcome of their individual computation in an unprecedented way. Now we have augmented this processing with artificial intelligence (AI) and other information communications technology (ICT). The impact on our society is so spectacular that our institutions are struggling to keep pace, including the social sciences that might otherwise help us understand the promises and risks of our new situation. In this talk I will describe the theoretical biology of increasing communication between intelligent agents, and suggest changes to our individual, collective, political, and economic behaviour that might be consequences of the increasing presence of AI in our lives. I will also make policy recommendations particularly concerning governance of and legal status for ICT, economic redistribution, individual and collective security, and intellectual diversity.
Programme
2.15pm Seminar
3.00pm Question and Answer session
3.30pm Refreshments and time for continued discussion
4.00pm Close

Dr Joanna Bryson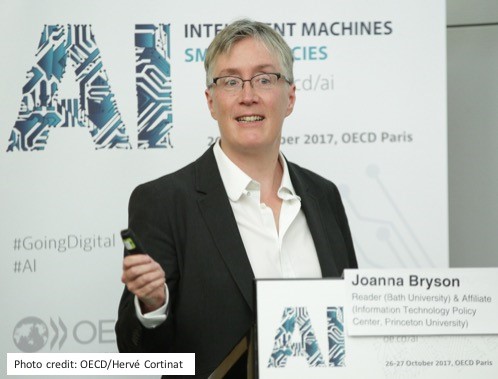 Dr. Joanna Bryson is an Associate Professor in the Department of Computer Science at Bath University, and affiliate at Princeton Center for Information Technology Policy. Dr. Bryson holds degrees in Psychology from Chicago and Edinburgh, and Artificial Intelligence from Edinburgh and MIT. Her research covers a broad range of topics from artificial intelligence, autonomy and robot ethics, and human cooperation. She has worked in AI ethics since 1996 and helped author the UK Research Councils' 'Principles of Robotics' in 2010. Dr. Bryson is an AXA Research Fund awardee, having been granted funding to conduct a series of unique experiments on how people interact with humanoid robots (http://www.bath.ac.uk/research/news/2017/10/12/humanoid-robot-tests-to-explore-ai-ethics). In 2017 alone, she has consulted to The Red Cross on autonomous weapons, Chatham House on the impact of AI on the nuclear threat, and is currently advising the British Parliament, European Parliament, and the OECD regarding the regulation of AI.
This event is free to attend, but please register prior to the event. For further information please email n.fenn@bath.ac.uk or visit the IMI webpage.
This event is part of the IMI Thematic Semester Machine Learning: Algorithms and Ethics and is arranged by both IMI and the Department of Computer Science at the University of Bath.