Looking at similarities and lessons learned from the Jewish experience of off-shore detention in the context of the UK's recent proposals
About this event
How do current proposals to create offshore detention centres for those seeking asylum in the UK square in with Britain's international human rights obligations? How do they relate to historical Jewish experiences? What alternatives do we have?
The panel will place recent government proposals to create off-shore detention centres for people seeking asylum in the UK in the historical context of the Jewish experience of deportation to Cyprus and Mauritius, and in the modern-day context of Australian off-shore detention centres. Finally, we will discuss alternative policy changes to improve the asylum-seeking mechanisms currently in place.
After short presentations by the panellists, we will open the floor to your questions and comments. The event will also be streamed live on our Facebook page.
About the Panellists:
The panel will begin with a keynote speech by René Cassin Executive Director Mia Hasenson-Gross. Mia has worked for Amnesty International as International Projects Advisor where she acquired in-depth knowledge of international human rights work and experience in human rights education, campaigning and organisational development. Prior to joining the staff of Amnesty, she was Managing Director of the Hanan Aynor Foundation for Ethiopian Immigrant Students in Jerusalem and was Chairperson of Amnesty International's Israel Section.
Dr. Lucy Mayblin is a Senior Lecturer in Political Sociology at the University of Sheffield, whose research focuses on asylum, human rights, policy-making, and the legacies of colonialism. She is the author of Asylum After Empire: Postcolonial Legacies in the Politics of Asylum Seeking (2017) which won the British Sociological Association's Philip Abrams Memorial Prize in 2018, Impoverishment and Asylum: Social Policy as Slow Violence (2019), and Migration Studies and Colonialism (with Joe Turner, 2020). Moreover, her work has been published in a wide range of journals and in 2020 she was the recipient of the Philip Leverhulme Prize in recognition of the "significant international impact" of her research and her "exceptionally promising future trajectory".
Dr Savitri Taylor is an Associate Professor in the Law School at La Trobe University (Melbourne, Australia). For the past 30 years, she has been researching and publishing on refugee law and asylum policy at the national, regional and international level. Her current major research project (in partnership with Dr Klaus Neumann) is titled 'Protecting Non-Citizens: An Australian legal and political history, 1945–1989'. Dr Taylor is also very involved with the refugee sector in Australia, being, among other things, a member of the Management Committee of the Refugee and Immigration Legal Centre Inc.
The Bintivey Ha'Apala Information Centre at the Atlit Detention Camp was founded in 1987 to document the personal story of each and every Jewish 'clandestine immigrant', whether they came by sea, overland or by air, whether they were captured by the British or not. Senior Archivists at the Centre will join us to share the story of British offshore detention of Jewish asylum seekers on Cyprus and Mauritius.
René Cassin Ambassador, Stav Salpeter, will facilitate the panel conversation. Stav studies International Law at the University of Edinburgh and researches international human rights violations in support of the pro bono work of EIJI. She has previously worked with refugee and immigrant communities in Norway with the Red Cross and KBM.
About the Host: René Cassin promotes and protects the universal rights of all people through drawing on Jewish experiences and values. We make a compelling case for human rights values and campaign for change in defined human rights areas through a combination of advocacy, policy analysis, public campaigning, and education.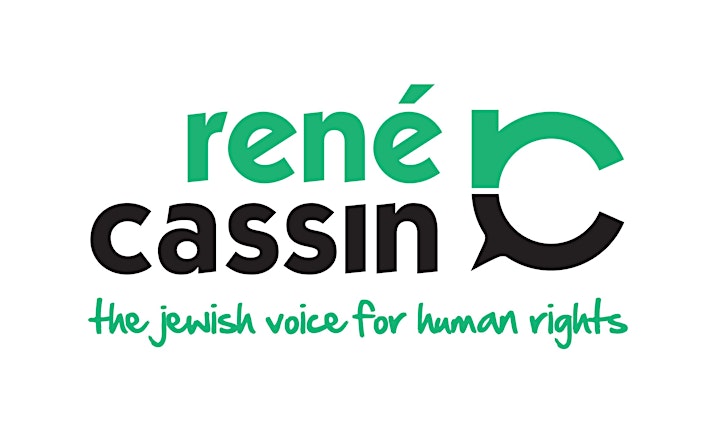 Organiser of Off-Shore Immigration Detention: Jewish History & Future Trajectories
René Cassin promotes and protects universal human rights drawing on Jewish experience and values.
We do this through a combination of advocacy; policy analysis; public campaigning and education; and building the capacity of activists and lawyers to promote and protect human rights.
Our current campaigns include:
highlightling the evils of modern slavery and human trafficking
calling for a 28-day time limit to immigration detention
solidarity with discrimination faced by the UK's Gypsy, Roma and Traveller communities
opposing hate speech and hate crime
speaking out against China's genocidal treatment of its Uyghur Muslims
underlining the vital role of the Human Rights Act and the European Convention on Human Rights in helping ordinary people in everyday situations