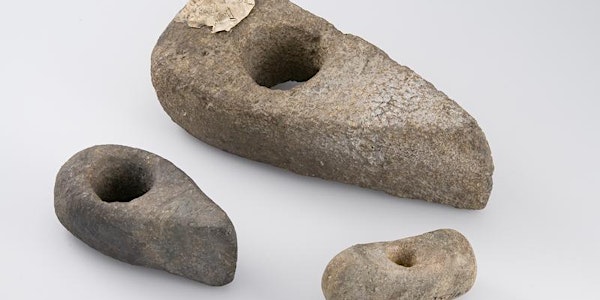 Offer Carreg Cynhanesyddol | Prehistoric Stone Tools
Offer Carreg Cynhanesyddol - Diwrnod Astudio Ar-lein | Prehistoric Stone Tools – Online Study Day
About this event
Yn newydd ar gyfer 2021 - diwrnodau astudio ar-lein
Ymunwch â churaduron archaeoleg arbenigol o Amgueddfa Cymru am olwg fanwl ar offer carreg Cynhanesyddol yn y diwrnod astudio ar-lein hwn. Mae'r digwyddiad hwn yn rhan o Ŵyl Archaeoleg y CBA.
Fel deiliad tocyn bydd gennych fynediad at:
Gweminar byw gyda'n curaduron archaeoleg; Dr Elizabeth Walker a Mark Lodwick.
7 modiwl astudio wedi eu recordio o flaen llaw i chi weithio drwyddyn nhw yn eich amser eich hun.
Adnoddau y gellir eu lawrlwytho i'ch helpu chi i ddatblygu eich astudiaethau yn y pwnc.
Ymunwch a grŵp Facebook preifat yn ystod y digwyddiad. Gallwch ofyn cwestiynau, uwchlwytho lluniau o'ch canfyddiadau ar gyfer adnabod, a rhyngweithio gyda chyfranogwyr eraill.
Gweminar Byw: dydd Sadwrn 17 Gorffennaf 5-6.30 pm BST:
Ymunwch â churaduron archaeoleg Amgueddfa Cymru, Elizabeth Walker a Mark Lodwick, ar gyfer gweminar anffurfiol a llawn gwybodaeth, yn trafod projectau maen nhw wedi gweithio arnynt. Bydd cyfle am sesiwn cwestiwn ac ateb ar y diwedd. Bydd y pynciau a drafodir yn cynnwys:
- Pwysigrwydd adrodd a chofnodi offer carreg.
- Mae astudiaethau achos o Gymru, gyda darganfyddiadau gan bobl gyffredin, wedi arwain at wybodaeth newydd pwysig am fywydau pobl y cyfnod Cynhanesyddol:
- Dagr Abertawe
- Project cerdded caeau yng Nghas-Gwent, Sir Fynwy
- Burry Holms, Abertawe, project ymchwil
- Canfyddiadau o Fforestydd Cymreig
Modiwlau astudio:
Sut i Adnabod Offeryn Carreg Cynhanesyddol: Dysgwch i adnabod y gwahaniaeth rhwng offeryn carreg cynhanesyddol a darn o garreg sydd wedi torri'n naturiol.
Creu offeryn carreg: Yr ysglodiwr fflint medrus Karl Lee sy'n dangos sut i greu bwyell llaw.
Offer paleolithig (Oes y Cerrig Cynnar): Edrych ar rai o'r offer carreg hynaf sydd wedi cael eu darganfod yng Nghymru
Offer mesolithig (Canol Oes y Cerrig): Darganfod offer llafn bach helwyr-casglwyr-pysgotwyr Cymru.
Offer Neolithig/Oes yr Efydd: Oddeutu 4,000 CC dechreuodd pobl yng Nghymru ffermio cnydau a da byw. Archwiliwch y newidiadau o ran ffurfiant offer carreg yn ystod y cyfnod hwn.
Nid yw pob offeryn carreg wedi ei lunio o fflint: Edrych ar fwyelli carreg, pennau pastynau a mwy.
Cofnodi offer carreg: Trosolwg o sut mae archaeolegwyr yn dadansoddi, trefnu a chofnodi cydosodiadau offer carreg.
Gwybodaeth Bwysig:
Mae'r digwyddiad hwn wedi ei anelu at gynulleidfa o oedolion gyda diddordeb amatur brwd yn y pwnc - Nid oes angen meddu ar wybodaeth arbenigol i gymryd rhan. Gall oedolion ifanc a phlant iau gymryd rhan hefyd gyda pheth cymorth. Prynwch un tocyn fesul aelwyd.
Nifer cyfyngedig o docynnau sydd ar gael. Rhaid archebu tocynnau o flaen llaw.
Bydd deunydd digidol y digwyddiad a fydd wedi ei recordio o flaen llaw ar gael i ddeiliaid tocynnau o 9am ar ddiwrnod y digwyddiad a 5pm ar ddydd Llun 19 Gorffennaf. Gallwch fwynhau'r modiwlau yn eich amser eich hun ac mewn unrhyw drefn.
Caiff y gweminar byw ei recordio a bydd ar gael i 'wylio eto' am weddill y digwyddiad.
Y cyfraniad a awgrymir ar gyfer y digwyddiad hwn yw £10. Fodd bynnag, rydym yn deall y gall £5 fod yn fwy addas ar gyfer myfyrwyr, neu'r rheiny ar incwm cyfyngedig. Byddem yn croesawu cyfraniadau o £15 gan y rheiny sy'n awyddus i gefnogi gwaith Amgueddfa Cymru, ac sy'n hapus y bydd yr help ychwanegol yn helpu eraill i gael mynediad at y digwyddiad hwn.
Bydd yr holl ddeunyddiau ac adnoddau fydd wedi eu recordio o flaen llaw ar gyfer y digwyddiad ar gael yn ddwyieithog (Cymraeg a Saesneg). Bydd cynnwys byw a rhyngweithio ar y Cyfryngau Cymdeithasol gan ein Curaduron arbenigol yn cael ei gyflwyno yn eu hiaith gyntaf, sef Saesneg.
Drwy brynu tocyn, rydych yn cytuno i'n Telerau ac Amodau ar gyfer Digwyddiadau Ar-lein. Er mwyn sicrhau bod y digwyddiad yn un diogel a braf i bawb, ymgynefinwch â hyn o flaen llaw.
Nodwch hefyd y telerau ac amodau canlynol sy'n benodol ar gyfer y digwyddiad hwn:
Nid oes modd i ni gynnig prisiadau ar gyfer unrhyw wrthrych fel rhan o'r digwyddiad, nac ar unrhyw adeg wedi hynny.
Ni fydd unrhyw fasnachu, hysbysebu na gweithgarwch masnachol yn bosib fel rhan o'r digwyddiad hwn. Dylid defnyddio'r grŵp Facebook fel adnodd astudio. Caiff unrhyw negeseuon o'r natur hwn eu dileu gennym.
Eich tiwtoriaid:
Astudiodd Dr Elizabeth A. Walker archaeoleg ym Mhrifysgolion Lancaster a'r Drindod Dewi Sant, Llanbedr-Pont-Steffan, lle y datblygodd ddiddordeb mewn cynhanes cynnar ac offer carreg. Mae wedi gweithio i Amgueddfa Cymru ers 1986, a hi yw Prif Guradur Casgliadau a Mynediad ac Archaeoleg Mesolithig yno ar hyn o bryd. Mae Elizabeth wedi gweithio ar sawl project ymchwil ogofâu, gan gynnwys Ogof Pontnewydd ac Ogof Hoyle's Mouth, ac wedi arwain ei chloddiadau ei hun yn Ogof Cathole ynghyd â'r safle Mesolithig cynnar ar Burry Holms, Gŵyr.
Graddiodd Mark Lodwick mewn archaeoleg o Brifysgol Caerdydd cyn gweithio gydag Amgueddfa Cymru ar waith maes a phrojectau ar ôl cloddiadau. Yn ddiweddarach, catalogiodd Mark elfennau o'r casgliadau astudiaethau Cynhanesyddol yn Amgueddfa Cymru, cyn dechrau gwaith gyda Chynllun Henebion Cludadwy yng Nghymru er mwyn cofnodi arteffactau archaeolegol a ganfuwyd gan aelodau o'r cyhoedd.
Yn fwy diweddar mae Mark wedi dechrau gweithio gyda Phrifysgol Caerdydd yn goruchwylio cloddiadau gwaith maes ar fryngaerau Oes yr Haearn yn Yr Almaen a dysgu ffotograffiaeth i fyfyrwyr archaeoleg a chadwraeth archeolegol.
----------------------------------------------------------------------------
New for 2021 – Online study days
Join specialist archaeology curators from Amgueddfa Cymru - National Museum Wales for an in depth look at Prehistoric stone tools on this online study day. This event is happening as part of the CBA Archaeology Festival
As a ticket holder you will have access to:
A live webinar with our archaeology curators; Dr Elizabeth Walker and Mark Lodwick.
7 Pre-recorded study modules for you to work through at your own pace.
Downloadable resources to help you develop your study in this subject.
Join a private Facebook group for the duration of the event. You can ask questions, upload images of your finds for identification, and interact with other participants.
Live Webinar: Saturday 17 July 5-6.30 pm BST:
Join Amgueddfa Cymru - National Museum Wales archaeology curators Elizabeth Walker and Mark Lodwick, for a relaxed and informative webinar discussing projects they have worked on. There'll be a chance for Q& A at the end. Topics covered will include:
- The importance of reporting and recording stone tools.
- Case studies from Wales, where finds made by people doing everyday things, have led to important new information about the lives of people during Prehistory:
- The Swansea Dagger
- Fieldwalking project at Chepstow, Monmouthshire
- Burry Holms, Swansea, research project
- Finds from Welsh Forests
Study modules:
How to identify a Prehistoric stone tool: Learn to recognise the difference between a prehistoric stone tool and a naturally fractured piece of rock.
Making a stone tool: Skilled flint knapper Karl Lee demonstrates how to make a handaxe.
Palaeolithic (Old Stone Age) tools: Examining some of the oldest stone tools that have been discovered in Wales:
Mesolithic (Middle Stone Age) tools: Discover the small blade tool kits of Wales' hunter-gatherer- fishers.
Neolithic/Bronze Age tools: Around 4,000 BC people in Wales began to farm crops and livestock. Explore the changing forms of stone tools during this period.
Not all stone tools are made of flint: Examining stone axes, mace heads and more.
Recording stone tools: An overview of how archaeologists evaluate, sort and record stone tool assemblages.
Important Information:
This event is aimed at an adult audience with a keen amateur interest in the subject – no prior specialist knowledge is needed. Young adults and younger children may also enjoy taking part with some support. Please buy one ticket per participating household
There are a limited number of tickets available. Tickets must be booked in advance.
The pre-recorded digital event content will be available to ticketholders from 9am on the event day and 5pm on Monday 19 July. You can enjoy the modules at your own pace and in any order.
The live webinar will be recorded and made available as a 'watch again' for the remaining duration of the event.
The suggested donation for this event is £10. However, we understand that £5 may be more suitable for students, or those on a limited income. We would welcome donations of £15 from those who are keen to support the work of Amgueddfa Cymru, and are happy that the extra will help others to access this event.
All pre-recorded materials and resources supplied for this event will be available bilingually (Welsh & English) Live content and social media interaction from our specialist Curators will be delivered in their first language, which is English.
By buying a ticket, you are agreeing to our Terms and Conditions for Online Events . To ensure a safe and enjoyable event for all, please familiarize yourself with this in advance.
Please also note the following terms and conditions specific to this event:
We are unable to offer valuations for any objects as part of this event, or at any time thereafter.
No trading, advertising or commercial activity will be possible as part of this event. The Facebook group is intended as a study tool. Any posts of this nature will be removed by moderators.
Your tutors:
Dr Elizabeth A. Walker studied archaeology at the Universities of Lancaster and Trinity Saint David, Lampeter, where she developed her interest in early prehistory and stone tools. She has worked for Amgueddfa Cymru – National Museum Wales since 1986 where she is currently Principal Curator of Collections & Access and Palaeolithic & Mesolithic Archaeology. Elizabeth has worked on many cave research projects, including Pontnewydd Cave, Hoyle's Mouth Cave and has directed her own excavations in Cathole Cave as well as on the early Mesolithic site on Burry Holms, Gower.
Mark Lodwick graduated in archaeology from Cardiff University before working with Amgueddfa Cymru – National Museum Wales on fieldwork and post excavation projects. Later, Mark worked cataloguing elements of the Prehistoric study collections at Amgueddfa Cymru, before beginning work with the Portable Antiquities Scheme in Wales to record archaeological artefacts found by members of the public.
More recently Mark has begun working with Cardiff University supervising fieldwork excavations on Iron Age hillforts in Germany and teaching photography to students of archaeology and archaeological conservation.
Organiser of Offer Carreg Cynhanesyddol | Prehistoric Stone Tools