National Grief Awareness Week 2020 #NGAW20 Official Launch of the BAMEStream Bereavement Support Service
About this event
Official Launch of the BAMEStream Bereavement Support Service
BAMEStream is an alliance of practitioners, therapists, policy specialists, organisations, activists and academia who specialise in the areas of mental health and wellbeing and who's core purpose during this Covid-19 pandemic is to bring the mental health needs of the Black, Asian and Minority Ethnic community into the mainstream.
Covid-19 is having a devastating impact and we have come together to support the development and delivery of mental health and wellbeing services to ensure that the needs of our local communities are being met as a result of this pandemic and crisis.
Together as an alliance we are working to ensure that culturally appropriate therapeutic, psychological and social interventions are integrated in the mainstream, and that they are widely available and accessible.
Hosted by Helen George, Founder of BME Voices Talk Mental Health
Programme
Panel members:
Baffour Ababio, Nafsiyat Intercultural Therapy Centre
Karl Murray, The Ubele Initiative
Dr Yansie Rolston, BAMEStream
Programme:
Opening with a musical arrangement by Alexander D Great
Launch of BAMEStream Bereavement Support Service
Work of BAMEStream
Work of Nafsiyat Intercultural Therapy Centre
Work of The Ubele Initiative in response to Covid-19 & We Need Answers Campaign
Work of BAMEStream
Closing with a musical arrangement Alexander D Great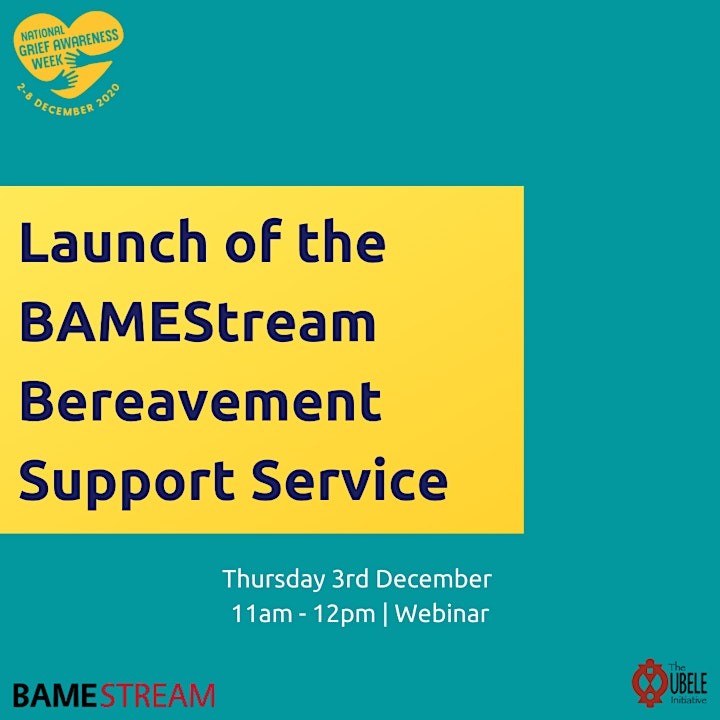 Organiser of Official Launch of the BAMEStream Bereavement Support Service #NGAW20
The Ubele Initiative was founded in 2014, following dialogue with African diaspora leaders. Community-rooted and collaborative in character, Ubele focused on effective solutions to persistent social and economic issues.
Ubele is taken from Swahili meaning "The Future".
As an African diaspora led, infrastructure plus organisation, we believe in empowering Black and Minoritised communities in the UK to act as catalysts for social and economic change. To achieve this, we work with community leaders, groups, and organisations in the UK and beyond to strengthen their sustainability, resilience, and voice.
We support the growth of individuals and community-based groups and organisations through intergenerational leadership initiatives, capacity support, enterprise, and asset development.