OFNC MARRIED COUPLES' WEEKEND AWAY 2019

Friday, 8 February 2019 at 15:00

-

Sunday, 10 February 2019 at 15:30 (GMT)
Event Details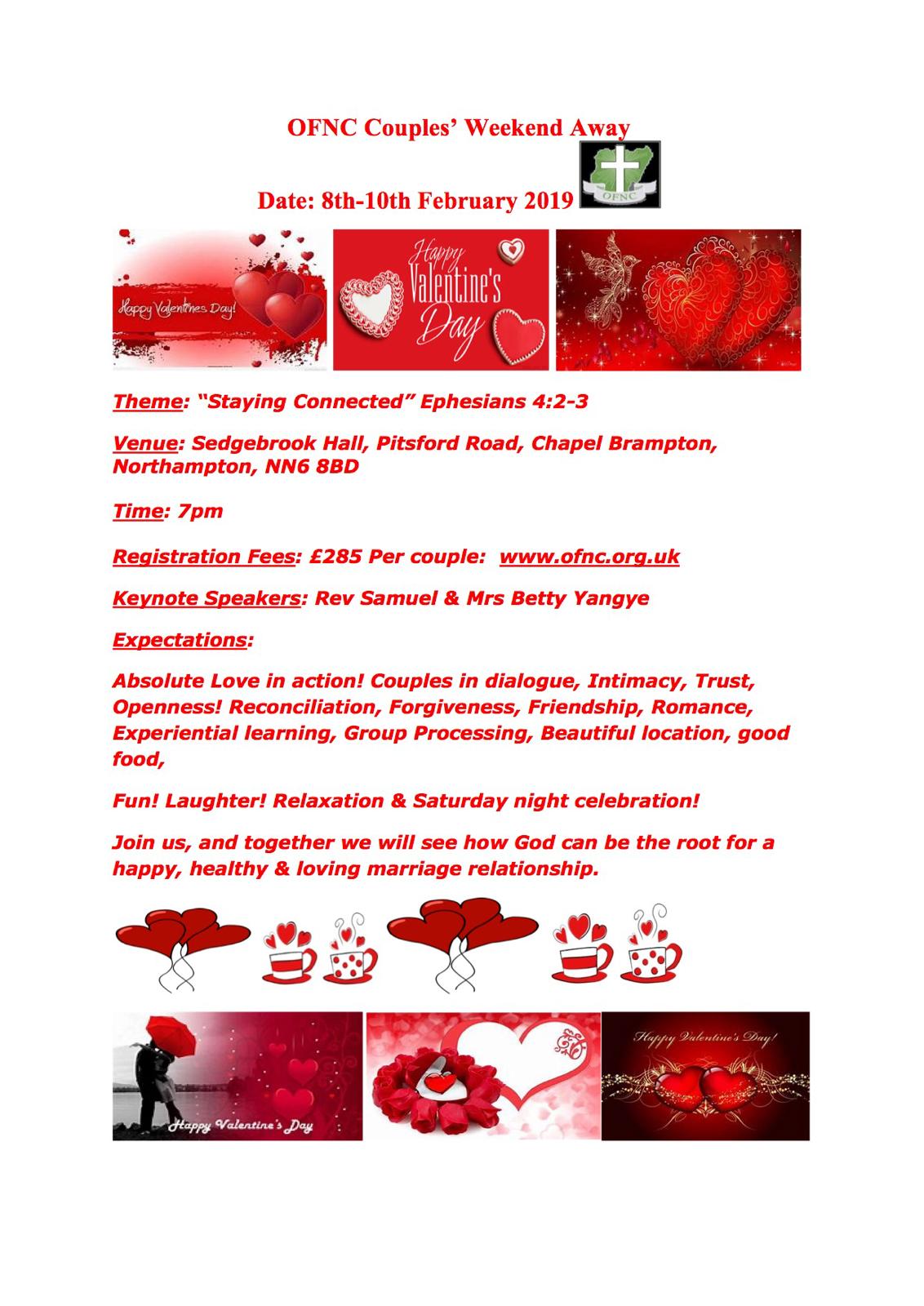 ACCOMMODATION
Accommodation is arranged in accordance with Sedgebrook Hall's provision and rooms will be allocated on a first-come, first-served basis. All rooms are fitted with an en-suite, TV and a phone. Please note that delegates will be respobsible for any exernal phone calls made from their hotel room phone.

CANCELLATION POLICY
The Planning Committee understands that emergency situations may warrant cancellation.Please contact us as soon as possible at women.group@ofnc.org.uk if you wish to cancel your registration. The following fees will apply:

CANCELLATION RECEIVED:
On or before midnight of 20th January 2019 -Full Refund
21st of January - midnight 30th January 2019 - £100.00 administrative fee retained per paying couple

After midnight of 30th January 2019 - No Refund
SPECIAL NEEDS

If you or a member of your family has a special need or disability, please indicate on the registration form. The venue has an accessibility statement which will be made available to all those with special needs or their parents/carers. In addition, the OFNC has a special needs officer. Please email ifeolu.akintunde@ofnc.org.uk for more information. Someone may also contact you to discuss your special need, but this will be done in line with the OFNC's data protection policy and your information will not be disclosed to anyone or any organisation except as necessary to ensure your needs are met.
CONFERENCE TERMS AND CONDITIONS
The completion of the conference registration form confirms that you and your spouse agree to be bound by the implied and explicit terms and conditions of the event.
All enquiry must be sent to women.group@ofnc.org.uk
The NEC has resolved that all fees, including balances due must be fully paid up to guarantee accommodation. No delegate will be deemed registered without the payment of the required full registration fee.
Delegates will be responsible for transporting themselves to and from the conference venue.
Delegates must respect and abide by the instructions of hotel staff, conference officers, helpers or assistants.
No form of insult or assualt towards hotel staff, conference officers, helpers or assistants will be tolerated. In instances of such,OFNC may seek redress through available legal means if necessary.
Delegates will be personally responsible for settling any goods and services charged to their bedrooms. Charges must be paid up in full before checking out.
When & Where

Sedgebrook Hall
Pitsford Road
Chapel Brampton
NN6 8BD Northampton
United Kingdom


Friday, 8 February 2019 at 15:00

-

Sunday, 10 February 2019 at 15:30 (GMT)
Add to my calendar
Organiser
OFNC is a non-denominational Christian charity, predominantly (but not wholly) Nigerians by nature, nurture or affiliation we have a passion for the universality of Christianity. We see Christianity as "a way of life" which grants us access to spiritual gifts principally for service to the body of Christ and humanity at large in completing the 'good works' for which we were created.
The unity and extension of the Church is at the core of our quest and has been the central message in our objectives. We are particularly passionate about the unity of Nigerian Christians in Diaspora as we believe that they are imbued with needful fervour for much needed Christian renaissance. We therefore see the OFNC as complimentary to organised churches hence our providing a neutral interface for cohesive inter-denominational relations. We believe that this is fundamental to propagation of our Christian ideals.
Members are encouraged to avail themselves of the enormous opportunities for service and spiritual development within the OFNC with the goal of being more effective in their local churches. The fellowship's emphasis on this aspiration is encapsulated in our motto; ""Everyone a Faithful Disciple of Christ".
The OFNC, which has its modest beginnings in small house groups started by Nigerian students in the UK in the 1960s, has mushroomed over the years into nineteen branches across the UK with representation in all the major cities. Our focus has been primarily grassroots-based with a commitment to providing 'a family' to every Nigerian Christian, particularly those in multi-national churches.
OFNC continues to proliferate as collaborative and flexible relations with local churches birth new branches in relatively isolated communities thus bringing that much treasured sense of family. We have vibrant ministries for children, youth, women and men all with popular conferences and events. We are of the view that all Nigerian Christians and affiliates should be members of the OFNC. You are therefore welcome to join us as we work towards making everyone an effective agent for change in our community.
Overseas Fellowship of Nigerian Christians (OFNC) reserves the rights to capture images during events hosted and organised by the fellowship using film and digital photography, sound, video or other media. These images may be used on the OFNC website and in other publicity material and communications including social media. OFNC recognises its responsibilities towards children and vulnerable adults.