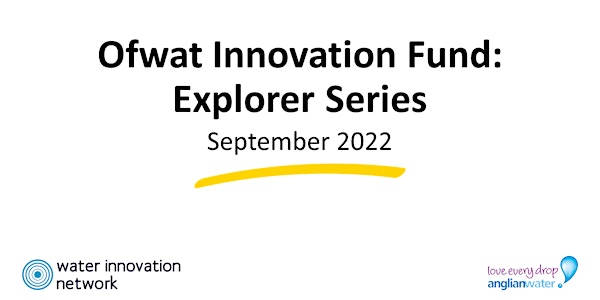 Ofwat Innovation Fund explorer series – September 2022
Join our series to learn more about our experience so far and how we can support you in the all-new open access competition.
About this event
The Ofwat Innovation Fund was launched in January 2021 to help drive a wave of collaboration and innovation through the water industry. Companies across the sector have been encouraged to submit their project ideas to the competition in various rounds with the hopes of being awarded a share of the overall £200 million fund to explore how we can reduce our impact on the environment, drive efficiencies and deliver benefits for our customers.
So far, Anglian Water have secured £17.3 million in funding out of the total £63.6 million awarded to date. We are leading five funded projects and are a named partner on 13 further projects.
The next round of the Catalyst and Transform competitions are launching on 3 October 2022. A new open access competition has been announced, which is due to open from January 2023 and allows anyone to apply for funding for early-stage innovation ideas. The Catalyst stream has slightly more flexibility allowing the drafting of the bid and project management to be run by partners, but must be submitted by a water company. The new competition can be accessed by anyone in the industry and bids can be submitted without a lead water company.
We're hosting a series of virtual lunchtime webinars to explore what the competition updates might involve, our insight into the competition so far and how we might be able to support you to develop and submit a bid in the next round.
Below is a quick introduction to each topic we'll cover. We hope that they will give you all the information we have learned over the past 18 months to help you; they're standalone sessions so you can join us for as many as you like.
7 September 2022, 12-1pm: Competition Insight
Join us to gain insight into the previous rounds of the fund competition and which projects have been successful. We'll also look forward to the future rounds of the competition and discuss how you can get involved.
12 September 2022, 12-1pm: How we can support you
This session will cover not only how the water industry is supporting the competition, but also how we can support you, our value chain, through our Shop Window and the Water Innovation Network.
19 September 2022, 12-1pm: Think beyond the bid
While winning the bid is an exciting part, what happens afterwards is where it really gets interesting! Our final session in the series will focus on what happens once the projects' wheels are in motion. We'll showcase two of our successful bids and talk around mobilisation and delivery.
Each session will be hosted by a range of our colleagues and partners who have a huge amount of knowledge and experience in working with the fund. We've made sure that there is allocated time for Q&A throughout the series with our subject matter experts to make sure the sessions are as valuable as possible for you.
We are very much looking forward to kicking these off and we hope to see you there.