Description
Ogden Trust: Primary Physics Professional Learning (P3L) Conference

Join us for a packed day of professional learning delivered by physics and primary science specialists. Ideal for science co-ordinators.
Course Fee: £20. Payment details will be sent after registration.

Magnetic mathematics
This practical problem-solving workshop demonstrates how maths skills can be developed through teaching the primary science topic of forces and magnets. Delegates will learn how the maths curriculum can be brought to life and made relevant through problem-solving in a science context, providing greater opportunities for children to become immersed in their scientific learning. We will share a number of strategies and resources that can be taken back to school.

Electrifying english
This workshop focuses on how English skills in reading and writing can be developed and practised through the primary science curriculum. Delegates will be shown strategies to support English learning while providing opportunities for children to secure and embed their ideas about electricity and working scientifically. A central theme throughout the workshop will be how different types of scientific enquiry work provide opportunity for developing skill and confidence in reading and comprehension as well as more formal, non-fiction writing styles.

Physics focus - light and sound
This interactive lecture will cover the key concepts of light and sound required by the Key Stage 2 curriculum. Easy to replicate demonstrations will provide the hooks for engaging pupils and delegates will develop skills to deepen their understanding through practical investigations and using questions to promote challenge. The workshop will model many strategies to ensure that 'working scientifically' skills are developed within this subject area.

Creative cosmos
This session shows how to use space as a context for cross-curricular projects. Space is a topic that fascinates our pupils and we will look at ways of incorporating art, creative writing, design & technology, ICT, English and maths in this context. Resources will be provided to help you plan a whole school 'Space Week'.

#P3L2019
@OgdenTrust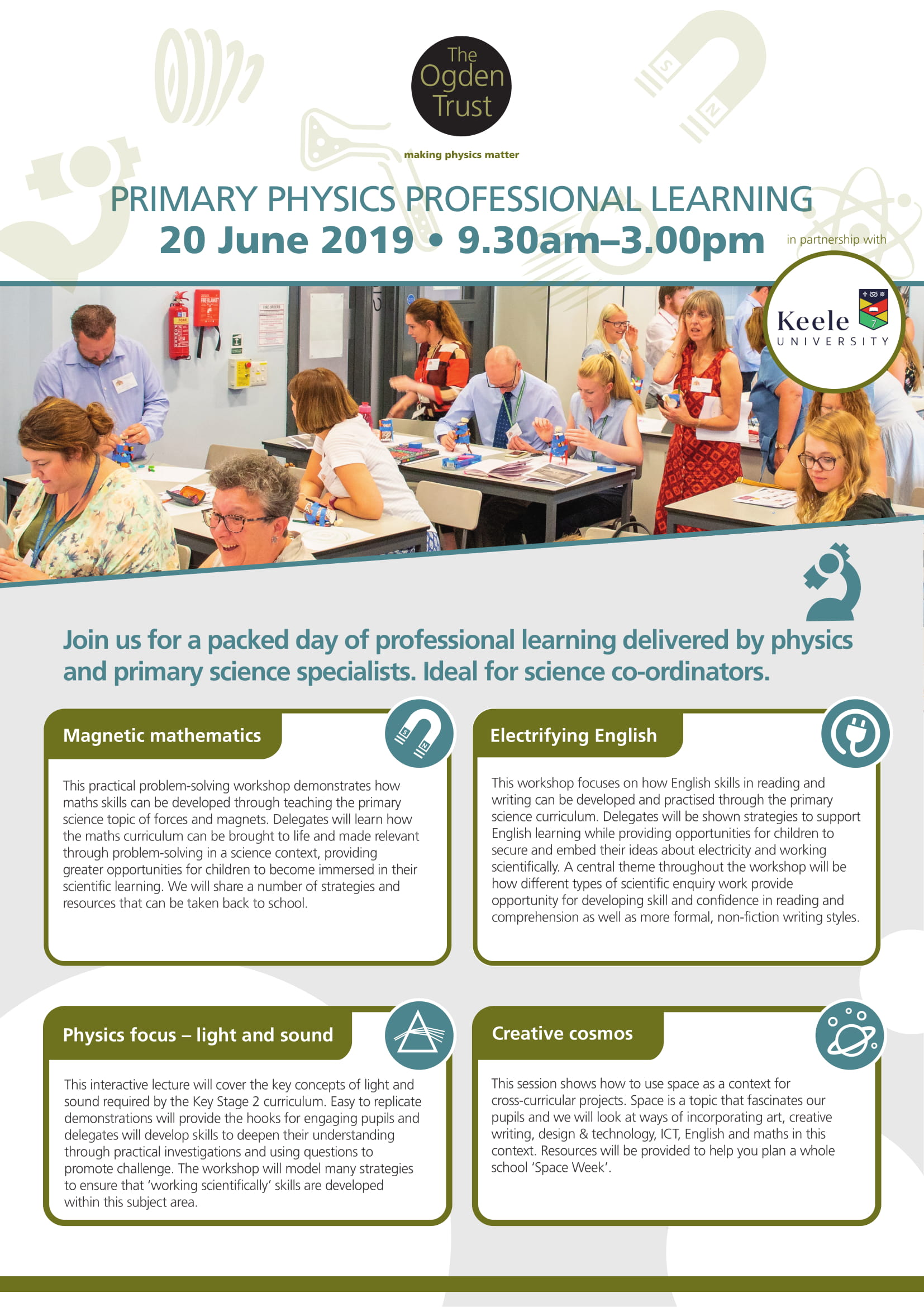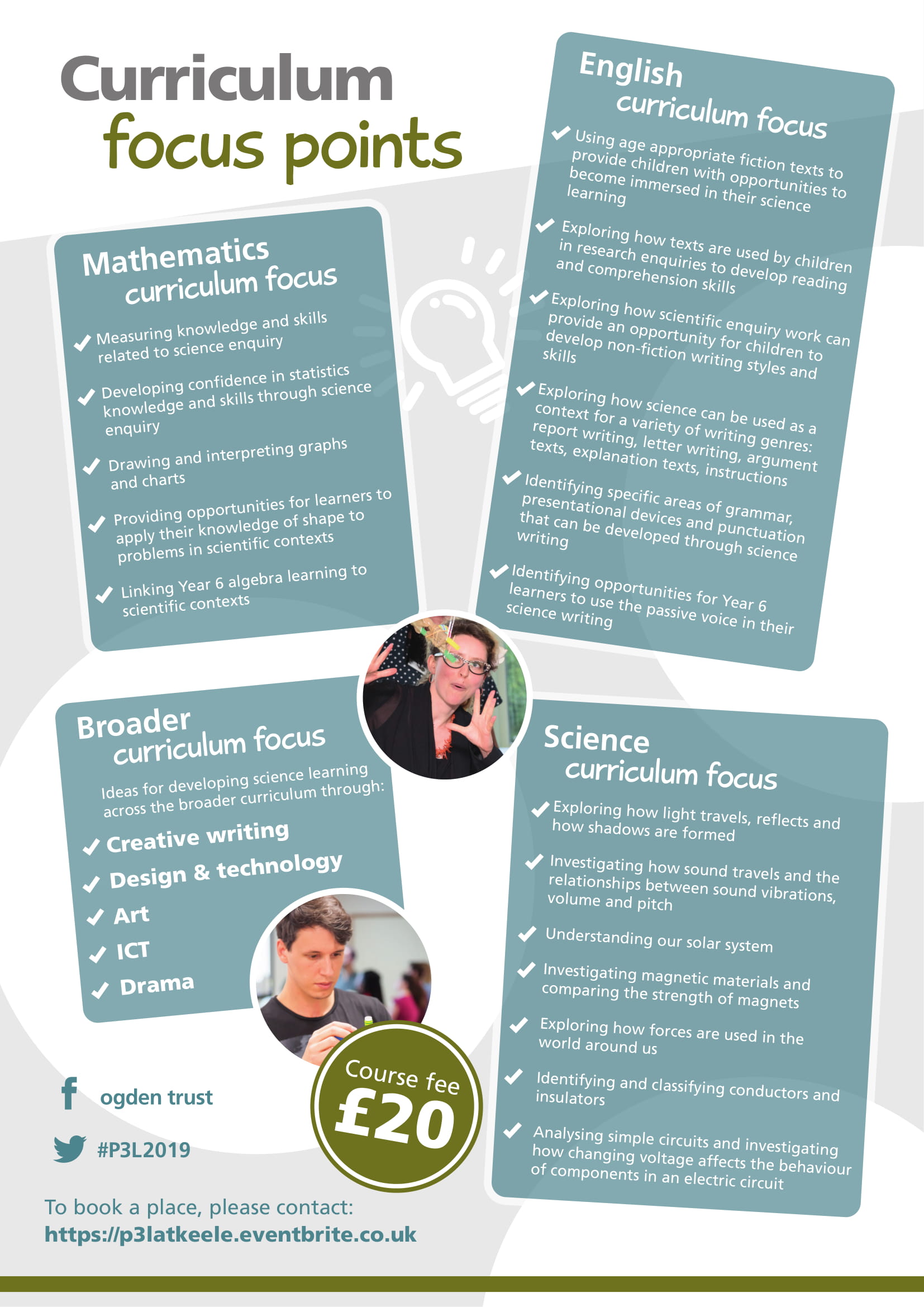 Organiser of Ogden Trust: Primary Physics Professional Learning (P3L) Conference
As an Ogden Outreach Officer, I am uniquely positioned to share my passion and enthusiasm for physics with tens of thousands of people across the West Midlands through innovative, engaging and practical-based science workshops. Not being rigidly bound to the National Curriculum affords me the flexibility to embed the learning within entirely different contexts, which students (and adults alike) can readily relate to. This is hugely beneficial as it highlights to the students the relevance and importance of physics, and science more broadly, in their everyday lives. 

Ultimately, my goal as an outreach officer is not just to increase the number of students studying physics and related subjects at university, although this is of course important if the UK wishes to remain a centre of scientific and research excellence. It is in fact to help create a society with increased science capital. This up-skilling and appreciation for critical thinking, analysis and broader scientific questioning has wide-ranging, positive social impacts which will, in time, benefit us all.