Ogden Trust Primary Physics Professional Learning (P3L+) Conference
Description
Primary Physics Professional Learning course (P3L+)
The Ogden Trust at Eton College
Thursday 5 March 2020
Ideal for science coordinators and primary teachers looking to incorporate more practical physics and scientific skills within their curriculum.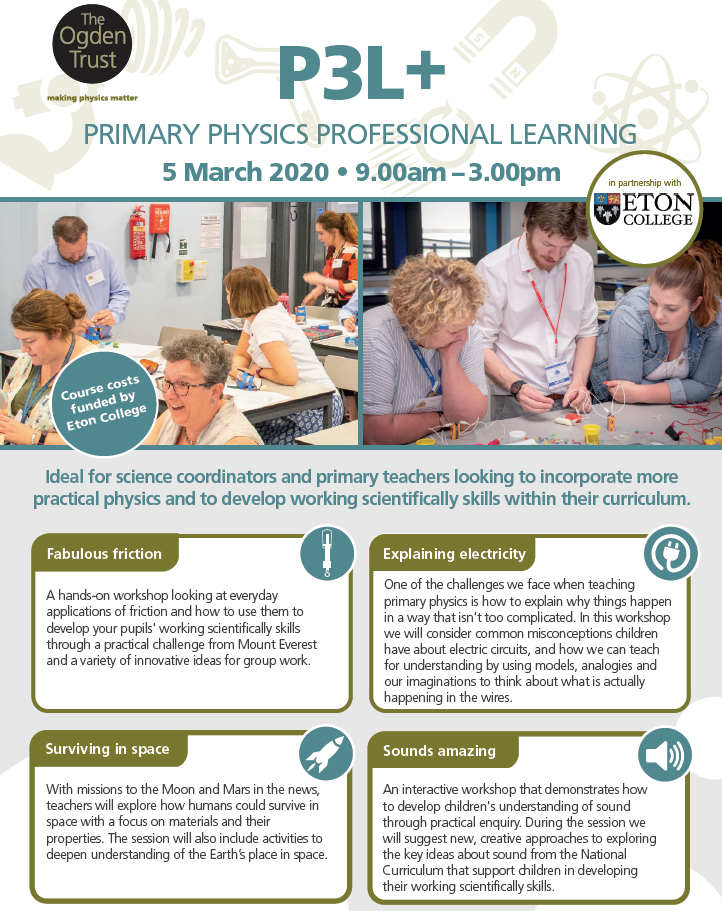 In order to promote the teaching and learning of physics, you are invited to attend the next in Eton College's series of CPD events - Primary Physics Professional Learning course (P3L+) delivered by The Ogden Trust on Thursday 5th March 2020.
The training is open to ALL primary teachers, but would be particularly useful for science co-ordinators.
This free event includes four workshops, lunch and refreshments, all of which are fully funded by Eton College and the Ogden Trust.
There will be four hands-on workshops during the course of the day, all delivered by experts from the Ogden Trust. Each will focus on the teaching of science within your classroom and will use methods which are easy to implement. English, maths and cross-curricular themes will be incorporated in the training (please see below for further information).
The training will take place partly in the cutting-edge teaching and learning space, the Tony Little Centre (devoted to Innovation and Research in Learning), and also in Lower School, the oldest schoolroom in continuous use in the United Kingdom and other historic parts of Eton College.
If you are booking on behalf of someone else, please enter the attendee's name and contact details during registration as this is the information we will be using to create name badges and personalised schedules. Thank you.
We look forward to receiving your booking.
TO FIND OUT MORE WATCH THE VIDEO HERE
SCHEDULE AND WORKSHOP INFORMATION:
08:45 – 09:10 Registration & tea/coffee
09:10 – 09:30 Welcome address
09:30 – 10:15 Workshop A, B, C or D
10:20 – 11:05 Workshop A, B, C or D
11:05 – 11:30 Break: tea/coffee
11:30 – 12:00 Tour of Eton College
12:00 – 12:35 Lunch
12:40 – 13:25 Workshop A, B, C or D
13:30 – 14:15 Workshop A, B, C or D
14:30 – 14:50 Plenary / evaluations
14:50 – 15:00 Closing thanks
Workshop A: Fabulous friction
A hands-on workshop looking at everyday applications of friction and how to use them to develop your pupils' working scientifically skills through a practical challenge from Mount Everest and a variety of innovative ideas for group work.
Workshop B: Explaining electricity
One of the challenges we face when teaching primary physics is how to explain why things happen in a way that isn't too complicated. In this workshopwe will consider common misconceptions children have about electric circuits, and how we can teachfor understanding by using models, analogies and our imaginations to think about what is actually happening in the wires.
Workshop C: Surviving in space
With missions to the Moon and Mars in the news, teachers will explore how humans could survive in space with a focus on materials and their properties. The session will also include activities to deepen understanding of the Earth's place in space.
Workshop D: Sounds amazing
An interactive workshop that demonstrates how to develop children's understanding of sound through practical enquiry. During the session we will suggest new, creative approaches to exploring the key ideas about sound from the National Curriculum that support children in developing their working scientifically skills.