Description
This full-day workshop will provide delegates with an introduction to the fundamentals of EEA free movement law and UK immigration law, and will be of interest to professionals who work with EEA nationals or migrants and who would like a better understanding of the legal frameworks that govern EEA free movement rights and UK immigration applications. We will look at the process that individuals require to complete to apply for visas (entry clearance) from abroad, and some of the considerations in making in-country immigration applications for settlement and British citizenship.
Taken together with OISC Level 1: An Introduction to Asylum and International Protection, this workshop aims to prepare delegates to take and complete the required exams in order to become an OISC Level 1 regulated immigration advisor.
Objectives
By the end of this workshop, delegates will be able to:
Explain the legal framework which governs UK immigration law and EEA free movement rights

Highlight the rights and entitlements of EEA nationals and discuss some ways in which this may change after Brexit

Identify common challenges in framing UK immigration and British citizenship applications and offer practical solutions

Prepare effectively for the OISC Level 1 regulated immigration advisor exams
Target Audience
This workshop will be of interest to professionals who work with EEA nationals or migrants, whether in service delivery or as colleagues in the workplace, for example, in HR positions in the public or private sector, or as an international student advisor in colleges or universities. It may also be of interest to individuals who work in statutory services or third sector organisations who work with asylum seeking, refugee or migrant populations, such as in social work or advocacy services. Finally, it may be useful to individuals who are seeking to add skills and increase their employability by qualifying as a regulated OISC Level 1 immigration adviser.
Facilitator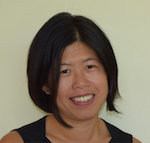 Jen Ang is a Partner/Director of JustRight Scotland and a human rights lawyer with over 12 years' experience qualified to practice in Scotland, England and Wales, and New York State. Jen worked for 5 years in a national law centre in Scotland, where she led a specialist team providing legal advice and representation to asylum seeking and trafficked children and young people across Scotland. She is a legal expert on asylum, human rights and children's rights, and on the rights of survivors of torture, and is regularly asked to speak, and contribute to research, policy and publications in these areas.
---
Terms of Booking: JustRight Scotland may occasionally require to cancel a workshop, change the timing of a workshop, the date, the facilitator or the venue. If we do cancel a course, we will offer a full refund to delegates unless they agree to transfer their bookings to an alternative date. If you are unable to book online with a credit/debit card and would like to be invoiced instead, please ring us on 0141 406 5350 or email Jen at jen@justrightscotland.org.uk.