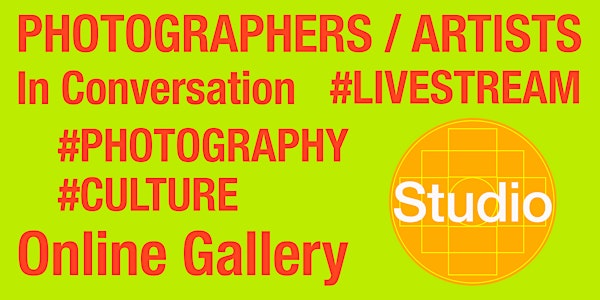 OLGA SUCHANOVA Artist photographer, constructs a solargraphy pinhole camera
Sales Have Ended
Registrations are closed
Studio The Online Gallery dedicated to Photography & Culture. Tickets for this event have ended. To receive email updates about upcoming events and gallery launches, subscribe to our newsletter. Visit our website www.harryfricker.uk
Olga Suchanova is an emerging artist, exploring space, time, illusion & reality, through experimental & alternative photographic processes.
About this event
Olga Suchanova
OLGA SUCHANOVA will be livestreaming the workshop directly from her Thames-Side, London studio.
This is a fantastic opportunity to see the artist at work. Olga will be sharing her expert knowledge at building and using a pinhole camera, ready for Solargraphy.
Olga's demonstration will apply the same processes used to construct the pinhole camera with which she produced her shortlisted image for the Astronomy Photographer of the Year at the Royal Observatory Greenwich in 2020.
Solargraphy is a photographic process using a pinhole camera and light-sensitive material, exposed in such a way that the image is imprinted directly, without the use of further chemical processing.
Solargraphy uses long exposure times on lensless pinhole cameras, to imprint the movement of the Earth around the Sun, as well as the tilt of the Earth. Exposures can be in the region of days, weeks or months, during which they 'encapsulate time' within an image.
Solargraphy is inherently, a low-tech approach to photography, rendering images with an ethereal feeling and a sensibility that appreciates beauty in imperfection. This subtle aesthetic is loosely aligned to notions of Wabi Sabi, found within Zen Buddhism in Japanese culture. Solargraphs are characterised by a soft focus, a far cry from the razor sharp images produced with compound, multi-coated lenses. Harry Fricker MA
This workshop is a continuation and perfect compliment to Olga's in conversation, the previous week, where she discusses her artwork and ideas informing practice.
Timeless A landscape image captures the path of the Sun across the sky over a period of 3 month. The sets of arcs represents three months, with each tracing the Sun's path over the course of one day.
Timeless Photo © Olga Suchanova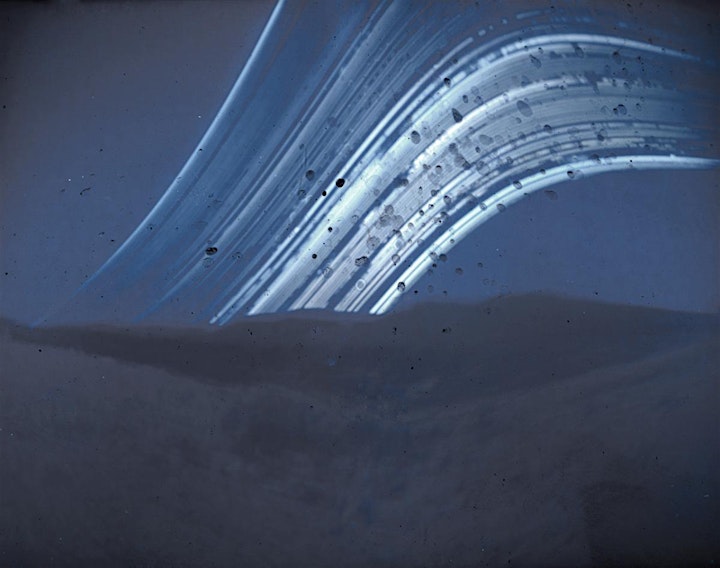 Suchanova constructed pinhole cameras from empty beer cans, designed by Peter Saville for the Tate Modern, to make the solargraphs.
Pinhole Camera Photo © Olga Suchanova
From the Solargraphy exhibition organised and curated by Suchanova at the Lumen Crypt Gallery, London, 2020
Solargraph etchings framed in cans Photo © Olga Suchanova
Solargraph etching detail Photo © Olga Suchanova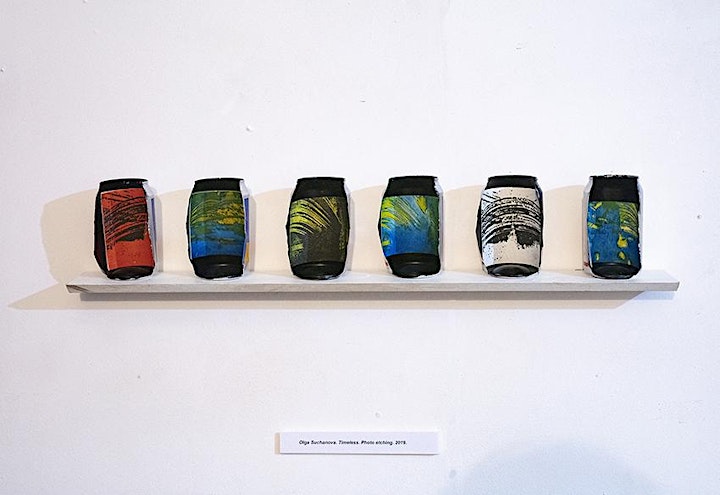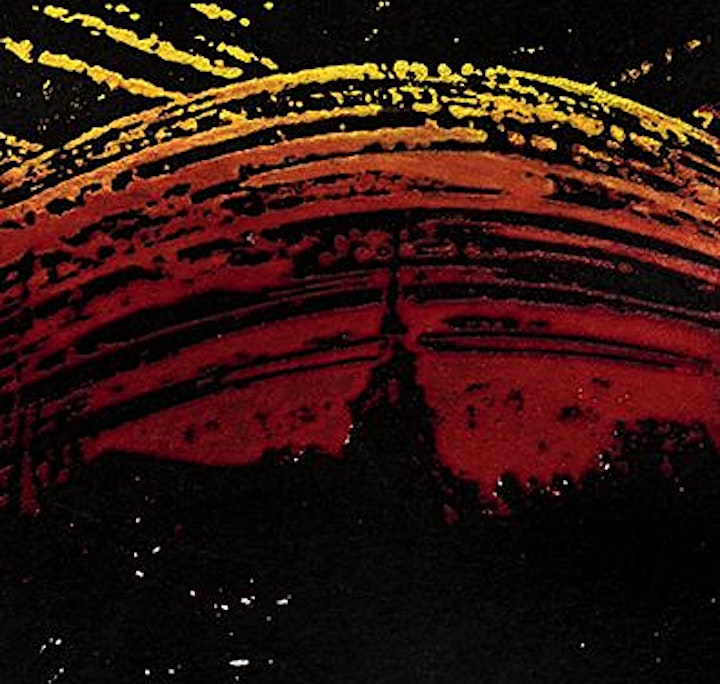 Visual artist Olga Suchanova is an emerging fine art photographer and printmaker, whose work is inspired by art, science, technology and metaphysics.
Drawing inspiration from nature, the properties of matter and energy, and quantum mysticism, Olga reinterprets light, colour, pattern, and form using experimental photography, printmaking and painting. Her work questions notions of space, time, illusion, and reality.
Adopting experimental approaches, her work is focused on how the invisible can become visible.
Based in Thames Side Studios, London, Olga builds pinhole cameras which are carefully placed, to create images over extended periods of time. The resulting photographs playfully blur notions of reality, illusion, time and space.
I am a Slovakian visual artist and curator, based in London. My work lies at the intersection of light, space, time and energy. If we insist there should be things to be observed, these things come about through our constructing a reality we can know that is independent of our observing.
Chasing the Sun
For the ongoing project 'Chasing the Sun' I expose hand made cameras from one day to few years. I condense time and space with the lensless photographic technique called Solargraphy.
The image below was exposed for 3 month on the river Thames facing Canary Wharf in London from the Winter Solstice 2020 to the Spring Equinox 2021 as the outcome from my art science virtual residency 'Watching the Sun' in collaboration with the Mayes Creative @mayescreative and the Royal Astronomical Society.
Chasing the Sun Photo © Olga Suchanova
Battersea Power Station Photo © Olga Suchanova
My newest solargraph, Battersea Power Station with the river Thames - 4 months exposure! 🙂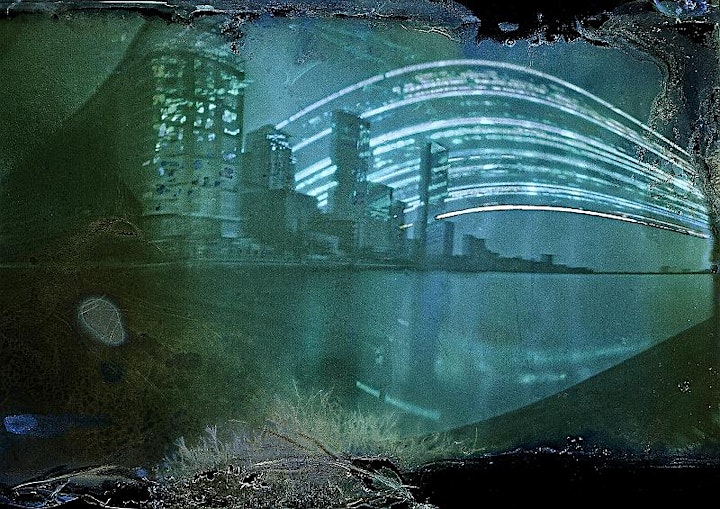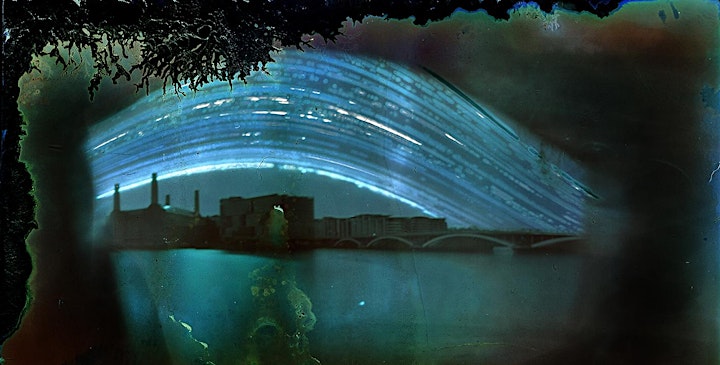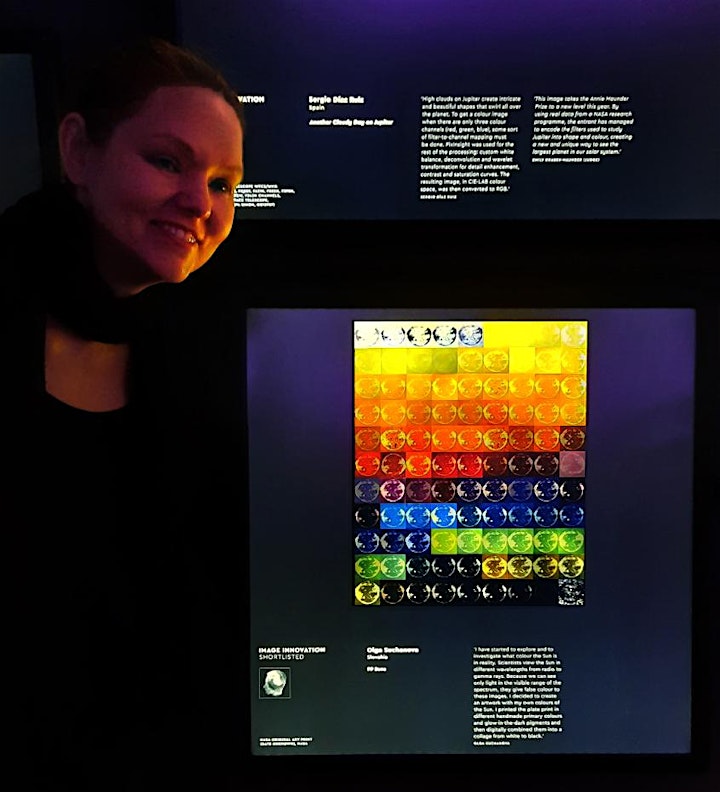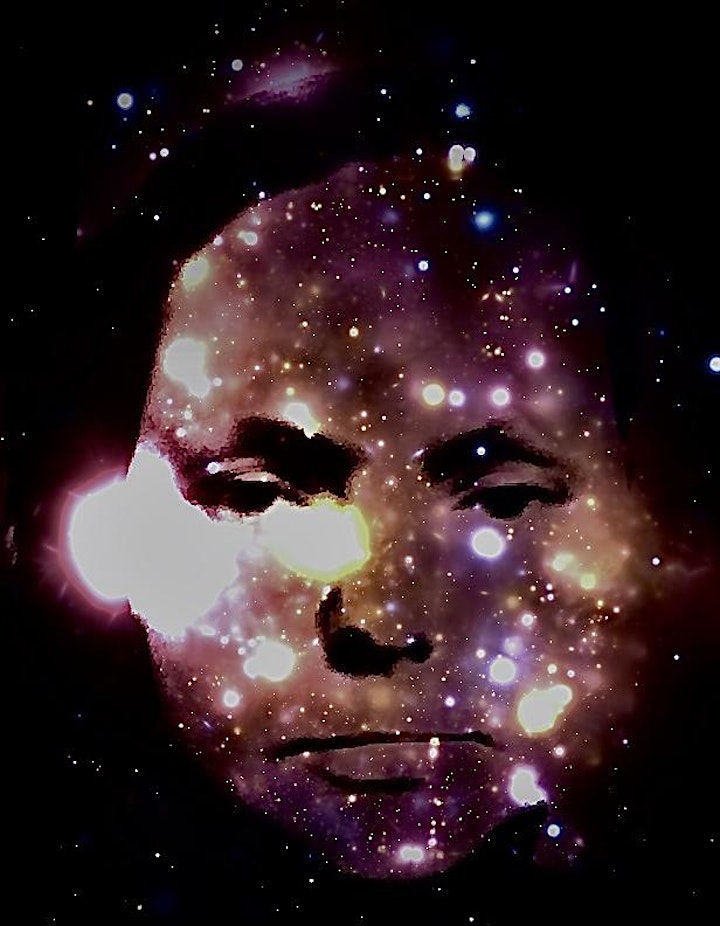 I was drawn to Olga's work by her freewheeling, yet rigorous approach to experimental photography. The range of techniques, underpinned by a strong sense of visual narratives and styles caught my eye.
Olga's photographic practice is a journey of discovery, a voyage to alternate ways of seeing the world around us.
This will be a superb in conversation livestream, not to be missed!
Harry Fricker MA Gallery Director
Once you have booked your ticket ...
You will receive confirmation right away.
24 hours before the event, we will send you the llink to the live event.
We will also send you a couple of reminders;
3 hours before we commence & 30 minutes prior to start.
Please contact us if you have any queries.
Studio
Online Gallery dedicated to Photograhy & Culture
Studio is part of
Diorama Days, Landscape Photography Workshops & Holidays
On instagram @dioramadays