Description
Oliver Twist walk
Experience Victorian literature come to life...

This walk follows in the footsteps of Oliver Twist and the Artful Dodger on their final leg of their journey through London to reach Fagin's lair as described in Charles Dickens' novel Oliver Twist.

We follow in the footsteps of Oliver and the Artful Dodger as they scurry along 1837 London at night. Learn what they would have seen, heard and smelt as they headed into the depths of a London slum, to Fagin's lair. Stealth is a skill necessary for survival in London's underworld.

- Authentic different tour
- Discover 1837 London
- Qualified guide

Victorian London was a dangerous place especially after dark, with highwaymen and other scoundrel's waiting to pounce on anyone crossing their path. Who will you meet?
See our Oliver Twist video here: https://youtu.be/dMjuBHQgsEc

Start: Angel Tube Station | Meet: 10 mins before start
Finish: Farringdon | Tour Duration: 90 mins
Step-free access: yes
What people have said about our Oliver Twist Tour on TripAdvisor: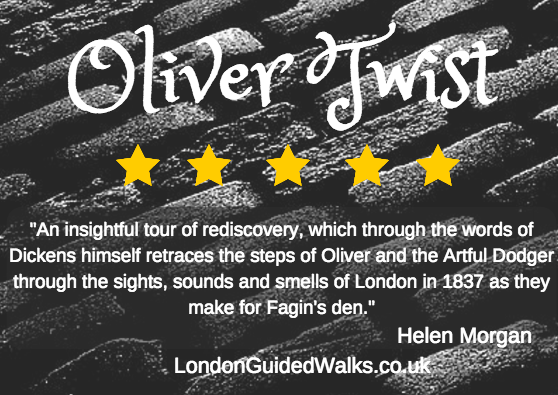 "I so enjoyed this walk. When Hazel read the extract at the start, it was just words. By the end of the walk, it had become substance and it is rare to be given such insight into exactly what an author truly meant to portray. Thank you Hazel" Alison P

"Hazel was an excellent raconteur and evoked the sights, sounds and smells of Oliver's first meeting with the Artful Dodger with many entertaining stories." Cath, Melbourne, Aus
"An interesting walk in an area I know well, packed with stuff I didn't know and a thorough knowledge of the walk subject." Bill, Bermondsey