Sales Have Ended
Registrations are closed
Thank you for registering to attend the Olympia Beauty show this year! We can't wait to see you there!
Sales Have Ended
Registrations are closed
Thank you for registering to attend the Olympia Beauty show this year! We can't wait to see you there!
Autumn's biggest event for beauty professionals is back! Discover the latest brands, innovations and launches...
About this event
Olympia Beauty will be London's first large-scale beauty show since 2019!
Get your tickets here: https://eventdata.uk/Landing/OlympiaBeauty2021.aspx
Beauty professionals have never been so keen to attend an event and Olympia Beauty promises to deliver, with some major new developments. Salon and Spa owners have the opportunity to do business in a brand new way. There will also be new stages for lashes and massage and the launch of GREEN Beauty, a new and exclusive arena for natural and organic brands emphasising sustainability within our industry.
Throughout lockdown, the team has planned a refreshing and dynamic show experience, ensuring you will be inspired, excited, and enthralled from the moment you walk through the doors in October.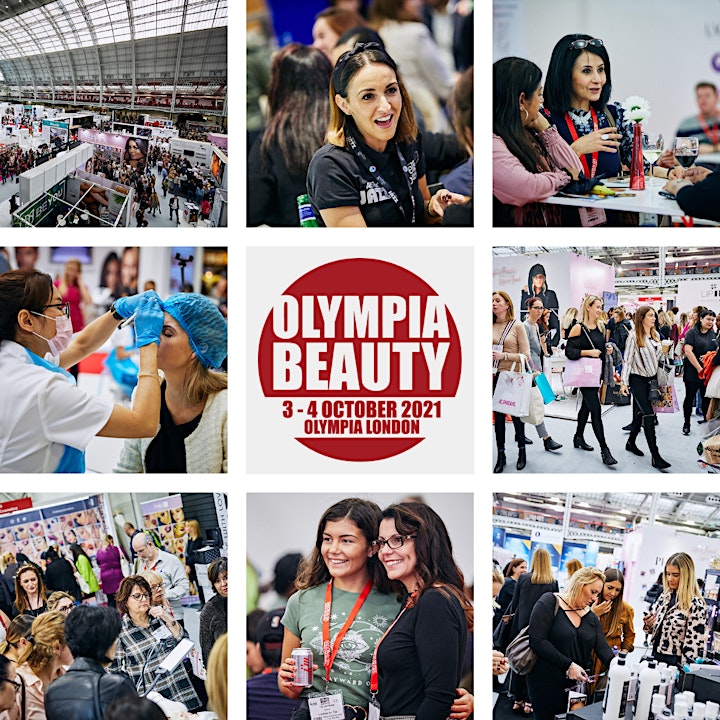 An insight into the changes for 2021:
The Salon & Spa Owners' Club will be presented for the first time in partnership with Salonology, the UK's foremost online coaching community, run by Hollie and Ryan Power. The duo behind this bright and marketing savvy brand are set to create a buzz around the professional-only event that has never been seen before, as they create new features specifically for the beauty business owner.
GREEN Beauty is an area of huge importance at the show this year, bringing brands that boast natural, organic or sustainable properties to the forefront of our industry.
Finally, we have the competitions - The Lash Games and The National Massage Championships – which will both feature brand retail areas for the first time, alongside their own independent stages offering education, panel discussions and demonstrations to those with a specific interest in lashes and massage.
More is yet to be announced, but it's safe to say the excitement around Olympia Beauty this year is huge – and snowballing!
Get your tickets today by going to https://eventdata.uk/Landing/OlympiaBeauty2021.aspx or visit www.olympiabeauty.co.uk
Organiser of Olympia Beauty 2021 - more tickets available via our website