OMG! A budget gym is coming to town. What's your strategic response?

Tuesday, 22 May 2012 from 10:00 to 16:00 (BST)
Event Details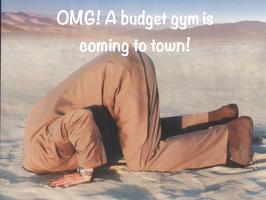 Low-cost gyms have been operating in the UK since 2006 so they are hardly new. This means the industry has had nearly six years to develop a strategic response, so why is there surprise when they arrive in town, with sometimes terminal consequences for established 'mid-market' clubs?
Interactive London seminar
Step out of your business for a few hours to gain a deep understanding of how low-cost gyms compete. You can then use these insights to develop a clear and compelling strategic response for your business. Perhaps, this means developing a low-cost business of your own, or is your future going to be about creating a dramatically different kind of customer experience? Gain the insights and then decide.

Why attend?
• Gain a deep understanding of the low-cost gym consumer proposition
• Understand why consumers are attracted to low-cost gyms
• Discover how 'mid-market' clubs are re-evaluating how they compete against low-cost competitors
• Begin the process of developing a clear and compelling strategic response that puts your club on a long-term successful trajectory
Who should attend?
• Club owners wanting a deep understanding of the low-cost model
• Club managers seeking ideas to re-invigorate their long-term strategy
• Entrepreneurs investigating launching a new club business
• Suppliers wanting to understand how their product portfolio fits into a changing industry structure
Presenters/Facilitators

Ray Algar (MBA) Managing Director, Oxygen Consulting
Ray provides strategic business insight to organisations connected to the global health and fitness industry. He has been researching the low-cost gym sector for seven years and is the author of the 2010 UK Low-cost Gym Sector report. In 2011, this was followed by the Global Low-cost Gym Sector report. Ray discusses the low-cost gym sector at various conferences most recently at the IHRSA Convention in Los Angeles. Read Ray's biography here.


  Adam Campbell (MBA), Strategy Consultant, Telos Partners
Adam is a management consultant specialising in strategy, change management and leadership development across a diverse range of sectors within Europe and the Middle East. He has a great passion and a deep understanding of the health club sector developed over a 15-year period working in the industry as an operator and educator. During his session, Adam will discuss the importance of corporate 'purpose' which underpins every successful business.

What people say about our business insights
"Ray has an enormous insight in the fitness industry and can take both an analytical and practical approach to all issues, which gives him high credibility as a service consultant and as a commentator of the industry."
Rasmus Ingerslev, CEO, Fresh Fitness
----------

'Ray is a breath of fresh air to the leisure world. He brings an intelligence to the consultancy world that I haven't seen very often. His seminars are brilliantly crafted, innovative and precise in delivering the message. It's no surprise to me that he is so busy across Europe."
Duncan Green, Managing Director, Momentum Business Development
----------

"I first came across Adam when I attended 'Your Business Your Future'. I was so impressed, I decided to invite Adam to one of our Team Motivation events which was a great success."
Keith Bedford, Managing Director at EBS Newmedia Limited
----------

"Adam is one of the most talented learning facilitators and insightful coaches that I've ever had the pleasure to work with. He's equally brilliant on his feet in front of a group as he is in a one-to-one coaching situation."
Gerard Burke, Director, Your Business Your Future
----------

"All the delegates I was talking to thought that you were among the top speakers. I think you really caught their interest and opened their eyes with your presentations. That was further confirmed in the big interest in your book."
Stefan Tingwell, Founder, Club Sweden (Healthy Business Conference, Gothenburg)
----------

"Thank you for your wonderful contribution to Intelligent Life"
Ingrid Esling, Managing Editor, Intelligent Life Magazine (Part of the Economist Group)
----------

"Ray uses his considerable intellect and diligent research to promote strategy that is evidence based. His knowledge and experience make him one of the most trusted and respected figures within the sector. If he writes a piece in a journal, web-site or blog, I will read it in full, knowing the care that went into producing it."
Grant Wright, Chief Executive, Ashtour Ltd
----------

Who is attending?
See the list below of confirmed delegates and read their reasons for attending.
What's included?
Drinks and pastries on arrival. Cold buffet-style lunch and refreshments throughout the day. Also, lively discussion and great company:)

Early bird tickets now available
Book soon to take advantage of a limited number of early bird tickets (Update: Early bird 1 and 2 tickets now all sold).

Refund policy
Please note this is a limited attendance event and we cannot offer a refund. Please pass your place to a client or colleague if you are unable to attend.

Attendee List
Sort by:

Date

|

First Name

|

Surname
When & Where

Brunei Gallery, School of Oriental & African Studies
Thornhaugh Street
Russell Square
WC1H 0XG London
United Kingdom


Tuesday, 22 May 2012 from 10:00 to 16:00 (BST)
Add to my calendar
Organiser
Ray Algar, Oxygen Consulting
Oxygen Consulting provides compelling strategic insight for organisations connected to the global health & fitness industry.

OMG! A budget gym is coming to town. What's your strategic response?