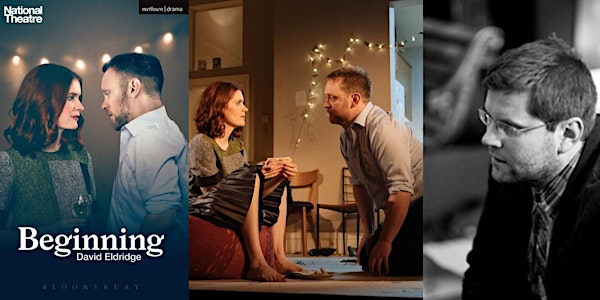 On Beginning and Writing for the Stage with David Eldridge
Event Information
Location
Bloomsbury Publishing
50 Bedford Square
London
WC1B 3DP
United Kingdom
Description
Step inside Bloomsbury Publishing for an evening on writing for the stage with David Eldridge, the acclaimed writer of the must-see hit play, Beginning!
Join us as leading dramatist, David Eldridge, is in conversation with fellow playwright Dan Rebellato at Bloomsbury's stunning London headquarters talking playwriting, storytelling on stage, screen and radio and his illustrious writing career to date for one night only.
David's award-winning plays have been performed at major new writing institutions in the UK, including The Royal Court Theatre, the Bush Theatre, the Finborough Theatre and the National Theatre, and he now lectures in Creative Writing at Birkbeck College, University of London so we expect this talk to be essential for aspiring writers of plays across the capital!
After a sell-out run at the National Theatre, David's newest play, Beginning, has transferred to the Ambassadors Theatre in the West End, with both Sam Troughton and Justine Mitchell reprising their original roles. The Evening Standard calls David Eldridge's Beginning, "the (anti) romance for 21st century London, and quite simply, magnificent."
We can't wait to host this very special playwriting event at Bloomsbury.
Date: Tuesday, April 24th
Timing: Doors open and drinks from 6pm. David and Dan in conversation, followed by Q&A with audience members, from 6:30pm to 8:00pm
Venue: Bloomsbury Publishing, 50 Bedford Square, WC1B 3DP
Nearest station: Tottenham Court Road
Tickets: £15 for adults / £10 students and concessions
Buy your ticket + a copy of Beginning for £20 and we'll keep it safe for collection and signing by David on the night. Plus, David's other most popular works, published by Bloomsbury's Methuen Drama, will be available to purchase at the event.
This event is hosted by Bloomsbury Institute, a division of Bloomsbury Publishing. Please read our Event Terms and Conditions carefully as by buying a ticket to this event, you confirm that you accept these terms and condition and that you agree to comply with them, alongside the Eventbrite terms and conditions.
***
David Eldridge has written: Market Boy (Olivier Theatre, National Theatre); Holy Warriors (Shakespeare's Globe); Miss Julie, The Lady from the Sea (Royal Exchange, Manchester); In Basildon, Incomplete and Random Acts of Kindness, Under the Blue Sky (Royal Court & West End); Something, Someone, Somewhere (Sixty-Six Books/Bush Theatre); MAD, Serving it Up (Bush); The Knot of the Heart (Almeida), Festen (Almeida, Lyric West End & Broadway); The Stock Da'wa, Falling (Hampstead); A Thousand Stars Explode in the Sky (with Robert Holman & Simon Stephens, Lyric Hammersmith); Babylone (Belgrade Coventry); John Gabriel Borkman, The Wild Duck, Summer Begins (Donmar Warehouse); A Week With Tony, Fighting for Breath (Finborough); Thanks Mum (Red Room); Dirty (Theatre Royal Stratford East); Cabbage for, Tea, Tea, Tea! (Platform 4 Exeter). In 2007 the University of Exeter conferred on David an Honorary Doctorate of Letters recognising his achievement as a playwright. He is a Lecturer in Creative Writing at Birkbeck College, University of London. Follow him @deldridgewriter
Dan Rebellato is an English dramatist and academic born in South London. He is Professor of Contemporary Theatre at Royal Holloway, University of London and has written extensively for radio and the stage. Follow him @DanRebellato
His plays include Chekhov in Hell (Plymouth Drum, 2010), Static (Suspect Culture & Graeae, 2008), Here's What I Did With My Body One Day (Lightwork, 2005/6), Mile End (Analogue, 2007), Beachy Head (Analogue, 2009), Theatremorphosis (Suspect Culture & CCA, 2009), Outright Terror Bold and Brilliant (NYT/Soho, 2006) and A Modest Adjustment (National Theatre, 2006). I've written twelve plays for BBC Radio, including Cavalry, My Life is a Series of People Saying Goodbye, and Negative Signs of Progress. I'm currently writing two plays for the Drum Theatre, Plymouth and am one of the three writers adapting the whole of Émile Zola's Rougon-Macquart for Radio 4.
***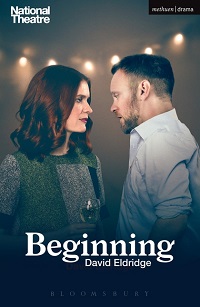 You didn't fancy it then?
Fancy what?
Getting in the taxi.
No.

Every story starts somewhere.

It's the early hours of the morning and Danny's the last straggler at Laura's party. The flat's in a mess. And so are they. One more drink?

David Eldridge (Market Boy, The Knot of the Heart, In Basildon) returns to the National Theatre with a sharp and astute two-hander that takes an intimate look at the first fragile moments of risking your heart and taking a chance.

This tender and funny play received its world premiere at the National's Dorfman Theatre in October 2017.
Date and time
Location
Bloomsbury Publishing
50 Bedford Square
London
WC1B 3DP
United Kingdom
Refund policy