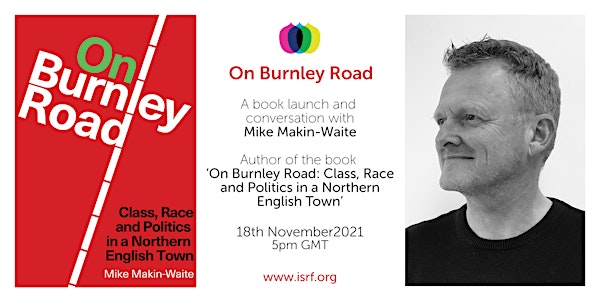 On Burnley Road: Class, Race and Politics in a Northern English Town
A book launch and conversation with Mike Makin-Waite.
About this event
How was the emergence of the far right in England experienced at the community level? And what can we learn from this experience about the present moment?
In his important new book, On Burnley Road: Class, Race and Politics in a Northern English Town, former ISRF Fellow Mike Makin-Waite draws upon two decades of experience as a council worker in Burnley to chart and analyze the rise of local nationalist movements. Starting with a description of the 2001 'northern town' riots, the book explores these events' historical roots, their local meanings, and multiple afterlives. For Makin-Waite, the Burnley disturbances and subsequent far-right successes were symptoms not of some primal popular irrationality but of a deeply rooted political crisis. This crisis, he argues, has yet to be resolved, and this is why our political landscape remains vulnerable to far-right agitation and reactionary populism. Csombining profound insight into local politics with careful historical analysis, On Burnley Road is essential reading for anyone seeking understand contemporary English politics.
Mike Makin-Waite will offer an overview of his book with responses from two experts on the topic: Councillor Afrasiab Anwar, Leader of Burnley Council since May 2018; and Dr Manjeet Ramgotra, a Lecturer in Political Theory at SOAS University of London and an ISRF Fellow working on 'Postcolonial Republicanism: The Indian Founding and its Impact'. Your questions and a discussion will follow, moderated by Professor Christopher Newfield, ISRF Director of Research. All are welcome, both to attend and to participate.
PLEASE NOTE: THIS IS THE REGISTRATION PAGE FOR IN-PERSON ATTENDANCE. IF YOU WOULD PREFER TO ATTEND REMOTELY, PLEASE CLICK HERE.
Indicative Schedule
5:00pm: Welcome & Introduction
5:10pm: Mike Makin-Waite introduces 'On Burnley Road'
5:25pm: Panel Responses
6:00pm: Q&A/Discussion
6:30pm-8:00pm: Opportunity to continue informal discussion over food & drink*
*Please note: this is a catered event - to assist us in ordering the right amount of food, please do cancel your ticket if you will not be able to attend. If you will need to leave at 6:30pm, please let us know by emailing stuart.wilson@isrf.org.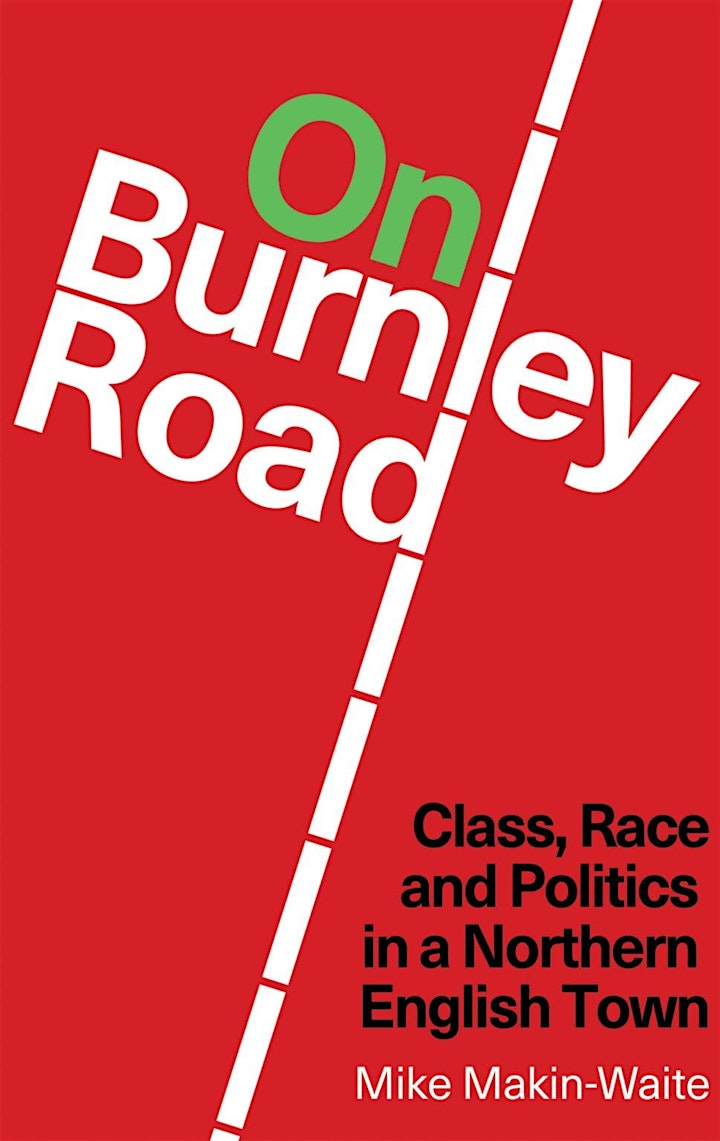 Organiser of On Burnley Road: Class, Race and Politics in a Northern English Town
WHO ARE WE?
The Independent Social Research Foundation (ISRF) is a public benefit foundation funded by a group of private philanthropists with interests in academia and social science, founded in 2008. It is dedicated to advancing the social sciences through the promotion of new modes of inquiry and the development of interdisciplinary expertise and methods, and through better understanding of social entities and processes.
To achieve this objective it intends to provide a series of research grants, enter into partnerships with academic institutions and support research activities that promote development in its field.
ACADEMIC BACKGROUND & OBJECTIVES
There is an increasing recognition — both within and outside academic organisations — that the most pressing social and research challenges are beyond the scope of a single discipline or area of research.  There is evidence of this in universities, key funding bodies and the users of social science research.
This is particularly true of fundamental questions in the social sciences:  How do societies evolve?  Why does hunger persist?  How do people make decisions?  What are the causes of war? These questions are inherently complex and call for diverse insights.  A particular challenge created by this complexity is the need to understand the implicit content of the models employed in social science and to ensure that it is appropriate for social analysis.
The ISRF believes that interdisciplinary research — understood here as not just the simple combination of traditional approaches, but the conversation between established disciplines and the introduction of new modes of inquiry  — is critical for the advancement of new knowledge and for solving contemporary theoretical and practical problems.