The development of on-shore wind covering suitability, planning, land option and leasing, grid connection, financing and project management.
About this Event
This webinar will cover an exciting development for on-shore wind in England with the first successful planning application for some time. The webinar is part of the AgroRES project funded by Interreg Europe.
Since the planning policy changes in England in 2016 on-shore wind deployment has quickly dried up. Now a community energy group has turned the tide and hopefully set the precedent for further applications.
The webinar will cover:
Determining site suitability
Getting planning consent and what to expect during the planning process
Likely issues around land options and leases
Getting grid connections
Factors meaning a project is financeable
As reported by Regen, only three on-shore wind farms were completed in 2019 and of that only one was under the current wind policy and this was an extension. In Devon, the last wind turbine development was Batsworthy Cross of around 9 turbines which started operating in 2016. The development was refused and granted at appeal.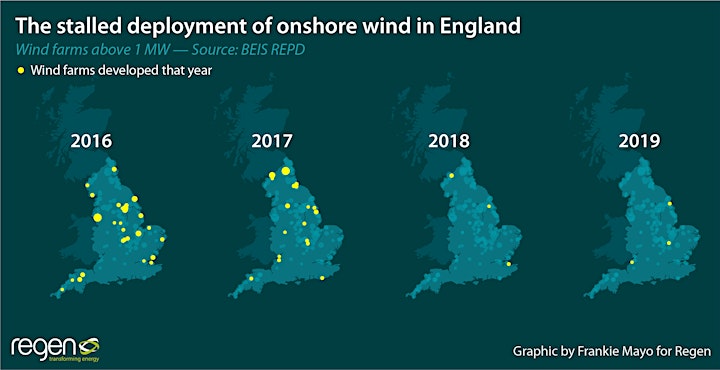 Ambition Community Energy CIC and Ambition Lawrence Weston have successfully got a large wind turbine development, of 150m tip height, and approximately 4MW rating through the planning process. The main reason is the high levels of community energy and the support of the local authority. This webinar will be an opportunity to find out how to emulate this great success so on-shore wind can be deployed again where appropriate.
Speakers
We welcome questions at this event and there will be the opportunity to ask during this webinar. If, however, you would like to submit questions beforehand, please email these to kate.granger@devon.gov.uk
AgroRES
The main objective of AgroRES is to develop measures that encourage the production and use of RE in the agricultural and rural sector. AgroREs will support this sector by solving its energy needs in a sustainable, economic viable and socially responsible way. For more information visit the project website.