We are so excited to be able to gather together in person and worship.
About this event
In order to meet with the Government Guidelines for Places of worship our meetings may look slightly different.
The purpose of our Sunday gatherings is to worship the Lord, to love Him with all our hearts , souls, minds and strength and an integral part of that is to love each other as ourselves.
In order to do this well, there are a few things we are asking of you as attendees.
We ask that you do not attend Catch The Fire Manchester's on site worship gatherings if you are showing symptom of Covid-19.
We expect all attendees to wear a mask at all times in the building, to remain in their assigned seats and to remain socially distant when moving in and out of the building.
There will be a team of volunteers helping to facilitate the worship. This team will be adhering to the same rules in order to keep you safe in the building. You may see singers or meeting hosts without masks on or pray team moving more freely around the building. These team members will have taken a lateral flow test that morning and shown clear of Covid-19.
In the first instance we will not be running Kids church but will be providing packs for the kids to use to aid their worship. We will be reviewing this week by week to make sure our Kid's are able to meet with Jesus too.
Your details may will be kept in line with GDPR to support the NHS Test and Trace programme. Your details will only be shared with NHS Test and Trace, if asked, in the event that it is needed to help stop the spread of corona virus.
We can not wait to see you.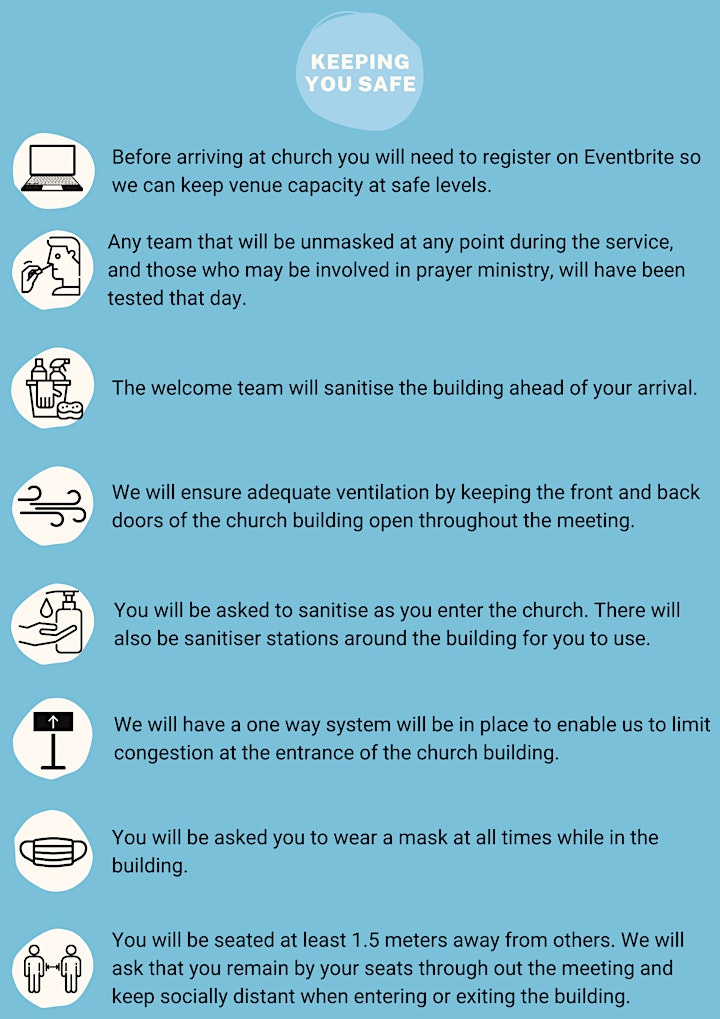 Organiser of On site worship gathering at Catch The Fire Manchester