On Wing & Water – Effervescent harp with Eleanor Turner @ Stockwell Live!
Be serenaded by harp as Eleanor Turner takes us from Classical to Indian raga at this garden concert in SW9, served with hot bowl food/wine
About this event
Celebrating the return of live music, Stockwell Live! presents a series of concerts with world-class performers in a safe outside settings in Stockwell SW9. Embracing the reality that live music will be outside for the foreseeable future, we follow all government Covid-19 Secure protocols on professional outdoor performances. We give you unique musical experiences with hot food to keep you warm, whilst keeping you socially-distanced (under canvas if wet) – and give artistes an opportunity to earn a crust during the pandemic.
To experience harpist Eleanor Turner, you've got 3 options:
See Eleanor live and up close in SW9 for £30, including 2-course hot bowl food and wine served at your seat by our event catering partners Al Fresco Feasts, by booking on this page
Watch the live stream of the performance and artiste interviews (for upto 72 hour afterwards) for just £6 by using this link: https://eleanor-turner-stockwell-live-livestream.eventbrite.co.uk
Live stream as above, but with a unique hospitality box of Wine and delicious hand-made treats sent from Parcel.Love for £20 (£35 for two) plus delivery by booking at Parcel.Love
Experience Eleanor take you on journey across the gamut of the harp on the theme of the outdoors. From the baroque finery of Giovanni Battista Pescetti, the Peer Gynt Suite by Grieg, Birds in Winter by Michael Mauldin, Debussy's En Bateau, several of her own compositions, Bhairav raga (Morning Mood) to Sunset by Nitin Sawhney.
"Magical Fingers" Metro
"Scrupulous attention to the harp's rhythmic and dynamic possibilities" The Times
"Agile and assured performance from Eleanor, who shines throughout the recording" The Gramophone
Eleanor Turner is a versatile electro acoustic harpist who performs internationally as soloist, with her band Ranagrí and in collaboration with world-class artists such as Jonny Greenwood (Radiohead bassist and composer) and Mendi Singh, tabla maestro, in her Tāla Tarang duo. Her concerto debut at age 15 was in the Queen Elizabeth Hall, broadcast live on Classic FM.
Eleanor is at her most creative and daring in cross-discipline collaborations, whether with hip hop dancer Lizzie Gough or in the field of electronic gesture-controlled music created in collaboration with Balandino Di Donato (who performed her British Sign Language piece The Wood and The Water for harp and sound spatialisation). She won First Prize in the European Harp Competition, a Wingate Scholarship and awards from the Tillett Trust, Help Musicians and the PRS Foundation for New Music. She has performed solo recitals and with chamber ensembles at the Wigmore Hall, Berlin Philharmonie, Amsterdam's Muziekgebouw and concertos in London, Bristol, Sydney and New Orleans.
Throughout lockdown, Eleanor has focused on composing and producing, recently completing a commission for 'A Sound A Place' by Tubipora duo in Turin. She has also recorded her own solo pieces at home and with Voces8 and Cassell the Beatmaker, duetted via video with UK singer Ruti and Italian harpist Adriano Sangineto, and has created a new musical work 'And that's why we are here today' in collaboration with bassist Wayne Bennett, for Sound and Music's 'Interpreting Isolation' award.
EVENT DETAILS
Venue: St Michal's Courtyard is in the heart of the Stockwell Conservation Area, which we're transforming into a Covid-safe outside venue, under canvass if wet.
Catering included: all tickets come with 2 glasses of wine and delicious 2-course hot bowl food served by our partner event caterers Al Fresco Feasts.
Seats provided – but please bring a cushion and/or rugs! Seating takes place from 6.35pm (you'll be sent an allocated time to arrive).
The New Norm Rules. The event is licensed by Lambeth Council & Police, and fully compliant with Tier 2 Covid-19 Secure guidelines and DCMS rules on outside performances, with audience in correctly-spaced bubbles and a range of standard protocols to make your visit safe. To keep everyone safe:
Social distancing bubbles must be strictly adhered to throughout your visit
If you are suffering from any potential symptoms, you must not attend
Masks must be worn whilst arriving and seating, but may be taken off when seated
Weather. The show must go on! We're embracing the new norm that all live music is outside for the foreseeable future, and so the show goes on in all weather (it will be under canvas if wet). Please wrap up well though and bring umbrellas etc.
Cancellation policy. It is currently government policy to allow performances to continue in Tier 2. In the event of Covid restrictions preventing the concert from taking place and outside performances or travel are no longer allowed, then a full refund will be provided. In the event of the performers being ill or unable to attend, then the management reserves the right to substitute with other performers.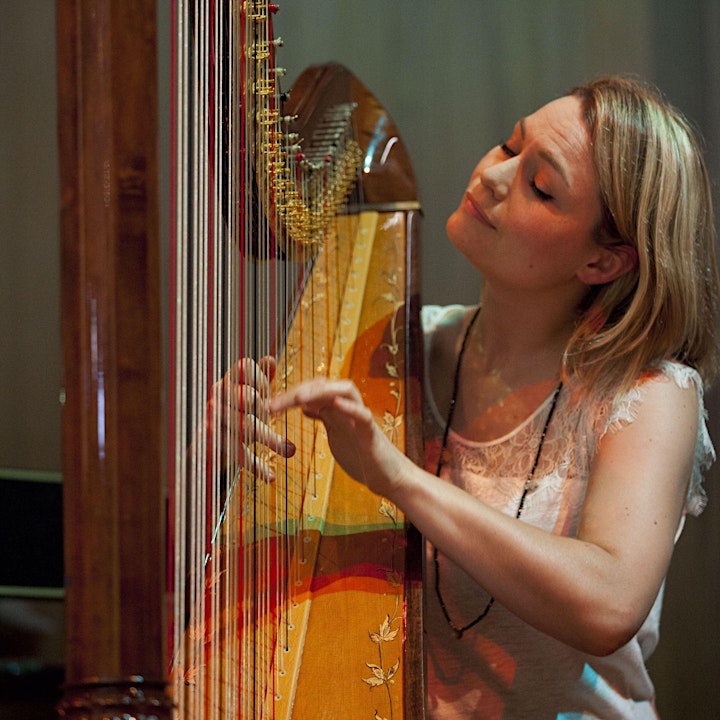 Organiser of On Wing & Water – Effervescent harp with Eleanor Turner @ Stockwell Live!