Virtual launch event and Q&A with Jim shields and special guests
About this Event
About this Event
Welcome to the launch event for my new book "Once More With Feeling - The Busy Communicators Guide to Intimacy"
Join us for an exciting conversation with me, the Author, around how corporations and companies communicate, and what we can do to inject the humanity back into our conversations with our employees and customers.
Hosted by Robert McCollum, Writer, Broadcaster, and professional presenter, the event will launch my second book on the subject of creativity in business. You'll also get to meet our special guest, Internal Comms Expert David Manning. David has been creating and delivering internal communication and employee engagement strategies in world-leading organisations for 17 years, including the BBC, Travis Perkins plc and Associated British Foods.
He's currently Head of Internal Communications and Engagement for the BBC's Chief Operating Officer division.
The book has insights gathered from marketers at the top of their game, and practical exercises and examples to help you master your inner charisma ninja, you'll feel confident about replacing that dry newsletter with a warm, witty and very welcome story.
Stop leading with complexity and make that "first contact" feel like a call from an old friend. I'm looking forward to meeting you all.
Note: The link in this invitation will require a password which will be emailed to you on the day of the event for privacy reasons.
______________________________________________________________________________________
About the book: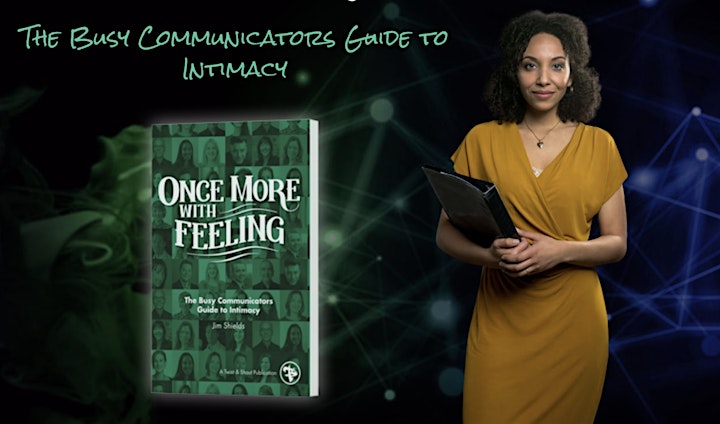 Isn't it funny how you can remember a joke you heard five years ago but you can't remember last night's sales presentation? That's because the sales presentation was full of dry information, and the joke was a story that made you snort coffee down your nose. Stand-up comedians have known this for decades. They know how to appeal to the theatre of the heart, not the library of the mind.
Once More with Feeling will show you how to develop messaging across all media so you can truly connect with your audience. You'll get noticed even in a cluttered marketplace; you'll start the "right kind" of relationships; and other persuasion factors (such as price) will take a back seat.
______________________________________________________________________________
You'll learn:
• How to tell the difference between a dry presentation or written piece and a story with heart and imagination
• How to develop your writing and storytelling skills so that you can be the go-to manager for "remote intimacy"
• How and when to expose yourself to great creative work so you can expand your outlook
• What to say to the "Brand Police" when they arrest you for crimes against "Tone of Voice"
• What to look for with creative agencies you might want to work with
• How to commission work that gets noticed and creates prospects or motivates
______________________________________________________________________________
Whether you're commissioning or creating collateral to build awareness, lead generation and sales, or communicating with employees to transform the company, you'll have more success if you can appeal to your innate ability to create real rapport.
Tags
#remoteintimacy #marketing #internalcomms #marcomms #b2b #sales #storytelling
#booklaunch
#leadingchange
#authenticleadership
#change_management
#leadership_development