Multiple Dates
Once Upon a Bus presents a 'Yuletide' experience at the Fifield Inn
Join Once Upon a Bus for a Yuletide experience!. 1 hr 5 mins of Storytelling, Carols and visit to Father Christmas with a quality present!
About this event
So pray tell me, what is included in this magical experience?
Ticket prices are £12 per adult and £12 per child plus booking Fees.
Each experience lasts 1 hour 15 minutes with two different story options- You can choose to visit the 'Polar Bus' based on the Polar Express or 'A Christmas Carol' based on Scrooge.
Your experience includes entrance into the magical 'Yuletide' decorated bus. Upstairs you will be taken on an interactive storytelling experience by Arti the Elf and Jane Deane (as seen on Cbeebies). Included will be carols and a the famous poem 'T'was the night before Christmas'. Children and Adults will be encouraged to summons Father Christmas to the Bus and visit him in his Grotto on the lower deck of the Bus. And of course your little angels will have been on their best behaviour and treated to a quality gift!.
* Special Treat!*
As Sessions will be limited to just 25 people per session. Once the storytelling session is over families will be led off the bus and wait inside the pub where they will be treated to carols by Emma Kennedy until the Elf calls you to the Grotto. We are allowing additional family members at no extra cost to come into the Grotto to experience the conversations and the excited faces of your children when they chat to Father Christmas!
How do I book tickets ?
All tickets for the Once Upon a Bus experience are booked via the Eventbrite system unless a session is private hired..
Please note you can select your breakfast or Lunch tables on the order confirmation. Payment for Food and Drink is payable directly at the pub. Alternatively you can book directly with the pub. Please quote your booking reference in order to claim a 10% discount.
We are running three/4 shows per day on selected dates from Saturday 10th December to Wednesday 22nd December limited to 25 people per show
Show times and stories are at the following times.
9.30-10.45 : The Polar Bus (Suitable for ages 0-100!)
11.30-12.45: The Polar Bus- (Suitable for ages 0-100!)
14:00- 15: 15: The Polar Bus- (Suitable for ages 0-100!)
Due to popularity 4 new sessions on Saturday 11th,Sunday 12th, Saturday 18th and Sunday 19th December
16:00- 17:15: The Polar Bus (Suitable for ages 0-100!)
Another Special Treat!
We are allowing groups to exclusively book out the session or we can put on an extra session for you, so if you would like to do so- please contact Arti the elf : 07912101619
The magical Once Upon a Bus are your storytellers!
The multi-award winning 'Once Upon a Bus' is an idea created, developed and funded by Arti Sharma-Grey (The Elf) and Matt Grey (aka The Captain/Bubbleman)
Arti the' Woodland Elf'
Arti has worked in both Corporate IT and Educational settings and has worked with vulnerable people and adults and children with special needs.
Arti is the Chief Elf to Father Christmas and is responsible for delivering presents to children on Christmas Eve! She is over 400 years old! (Hence she wears a lot of makeup)
A Professional storyteller, script writer and event host, Arti will be welcoming you to your tables and narrating the story telling session that you choose adapted by Once Upon a Bus 'A Christmas Carol' and 'The Polar Bus' .She also claims to be a stand up comedian , so please laugh at all her jokes as she thinks she is funny (deluded more like!)
For more information have a look at Once Upon a Bus on social media
Jane Deane :
Jane has worked professionally in the UK for 25 years as an actress, director, writer and entertainer.
For those of you with young children, she wass'Dee Livery' the unicycling paper girl who appeared alongside Justin Fletcher in the first 23 episodes of his BAFTA Award winning show "Justin's House" on CBeebies.
Jane ran away with the circus but we picked her on the bus and bought her home!Jane is definitely hilarious BUT bound to be in a bad mood as she will be playing the role of 'Scrooge'..BAH HUMBUG!'
For more information on Jane and her show reels have a look at her website:
St. Nick aka Father Christmas
Do we really need to explain who he is?
The big man will be joining us if we can make Scrooge believe in Christmas again! During the interactive show the storytellers and audience will be waking the old man up to bring joy and presents!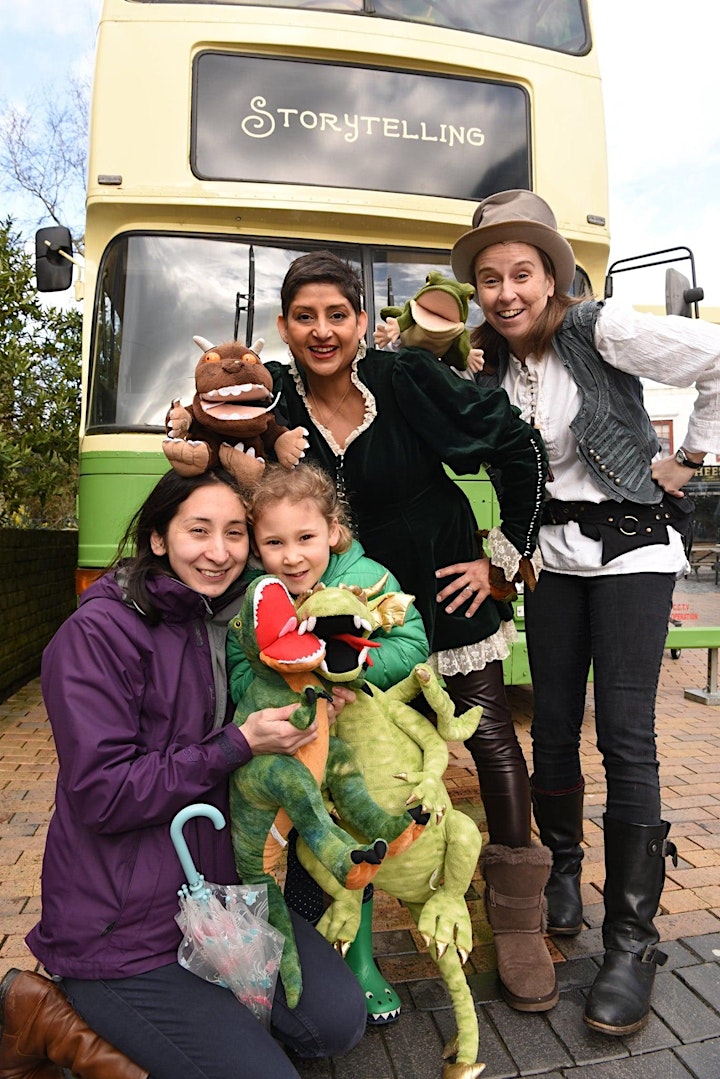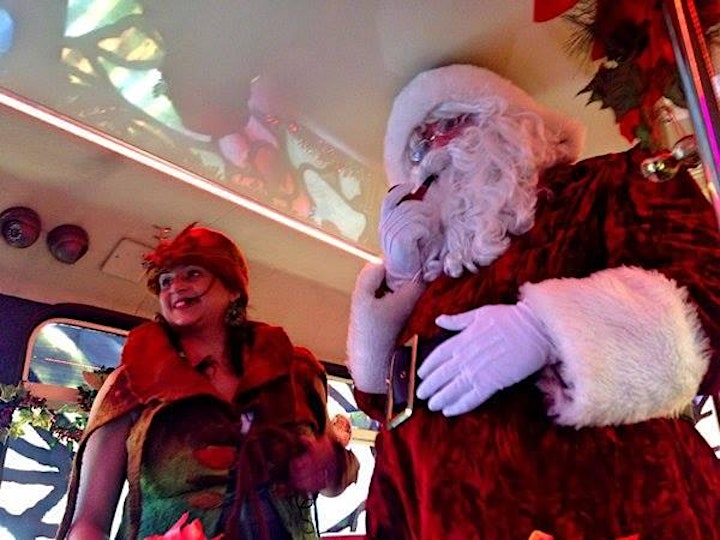 Carols sung for you!
The amazingly talented Emma Kennedy will be delighting you with her incredible voice and amazing guitar skills. She will be playing classic carols and cover songs (so you don't have to) and will keep you entertained while you wait to see the big man himself!
Just have a listen to this wonderful woman: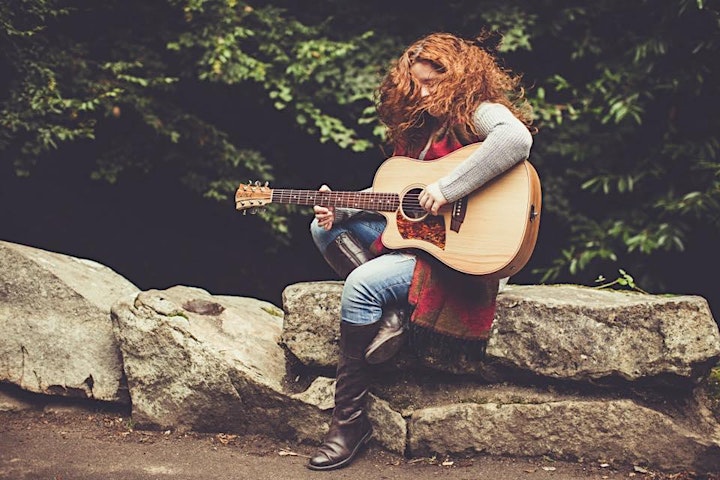 The Fifield Inn and Food offerings
The Fifield Inn is nestled in the Berkshire country side, The Fifield Inn is a hidden treasure. Located in the village of Fifield, close to Bray and just 10 minutes from busy Windsor. Surrounded by fields the pub benefits from a quiet setting with a large garden and car parking spaces.
The new owners will be offering you a great breakfast or lunch menu.
Simply indicate on the booking form email, if you would like breakfast and your choice or whether you would like to book a table for lunch/early dinner. Food is payable on the day at the pub.
They will be offering a 10% discount on lunch menu's for those who book on the bus!
Breakfast options served from 8.30-9.15 or 10.45 until 11.30:
-Full English breakfast: £9.95: Sausage,bacon, egg, hash brown,black pudding,mushrooms, tomato & beans with white or brown toast. Tea/Coffee
-Kids Breakfast: £5.95: Sausage, bacon, egg, hash brown & beans with white or brown toast. Apple/orange Juice
-Sausage/Bacon Sandwiches £4.50:
-Vegetarian Breakfast: £9: Halloumi, egg, asapragus, toomato,mushroom,beans with white or brown toast. Tea/Coffee
-Scrambled egg on toast £6.50
Lunch Menu available from 12pm with 10% discount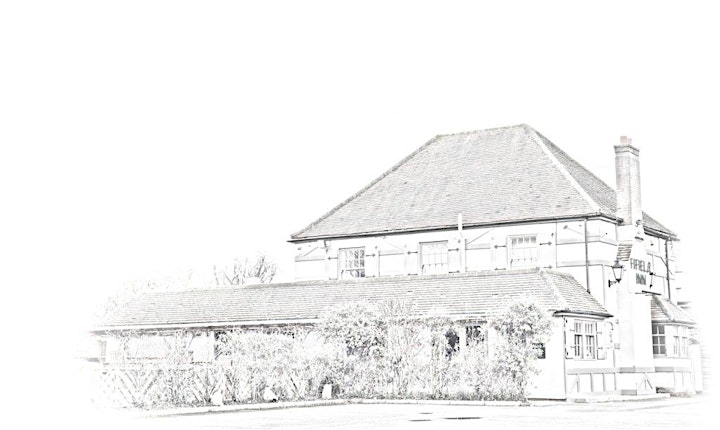 If the event is cancelled due to ongoing COVID-19 restrictions, will I get a refund?
The answer is yes!
We offer a Full money back guarantee should the event get cancelled.
Should you or a member of your household show any signs of Covid 19, you may transfer your ticket to another person.
How we plan to keep you safe
The health and the safety of our audiences and staff is of paramount importance at all times.
Risk Assessments have been undertaken and procedures set in place in line with Covid 19 legislation. We will continue to review and update in accordance to Government Guidelines.
By entering the bus/pub customers are confirming they are not exhibiting any symptoms of Covid-19 and will abide by all the safety measures put in place.
- We will be implementing an increased cleaning regime throughout the the bus.
-There will be a cleaning process before and after each performance. Handrails and surfaces will be disinfected– We will encourage regular hand washing with a sanitisation station outside the bus.
-We also welcome face masks for Adults
*Please note. Full refunds will only be issued if the event is cancelled. Tickets can be transferred if you are unable to attend*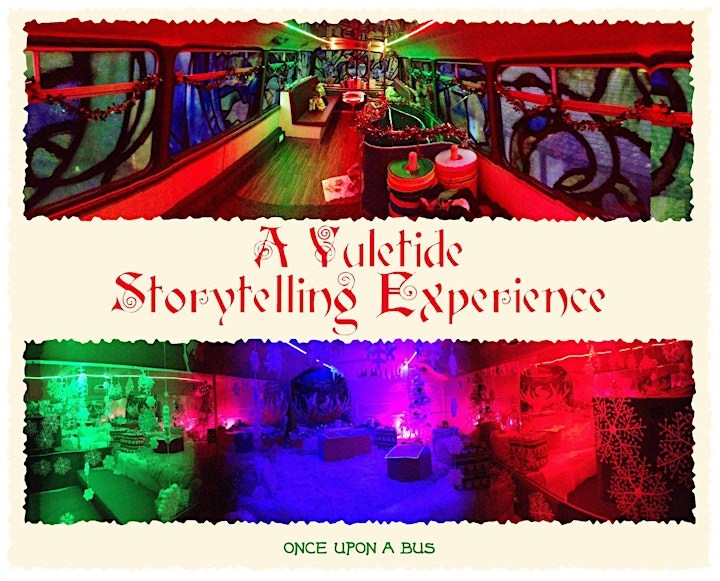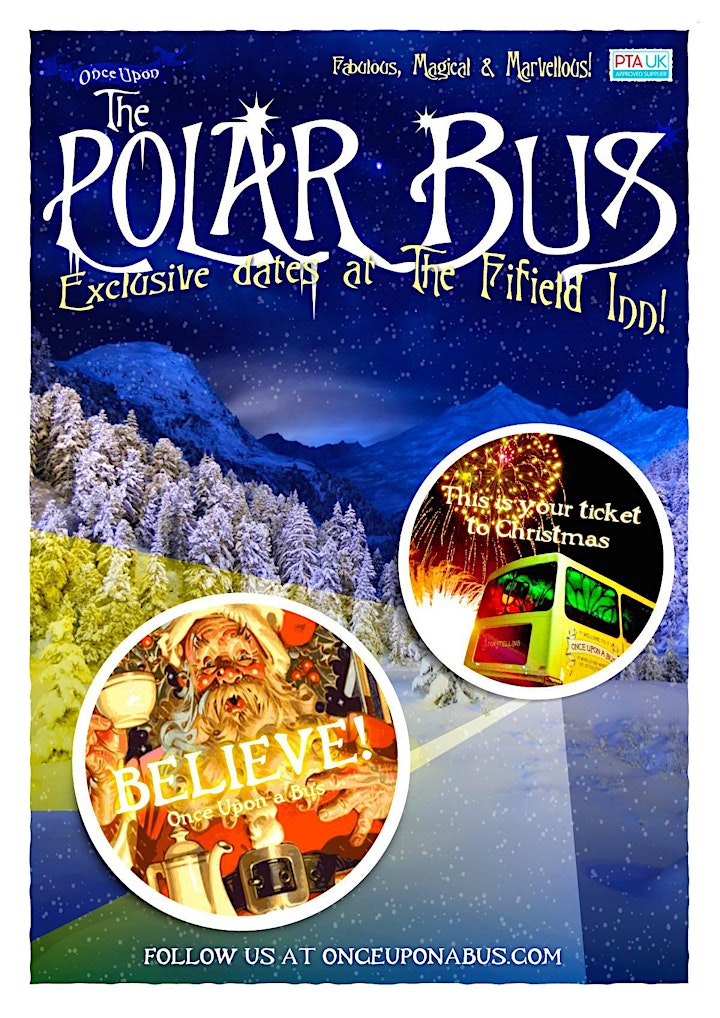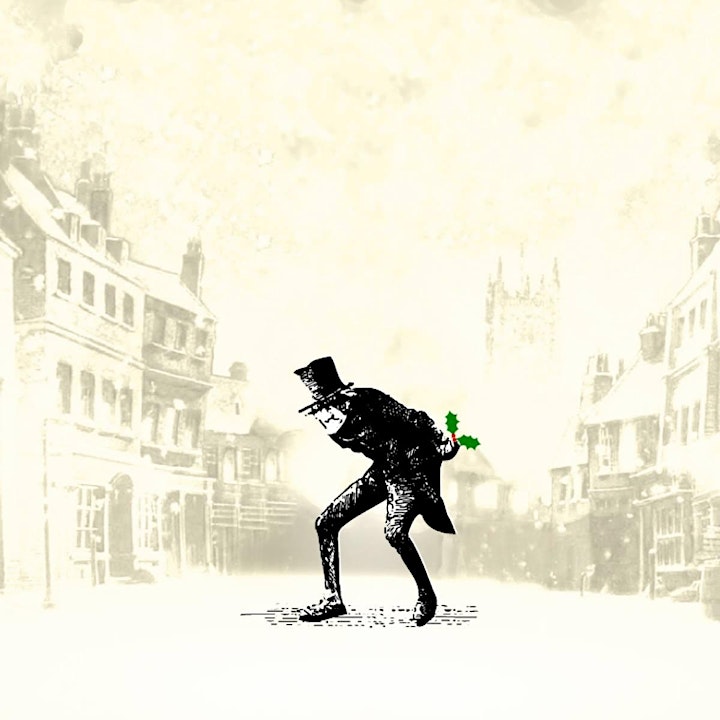 Organiser of Once Upon a Bus presents a 'Yuletide' experience at the Fifield Inn