Location
Odney Club
Odney Lane
Cookham
SL6 9SR
United Kingdom
A weekend of storytelling with Once Upon a Bus to support our Ukrainian friends currently seeking refuge with families in the RBWM
About this event
A fabulous and magical storytelling experience
Ticket prices are £5.50 per human plus booking fees.
Each storytelling experience lasts 30 minutes including boarding and off loading!
Our magical storytellers will take you on a journey of the imagination and what better place to hold this fundraising event but at the beautiful grounds of the 'Odney Club.' This quaint corner of Berkshire, where the Thames and Lulle Brook meander by, is thought to be the inspiration for the classic book the Wind in the Willows; and it isn't hard to see why. You will be charmed by this wonderful country setting. The Odney club is usually a 'private members club' but like 'Willy Wonka' they are opening the gates to the public as part of Cookham Festival for 'A celebration of the Arts by the village'.
A Special Treat - Not to be missed!
As part of Cookham festival the amazing sculpture gardens bring you an eclectic collection of sculpture created by artists from around the UK. Large and small scale works, in a variety of media carefully positioned throughout the beautiful grounds of the Odney Club. Visitors can wander beneath specimen trees, along the water's edge or by the herbaceous beds admiring the creations . All the sculptures, some with multiple editions, will be available to purchase so if you are looking for that perfect piece to adorn your garden, or commission a bust of a special person (or pet) the Cookham Festival Sculpture Garden at the Odney Club is the place to come.
Entrance into the sculpture gardens is usually £3 but when booking a storytelling session a 50p donation on the day will grant you a wristband allowing you access into the gardens and 'Tea and cake' can be purchased and enjoyed on the lawns! What's not to love?!
More at Cookham Festival Sculpture Gardens
For more on Cookham festival have a look what's on! Cookham Festival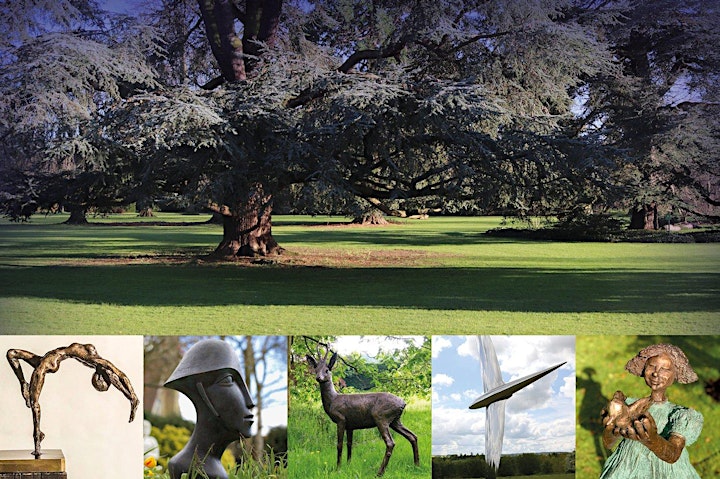 How do I book tickets ?
All tickets for the Once Upon a Bus experience are booked via the Eventbrite system.
Donation and access into the gardens are issued on the day.
We are running 6 storytelling shows on Saturday 14th May and Sunday 15th May, limited to 30 people per show.
Show times and stories are at the following times:
10:00-10.30: The Gruffalo and Goldilocks and 'The Three Bears'
11.00-11.30: Magic porridge and 'The Three Little pigs'
12:00- 12.30: Room on the Broom
1.30- 2.00 : Peter Pan
2.30 -3.00 : Alice in Wonderland
3.30-4.00: Room on the Broom
For further information please contact:
Arti the elf : 07912101619
The Creators of Once Upon a Bus
The magical 'Multi Award Winning', Once Upon a Bus is "A World on Wheels of Storytelling" and family event management company created and developed by Arti Sharma-Grey (The Elf) and Matt Grey (aka The Captain/Bubbleman). Based in Bray the company was established in 2013 and launched by the late great Paul Daniels and the lovely Debbie McGee, with over 1000 people in attendance it was a day to remember!
Once Upon a Bus celebrate the storytelling craft with entertaining, educational sessions on a beautiful customised double-decker bus. Specially developed to allow young people to enjoy and explore the magic of storytelling in an interactive, immersive environment; Designed to deliver an out-of-this-world experience, the storytelling bus transforms learning into an unforgettable adventure.
Once Upon a Bus has an extensive customer base comprising both educational establishments and prestigious events including The Royal Flower Shows, The Royal Wedding at Windsor and many more!
For more information visit: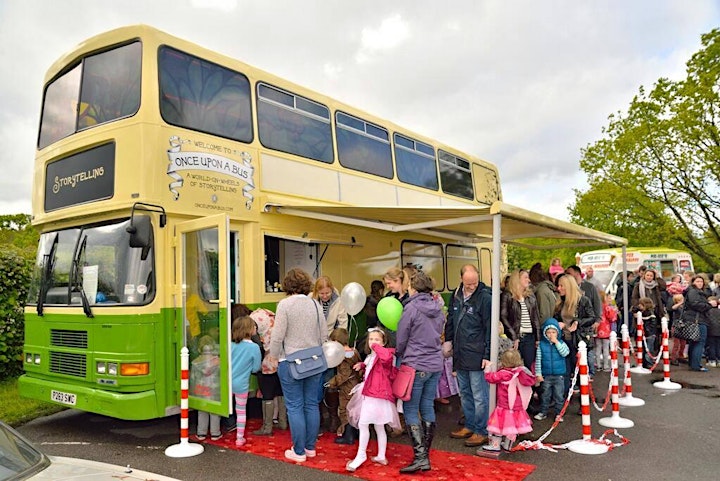 Arti "The Woodland Elf"
Arti has experience in both corporate and educational settings and has worked with vulnerable people and adults as well as children with special needs. Arti is hosting a Ukrainian family along with others in the Royal Borough of Windsor and Maidenhead. She is one of the founders of Safeplaces RBWM and is pleased to be donating profits from this event to the charity Safeplaces.
A professional storyteller, scriptwriter and event host, Arti will be entertaining you throughout the event on her 'Once Upon a Bus'.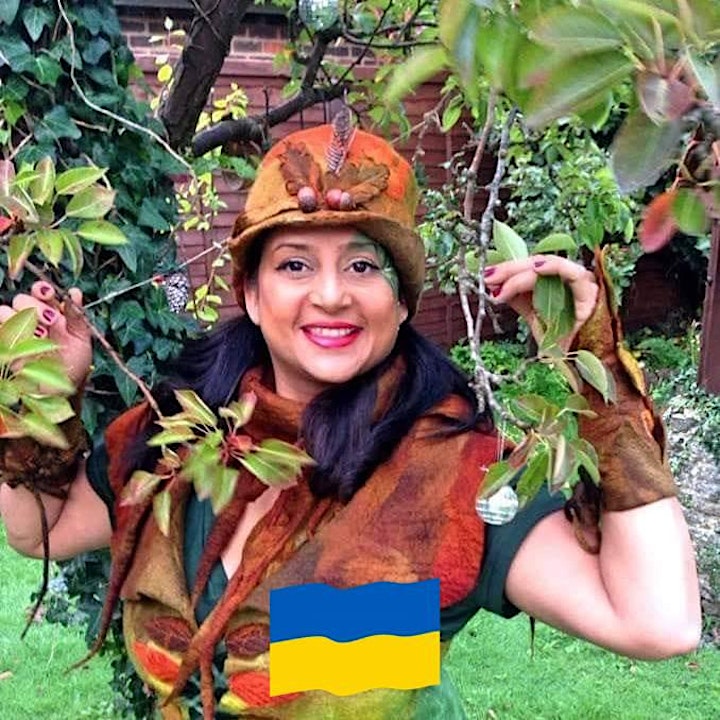 Matt "The Bubble Man"
Matt is the mastermind of the bus design as well as being self-styled "Captain of the Bus"Matt is our professional bubble man, scriptwriter and creative designer.Come and watch the huge bubbles, BUT remember: "Never burst another person's bubble"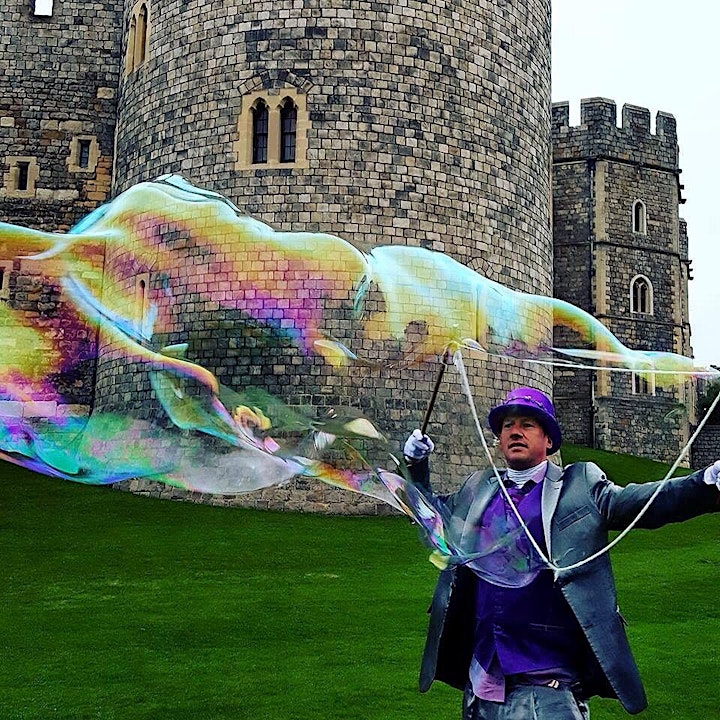 Jane the Storyteller
Jane has worked professionally in the UK for 25 years as an actress, director, scriptwriter and entertainer. Jane performed the role of 'Dee Livery' the unicycling paper girl who appeared alongside Justin Fletcher in the first 23 episodes of his BAFTA Award winning show "Justin's House" on CBeebies. Jane ran away with the circus but we picked her up on the bus and bought her home!
Jane will be seen in various guises, from co-hosting on stage, performing on the bus and demonstrating her magnificent circus skills!
For more information and showreel visit:
Anastasiia Kot
We welcome the most awesome make up artist who recently arrived from Ukraine and is staying with a founder of Safeplaces RBWM.
Anastasiia is from Odessa, Ukraine, beauty is her passion and her talent shines through. She quotes ' I love to see people are smiling to their reflection in the mirror, it makes me so happy'.
We are happy to announce she will be making children very happy as the facepainter over the two days. Anastasiisa we salute you!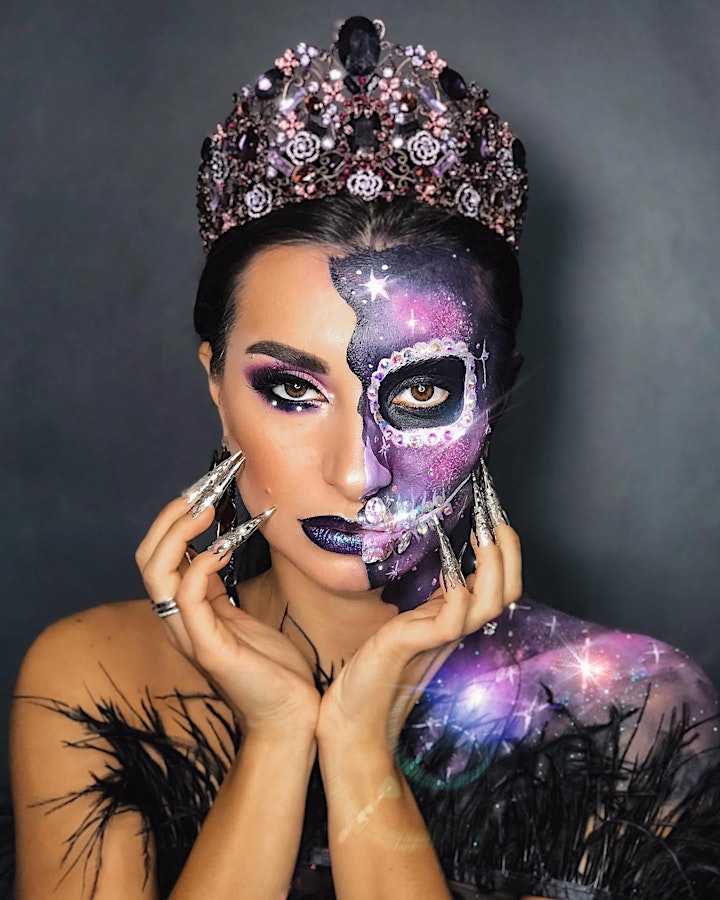 The Charitable Organisation Safeplaces RBWM
MILLIONS of families have already lost their homes, businesses and loved ones, while many more are fleeing Ukraine to escape the horrors of the recent invasion. Millions are currently displaced and increasingly desperate.
The UK Government has responded with the "Homes for Ukraine" scheme to allow hosts from the UK to sponsor families seeking refuge. A stipend has been granted to offset possible incurred overheads, and the application process has been minimised. However the process is still complex and is proving to be frustrating for many of those currently engaged; it requires good internet connection in difficult, sometimes impossible circumstances, exchange of detailed information and other procedural requirements that means many are effectively trapped whilst they wait desperately for applications to be filed correctly, processed and accepted. Meanwhile, there is very little guidance or support available to prospective hosts who are matching themselves with displaced families through social media platforms and other means.
Women and Children will arrive with what they are wearing and a few personal belongings and will need much additional support. The hosted families will be able to seek employment or apply for benefits when they arrive, but for many the traumatic situations that they have endured will overwhelm these concerns.
Safeplaces RBWM has been established by a group of volunteer residents who are either hosting families or want to help those who are hosts. Help comes in many forms. From matching applicants and hosts, to advice on filling out visa applications, sharing support and networking ideas, travel advice, schools application advice, benefits and financial advice to asking tradesman for help in getting accommodation ready.
The list is potentially endless, but in short we want to help to ensure: - Psychological and emotional support - Security / Shelter - Basic amenities - Help with childcare - Help and advice regards transport - English lessons - Assistance with communications / paperwork
Safeplaces RBWM asks individuals and businesses to pledge their support by donating monies so that grants can then be allocated to families to help deliver on the above requirements.
Safeplaces RBWM is here to support and encourage the residents of RBWM to host a family if circumstances permit, and to let them know that if you do, they will not be alone.