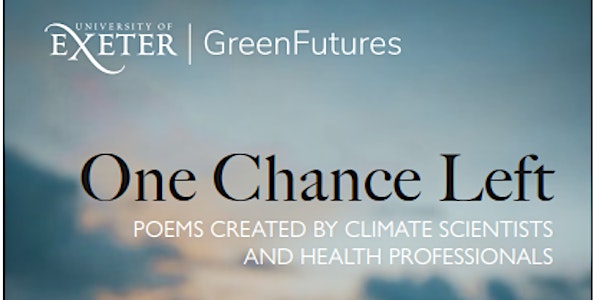 One Chance Left - Screening Launch Event - Poems for COP26
Location
Glasgow - COP26 Fringe Festival - Arctic Base Camp Tent
Fringe Festival
Glasgow
G1 3SQ
United Kingdom
Location: Arctic Base Camp Tent at The Fringe Festival hosted by Federated Hermes International during COP26 in Glasgow, UK
About this event
We invite you to visit One Chance Left, a collection of poems created by climate scientists and health professionals for the COP 26 UN Climate Change Conference.
Climate scientists, healthcare professionals, and academics from the University of Exeter and the Met Office at the forefront of the climate and health crisis have come together to create poems to deliver key climate change and health messages. This collaboration at the intersection of science and the humanities hopes to inspire, inform and call to action.
One Chance Left is a collection of 12 poems for the 12 days of COP26 that are narrated by high-profile speakers and accompanied by nature sounds. This poetry screening launch will take place in the Arctic Base Camp Tent at The Fringe Festival hosted by Federated Hermes International during COP26.
The poems produced focus on key environments, (deserts, Arctic/tundra, tropical forests, savannah, oceans and rivers) and existential challenges (equity and social justice, water, food, antibiotics, health, climate migration, pollinators).
How We Made it Happen
This selection of poems evolved out of a shared belief among the core team that the need to get key climate change messages across is vital and urgent and that poetry, by showing rather than telling, can be a powerful and transformative tool to carry that message. Those working on the front line of the climate crisis and health care are well placed to produce these poems as they are close to and witness first-hand what is changing.
So, we invited scientists and medical practitioners to join us in online creative writing workshops to create twelve poems for the twelve days of COP26.
Now, we want to share One Chance Left with as wide an audience as possible. Through these collaborative poems we aim to continue the conversation, open a widening and lengthening corridor of creativity, from the South West to Glasgow and far beyond to help in healing the world. This initiative builds on the University of Exeter's Green Futures effort to respond to the environment and climate emergency.
Audience
These poems are for anyone open to engaging with bold, resonant, and memorable words and images. Our creations are produced in a spirit of exploration and collaboration will shine as eco-friendly beacons. They will demonstrate that no matter who we are, or where we are in the world, we can individually and collectively forge paths that will protect our environment and avoid planetary catastrophe.
Booking Information
Maximum 25 people per 30 minute slot
Please bring photo ID with you that matches the booking name
Covid Guidance
Our highest priority is to run a safe event and therefore we are asking everyone to be either fully vaccinated or to have taken a lateral flow test 24 hours before arrival.
Face masks should be worn when moving around the site in communal areas unless eating or drinking. You do not need to wear a mask while seated.
We will be keeping a close eye on Covid measures in Scotland in the lead up to the event and will confirm with you at least 2 weeks before your event on the agreed process and measures.
If you would like to attend this event but cannot make the 6 November time slot, please register your interest to hear about further opportunities to attend later in the week. We will be in contact when further information is available.