Description
The One Dance UK 2018 conference is a vibrant platform for professional development, educational and networking opportunities, and delivers a programme that includes inspiring speakers and thought provoking discussion and debate.
Who should attend?
The One Dance UK Conference is aimed at everyone in the dance sector. So whether you are an educator in school or community settings, whether you are involved in the training and performance of dancers, leading a dance company or training institution, studying dance, supporting the healthcare of dancers or are indeed a dance artist yourself, this conference is for you.
What will it cover?
We have carefully curated blend of speakers and sessions to embrace many disciplines. So, whatever your practice, profession, career stage or perspective on the dance sector you will be able to navigate the most relevant and informative blend of sessions over the two days.
Why should I go?
Be part of the biggest event of the UK dance sector for practitioners and professionals across many disciplines from different regions.
Gain an up to date awareness of the Dance landscape in the UK
Be inspired by both established sector figureheads and emerging leaders of the future
Share your insights and knowledge and learn from others in a collaborative and open way
Take advantage of networking opportunities to catch up with old colleagues and make new dance sector contacts – connect with artists, teachers, student, professionals and leaders.
Enjoy innovative, interactive formats to encourage discussion, collaboration and knowledge transfer
Participate in practical sessions and workshops designed to reinforce learning.
Feed your thinking, planning and professional development and head back to work buzzing with new ideas and learning and knowledge of best practice
How much does it cost?
Early bird tickets are now on sale with prices from just £29.50, the table below shows the full range of tickets on offer. One Dance UK members receive 40% off tickets - follow these steps to unlock the discounted prices.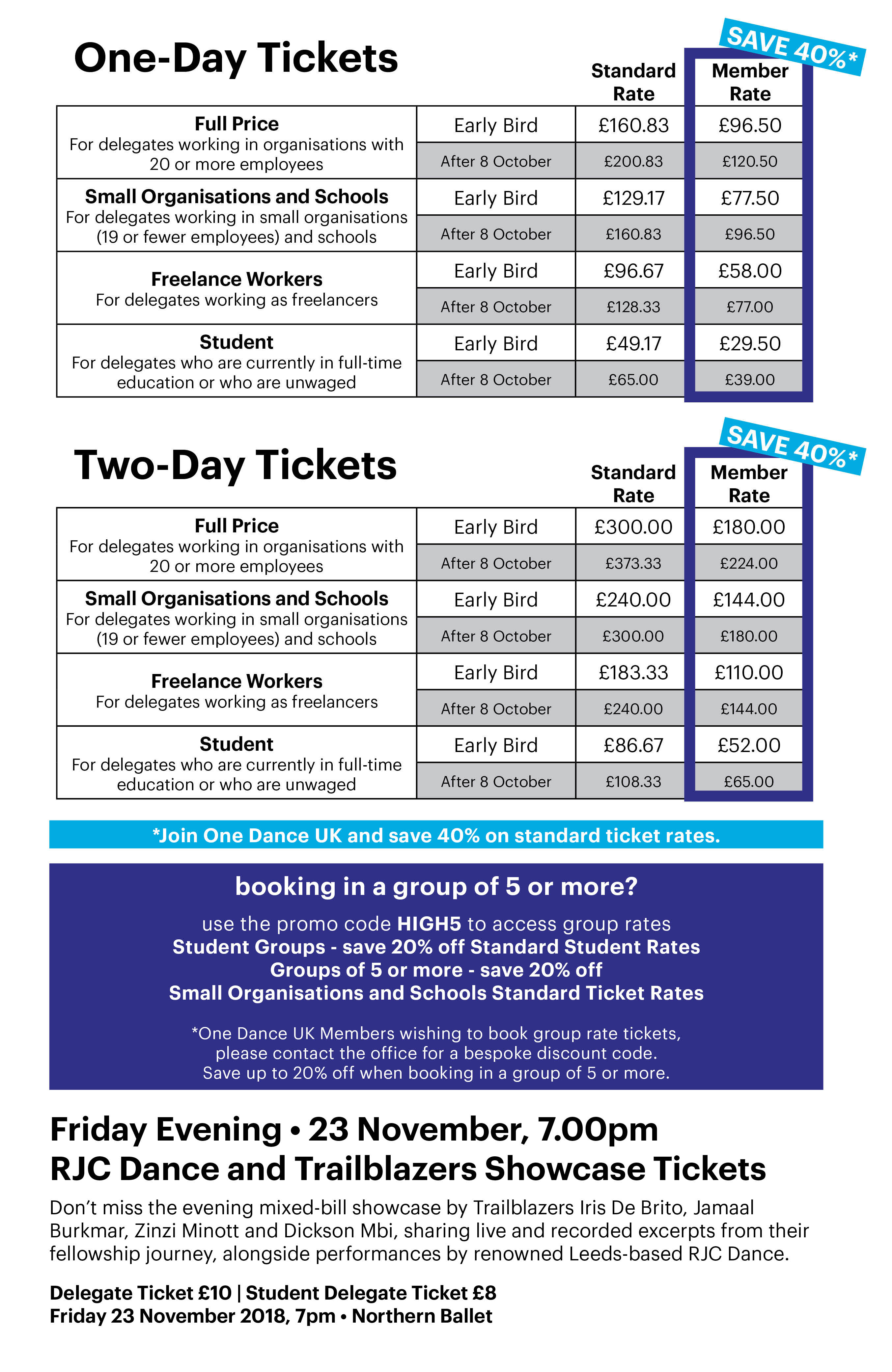 RJC Dance and Trailblazers Showcase Tickets for Conference Delegates are available as an additional purchase item in the Check Out section. To purchase tickets to JUST the showcase, please go to this event page.
One Dance UK Members will have received bespoke discount codes to access Member Rates. If you have not received a code, or you wish to book Member Group Rate Tickets, or are having any problems using these pages, please contact the One Dance UK via telephone at 020 7713 0730.
Want to access the One Dance UK Member Rates?
Become a member from as little as £20* and save 40% off standard rate tickets. Visit www.onedanceuk.org/memberships or call 020 7713 0730 to join today.

*One Dance UK Memberships range from £20 to £75 for individual memberships.
Visit our website for more details about One Dance UK Conference 2018.

---

One Dance UK Conference 2018 will be professionally photographed and filmed for future promotional purposes.
Photographs may be used throughout the world in all and any media, including, without limitation, in printed publications, presentations, promotional material or online, in their original format or edited or altered in any way.