Description
Needle Felting Workshop
Learn a new skill!
On this one-day needle felting workshop artists Elvan Özkavruk Adanır, Jovita Sakalauskaite and Berna İleri will guide you step by step through the basic techniques of needle felting. You will be taught about the basics of making felt. Artists will take you through the different colours of wool fibers that are available, and give an introduction to felting. By the end of this workshop you would be able to create your own beautiful art works, ready for you to take home or if you can part with them to give that special someone as a special gift!
Workshop Date: Saturday 17th March 2018
Deadline for enrolment : 16th March 2018 at 1 pm

Workshop Duration : 4 hours between 2:00pm and 6:00pm
Workshop Fee: £20.00 + eventbrite service fee (Includes all materials)
Location: Yunus Emre Institute – London
10 Maple Street London, W1T 5HA
(Nearest Tube Stations: Warren Street and Goodge Street)
Instructors:
Elvan Ozkavruk Adanır studied textile engineering at Ege University and got her master's and doctorate's degree in traditional arts at Dokuz Eylul University. In 2008 she got her professorship. She has published books, papers, articles, and book chapters. She translated the book written by J. Bronowski-B. Mazlish named "Western Intellectual Tradition from Leonardo to Hegel". Her art works are accepted for international and national permanent collections. She opened several solo exhibitions and attended mixed exhibitions. She has been teaching in Fashion and Textile Design Department of Izmir University of Economics since 2011.

Jovita Sakalauskaite completed a Master's degree in Vilnius Academy of Fine Arts, Faculty of Fine and Applied Arts, Department of Textiles in 2009. In 2014 she attained a Diploma of Doctorate in Art, from Dokuz Eylül University, Institute of Fine Arts, Department of Textile and Fashion Design (Turkey). Since 2004 the artist has participated in different national and international exhibitions, has presented her articles and reports in international symposiums. To-date she has opened 9 personal exhibitions in both Lithuania and Turkey. Since 2015 she works as a lecturer in Izmir University of Economics, Faculty of Fine Arts, Department of Fashion and Textiles.
Berna İleri received her master's degree for Traditional Arts at Dokuz Eylul University and her doctorate's degree in Traditional Arts at Gazi University. She is lecturing since 2012 at Mustafa Kemal University in Hatay, Turkey. She has published a number of papers, articles, and book chapters including the book chapter named "Hatay'ın Vefalı Ustaları ve Hatay Elsanatları" in Asi Gülüşlüm Ah Güzel Antakya. She has also opened attended co-exhibitions. She has been working in traditional textile design, traditional silk weaving and Turkish carpet in Faculty of Fine Arts at Mustafa Kemal University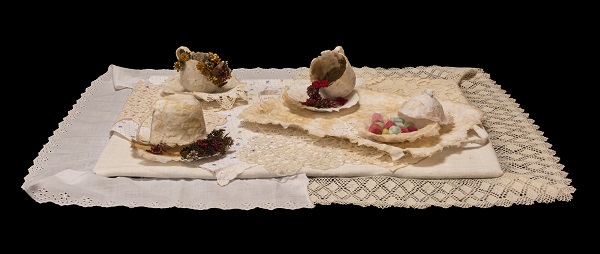 For updates please follow us on social media @yeelondra
For further information please contact Mrs. Emel Albayrak on 0207 387 3036 or londra@yee.org.tr by 16th of March.