Description
One Mile Away - Film Screening and Q&A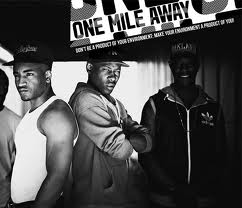 sounddelivery and the Garden Court Chambers are delighted to be hosting a screening of the award-winning documentary'One Mile Away' at the Garden Court Chambers on 9th April.
The film is by the award-winning director Penny Woolcock and is about two rival gangs in Birmingham - the Burger Bar Boys and the Johnson Crew - and their attempts to bring peace to their neighbourhoods.
''A riveting portrait of the complex, contentious reality of the streets, and the courage it takes to make a difference, it could well be this year's most important British Film." Time Out
The event starts at 6pm and the film will begin promptly at 6.30 pm. After the screening there'll be a special Q&A session with people conntected with the film.
To watch a trailer of the film go to http://onemileaway.co.uk/

The ticket price includes light bites + drinks before and after the film.
There is limited capacity at this venue so please book early to avoid disappointment.
The hashtag for this event is #soundtalks
For any further information about the film email hello@sounddelivery.org.uk
www.sounddelivery.org.uk

Organizer of One Mile Away: Screening and Q & A
sounddelivery media is a new charity working alongside people with direct experience of social injustice to advocate for themselves and their communities publicly by providing training, support and mentoring, media meet ups and media opportunities. We work to address representation and diversity of voice in the media, finding platforms for our networks and building trusted relationships with journalists. We tackle the barriers that prevent these experts from engaging with the media who have the power to influence change.