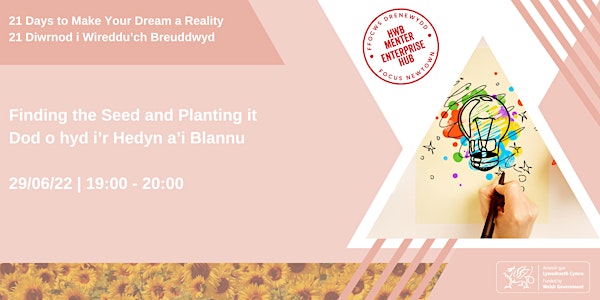 Online| 21 Days to Make your Dream a Reality | 21 Diwrnod i Wireddu'ch Breu
21 days to Make your Dream a Reality Week1| 21 Diwrnod i Wireddu'ch Breuddwyd Wythnos Un
About this event
THIS SESSION WILL BE DELIVERED IN ENGLISH ONLINE. Welsh documents are available upon request.
MI FYDD Y SESIWN HON YN CAEL EI GYNNAL YN SAESNEG AR-LEIN. Mae yna ddogfennau Gymraeg ar gael os oes angen.
(Please scroll down for English)
21 diwrnod nes llwyddo fel busnes newydd
Ydych chi erioed wedi meddwl yr hoffech fod yn fos arnoch chi eich hun rhyw ddiwrnod? Efallai eich bod wedi breuddwydio am adeiladu busnes llwyddiannus? Efallai eich bod wedi dechrau, ond yn awyddus i ddatblygu a thyfu eich syniad?
Os ateboch chi do i unrhyw rai o'r uchod, mae gennym gyfle cyffrous ar y gweill ar eich cyfer! Mae Hwb Ffocws Drenewydd yn cynnal cyfres gyffrous newydd; 21 diwrnod nes llwyddo fel busnes newydd.
Dyma gyfres o bedair sesiwn ar-lein cyflym yn llawn cynnwys o'r radd flaenaf a fydd yn para 60 munud ac yn trawsnewid y ffordd rydych chi'n dechrau busnes.
Fel hedyn, mae syniad busnes newydd angen ychydig o ofal, amser a chynllunio er mwyn tyfu, ond gydag ychydig o gymorth gall dyfu a ffynnu! A dyna'n union yw nod y gyfres hon.
Beth fydd dan sylw yn y digwyddiad?
Mae'r gweithdy hwn sydd wedi'i ariannu yn llawn yn cynnwys awgrymiadau ac adnoddau gwerthfawr iawn a fydd o gymorth ichi o ran llwyddo i lansio eich busnes newydd.
Wythnos 1 – Dod o hyd i'r hedyn a'i blannu
Pwy yw Matthew, a sut all yntau fod o gymorth i mi?
Eich amcanion a'r cynllun clyfar
Y cylch busnes, beth i gadw llygad arno a'ch cyfresi sgiliau
Tîm 'A' cefnogaeth, ac a yw hyn yn addas i chi?
Wel, ewch amdani! Cofrestrwch ar gyfer pob sesiwn heddiw. Pheidiwch â cholli'r cyfle ardderchog hwn.
Wythnos Un – 29 Mehefin: cliciwch i gofrestru
Wythnos Dau – 6 Gorffennaf: cliciwch i gofrestru
Wythnos Tri – 13 Gorffennaf: cliciwch i gofrestru
Wythnos Pedwar – 20 Gorffennaf: cliciwch i gofrestru
Ar gyfer pwy mae'r gweithdy?
Mae'r gweithdy'n berffaith ar gyfer unrhyw un yn rhanbarth Powys sydd â diddordeb mewn dechrau neu dyfu busnes. Os oes gennych chi syniad yr hoffech ei droi yn fusnes, neu fusnes presennol yr hoffech ei ddatblygu a thyfu, mae'r gweithdy hwn yn ddelfrydol.
Cefndir y siaradwr
Matthew Woodhead yw rheolwr gyfarwyddwr Woodhead Consulting sy'n cynnig gwasanaethau hyfforddiant a chyfrifeg yn arbenigo mewn cefnogi BBChau i ddechrau a thyfu.
Mae Matthew wedi bod yn creu a chyflawni datrysiadau hyfforddiant fel hyn ers 1994, gan gefnogi busnesau ac unigolion o gynlluniau busnes hyd at geisio datrysiadau ariannol sy'n gweithio iddyn nhw. Mae Matthew wedi helpu dros 1000 o fusnesau i ddechrau yn ystod ei yrfa, gan gynnwys llawer o fusnesau ef ei hun.
-----------------------------------------------------------------------
21 Days to Make Your Dream a Reality
Have you ever thought that you'd like to be your own boss one day? Maybe you've dreamt of building a successful business? Perhaps you've started but want to develop and grow your idea?
If you answered yes to any of the above, then we have an exciting opportunity for you! Focus Newtown Enterprise Hub is running an exciting new series; 21 days to Business Start –up Success.
A fast-paced, high-quality content series of four, 60-minute online sessions that will transform the way you start a business.
Like a seed, a new business idea takes some nourishment, time and planning to grow, but with a little help it can grow and prosper! Which is exactly what this series is designed to do.
What will the event cover?
This fully funded workshop is full of high-value tips and tools to help you to successfully launch your new business.
Week 1 - Finding the seed and planting it.
• Who is Matthew, and how can he help me?
• Your objectives and the cunning plan
• The business cycle what to watch for and your skills set!
• The 'A' Team of support, and is this for you?
What you are waiting for? Sign up to EACH session, separately, today! Don't miss out on this fantastic opportunity.
Week One – 29th June: Click to register
Week Two – 6th July: Click to register
Week Three – 13th July: Click to register
Week Four – 20th July: Click to register
Who is this workshop for?
This workshop is perfect for anyone in the Powys region that is interested in starting or growing a business. Whether you have an idea you want to explore turning into a business or you have an existing business that you would like to develop and grow.
About Speaker
Matthew Woodhead is the managing director of Woodhead consulting which offers training and accountancy services specialising in supporting SMEs to both start and grow.
Matthew has been authoring and delivering training solutions such as this one since 1994 supporting businesses and individuals from business plans right through to seeking financial solutions that works for them. Matthew has helped over 1000 businesses start during his career including a number of his own.

Mae Hybiau Menter Ffocws yn darparu gofod arloesol i ddeori a sbarduno busnesau newydd a'r rhai sy'n ehangu. Mae Hwb Menter Ffocws y Drenewydd a Hwb Menter Ffocws Caerfyrddin yn cael eu hariannu'n rhannol gan Gronfa Datblygu Rhanbarthol Ewrop trwy Lywodraeth Cymru
Mae'r digwyddiadau a ddarperir neu a gynhelir gan raglen Hybiau Menter Ffocws Llywodraeth Cymru am ddim ac yn agored i bobl o bob oedran, ond rhaid archebu lle ymlaen llaw. Mae'r niferoedd yn brin a disgwyliwn alw mawr am lefydd, felly archebwch yn gynnar i ddiogelu'ch lle.
Focus Enterprise Hubs are an innovative space to incubate and accelerate new, and growing businesses. Focus Newtown and Focus Carmarthen Enterprise Hubs are part funded by the European Regional Development Fund through the Welsh Government
Events delivered or hosted by the Focus Enterprise Hubs programme for the Welsh Government are free and open to all ages but must be booked in advance. Please be advised that numbers are limited and we expect high demand for places, so book early to secure your place.