Refund policy
Contact the organiser to request a refund.
Eventbrite's fee is nonrefundable.
Don't miss what will be a truly fascinating few days and an inspirational start to the new year!
About this event
We are thrilled to announce an online residency with internationally renowned artist, Emma Smith.
The residency will include an in-depth exploration of Emma's practice including wide ranging themes, ideas and ways of working. Talks and workshops will explore the practice of Ars Combinatoria and the bringing together of diverse fields of knowledge, research as practice, working in collaboration, tools, resources and practicals of social practice and collective problem solving. Participants will have the opportunity to develop existing or new ideas for projects and will benefit from sharing sessions to utilise the expanded knowledge of the group.
Don't miss what will be a truly fascinating few days and an inspirational start to the new year!
What to expect//
An expanded residency including online talks, group workshops and exchange and offline independent making-time to suit you. The residency will include two online sessions per week on Monday and Tuesday mornings for three weeks with whatever independent making time you would like between weekly sessions.
What will I leave with//
Ideas for making work drawing on multiple themes, knowledge of models for working collaboratively and through research, and reflection and new routes forward on current and future work. Thinking space and reflection on the terms by which you make work; both how you invite others into your practice and how your practice is invited to be commissioned.
The Facilitator//
Emma Smith is a visual artist based in the UK and works internationally. She has a social practice and creates public platforms for experimentation, research and action through site-specific events and installations. For more information about Emma's work have a look at her website emma-smith.com
Dates//
Mon 18th / Tue 19th / Mon 25th / Tues 26th January 2021
Mon 1st / Tue 2nd February 2021
(All Mondays 10:00-13:00 / First two Tuesdays 10-12 and the final Tuesday 10:00 - 11:00)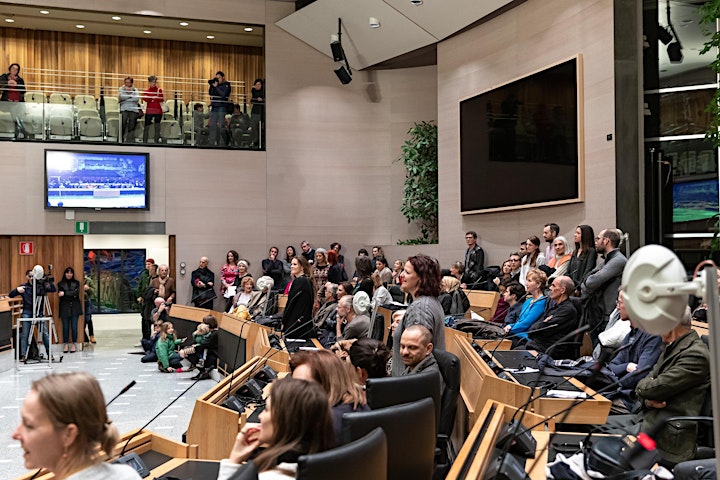 IMAGE: Emma Smith, Sprechgesang Parlando, Parliamentary building of South Tyrol, January 2020. Commissioned by VBB. Curated by BAU. Photography by Luca Guadagnini.