Online Author Event: Paul Mendez | UoB Library and BANES Council
Zoom webinar with Paul Mendez, author of Rainbow Milk, in conversation with Professor Rajani Naidoo for Black History Month 2021.
About this event
This will take you to a Zoom registration page. All you need to do is enter your name and email address, click register and it will bring up the link, taking you straight into the webinar.
If you need further assistance, please email: equality@bathnes.gov.uk
About:
The University of Bath Library and BANES Council present an online event with Paul Mendez, author of the highly praised novel 'Rainbow Milk', in conversation with Professor Rajani Naidoo (UNESCO Chair in Higher Education Management, Director of the International Centre for Higher Education Management and Head of the Race Equality Taskforce at the University of Bath). This event will take place between 6 - 7pm, Thursday 28th October. Make sure to book your free ticket now, you don't want to miss it!
Discussions will revolve around Paul's debut novel Rainbow Milk; the politically, socially and culturally relevant topics and themes featured in the book; and some insight into Paul's inspiration and writing process. There will also be a short reading from the book, and a section dedicated to audience questions, read out by our host Professor Rajani Naidoo.
Mr B's Emporium discount code
Everyone who attends the event will be supplied with a code kindly provided by Mr B's Emporium, a local bookshop in Bath. If you purchase the book from them, you can use the code to get a 10% discount!
Submit your questions
There will be a chance to submit your questions when you book your tickets, however you can also email them to us later at: uoblibraryevents@gmail.com.
We'd love to hear you questions and thoughts about the book!
Please note, mature themes will be discussed during this event, and a minimum age of 16 is advised for attendees.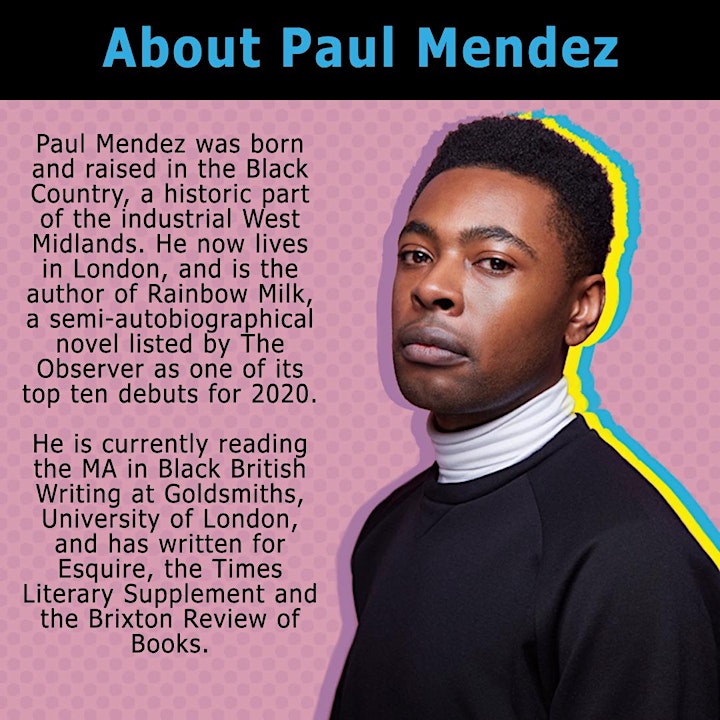 About Paul Mendez, the author:
Paul Mendez was born and raised in the Black Country, a historic part of the industrial West Midlands. He now lives in London, and is the author of Rainbow Milk, a semi-autobiographical novel listed by The Observer as one of its top ten debuts for 2020. He is currently reading the MA in Black British Writing at Goldsmiths, University of London, and has written for Esquire, the Times Literary Supplement and the Brixton Review of Books.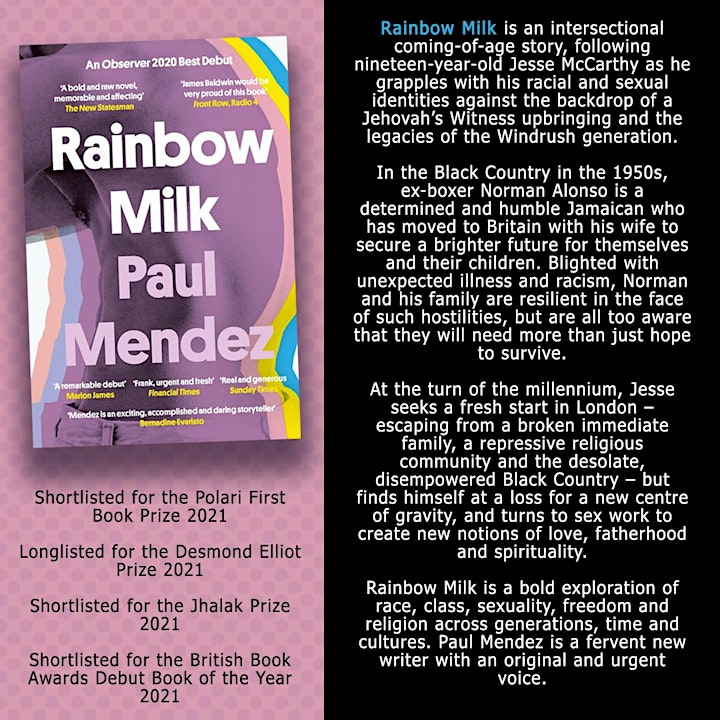 About Rainbow Milk, Paul's debut novel:
Rainbow Milk is an intersectional coming-of-age story, following nineteen-year-old Jesse McCarthy as he grapples with his racial and sexual identities against the backdrop of a Jehovah's Witness upbringing and the legacies of the Windrush generation.
In the Black Country in the 1950s, ex-boxer Norman Alonso is a determined and humble Jamaican who has moved to Britain with his wife to secure a brighter future for themselves and their children. Blighted with unexpected illness and racism, Norman and his family are resilient in the face of such hostilities, but are all too aware that they will need more than just hope to survive.
At the turn of the millennium, Jesse seeks a fresh start in London - escaping from a broken immediate family, a repressive religious community and the desolate, disempowered Black Country - but finds himself at a loss for a new centre of gravity, and turns to sex work to create new notions of love, fatherhood and spirituality.
Rainbow Milk is a bold exploration of race, class, sexuality, freedom and religion across generations, time and cultures. Paul Mendez is a fervent new writer with an original and urgent voice.
Reviews:
'Sensuous and thrillingly well written' - The Observer
'Eye-poppingly frank, urgent and fresh' - Suzi Feay, The Financial Times
Shortlisted for the Polari First Book Prize 2021
Longlisted for the Desmond Elliot Prize 2021
Shortlisted for the Jhalak Prize 2021
Shortlisted for the British Book Awards Debut Book of the Year 2021
Organiser of Online Author Event: Paul Mendez | UoB Library and BANES Council