Online Book Club - Songs We Learn from Trees - Chris Beckett & Alemu Tebeje
Description
Songs We Learn from Trees
edited by Chris Beckett and Alemu Tebeje
The Anglo-Ethiopian Society's book club will discuss Songs We Learn from Trees, an anthology of Ethiopian Amharic poetry in English.
The first of its kind, the 304-paged collection features much-loved giants of the 20th century Ethiopian poetry such as Kebede Mikael and Tsegaye Gabre Medhin, in addition to poems by over 30 contemporary poets, some living and working in Ethiopia and others abroad.
The collection is edited by the British-Ethiopian poet Chris Beckett, a Ted Hughes Poetry shortlistee, and Alemu Tebeje, journalist and poet based in London. The collection will be published on May 28, 2020 by Carcanet Press.
Songs We Learn from Trees is a joyous celebration of Amharic poetic tradition, a centuries-spanning collection that shows the richness of Ethiopian literature.
The collection includes "folk and Religious poetry first: rhymed couplets praising beautiful women, animals, warriors, emperors; ironic boasts in the voice of jigger fleas; poems praising the wonders of modern plumbing and bewailing famine and poverty, corruption, unreliable lovers; longer Q'ine poems written by priests, packed with biblical references, and poems written in the 'Wax and Gold' tradition where double meanings give a simple poem hidden political or profane resonance."
It also showcases 20th and 21st century poets experimenting with form and exploring questions of home, belonging, and exile.
Songs We Learn from Trees, May 2020, Carcanet Press, Manchester, ISBN 9781784109479, UK RRP £18.99.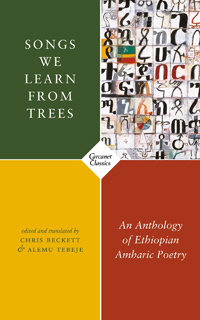 The online book club will be run via Zoom - we'll be using the free version so sessions will be limited to 40 minutes. Individual discussion groups will be limited to a maximum of 8 people - but we'll run multiple groups if there is the demand. If you want to join a group with your friends then you should make sure that you all join the same group. All registrants will be sent links to their session shortly before the event.
At 20:00 BST we'll run a second session that all registrants will be invited to join so that the different groups can share what they thought of the book.