Event Information
Refund policy
Refunds up to 7 days before event
Eventbrite's fee is nonrefundable.
A highly practical programme to meet the needs of new or prospective Care Coordinators .
About this event
Online CareCoordinatorPlus™
Advanced Online Training Programme specifically intended for Care Coordinators in the NHS or CVS sectors
Split Session:
Module 1 - Tuesday 17th August 2021 9.30 - 12.30pm
Module 2 - Tuesday 17th August 2021 1.30 - 4.30pm
Module 3 - Wednesday 18th August 2021 9.30 - 12.30pm
Who Should Attend?
The one and a half day CareCordinatorPlus course is ideal for:
Newly appointed or currently in-role Care Coordinators who wish to take a more professional approach to their role.
Those in other health and caring professions, or those with lived experience, who are considering applying for a Care Coordinator role in a Primary Care Network or voluntary sector scheme.
What Will I Learn?
The Care CoordinatorPlus™ Programme comprises 3 half day modules, normally on successive days.
The intensive online workshop is delivered via the Zoom online video conferencing platform. It is designed to provide delegates with all the knowledge, skills and confidence needed to allow them to commence work as a Care Coordinator in a GP surgery or a community based Social Prescribing scheme.
Whilst every member of a Social Prescribing team should have the same set of basic skills, techniques and approaches needed for their role, the Care Coordinator is often asked to take on further duties specific to their role.
In addition to sharing in the team's caseload of patients requiring Social Prescribing support, Care Coordinators often take the Lead in providing the Primary Care Network's (PCN) support to Care Homes under the Enhanced Health in Care Homes (EHCH) initiative.
Care Coordinators may also take on additional coordination roles within the team and may be the Lead in convening and managing Multi Disciplinary Teams (MDTs), as well as building relationships with community groups and with voluntary sector organisations and their link workers. They may also take responsibility for running a group themselves where no local community group exists and for managing the volunteers and the Social Prescribing Champions supporting the team in each Practice. Personalised Care and Support Planning is also a key part of the Care Coordinator role.
These additional roles will vary depending on the situation and preferences of the PCN, but all require skill sets and knowledge over and above those used by their team colleagues.
The CareCoordinatorPlus™ Programme provides Care Coordinators with the essential skills and techniques from our Personalised Care Institute Accredited SocialPrescriberPlus programme, as well as the 'special to role' skills and approaches needed for the Care Coordinator role.
Ongoing Support
As with all of our courses, delegates receive access to 12 months of 24/7 telephone support following the training, together with access to all the materials used and ongoing collaboration and networking tools, allowing them to keep up to date with the latest Care Coordinator and Social Prescribing developments and to build lasting personal and professional relationships, and networks with colleagues.
Coronavirus and Telephone Techniques
The situation around the coronavirus crisis is evolving rapidly, and the role of Care Coordinator is changing from a proactive one to a reactive one, in which most if not all consultations are done over the phone. As a result, the workshop provides considerable guidance on telephone techniques. It will also bring you bang up to date on the latest situation and share the guidance and advice provided to PCNs and Social Prescribers from the NHS Personalised Care and Social Prescribing teams.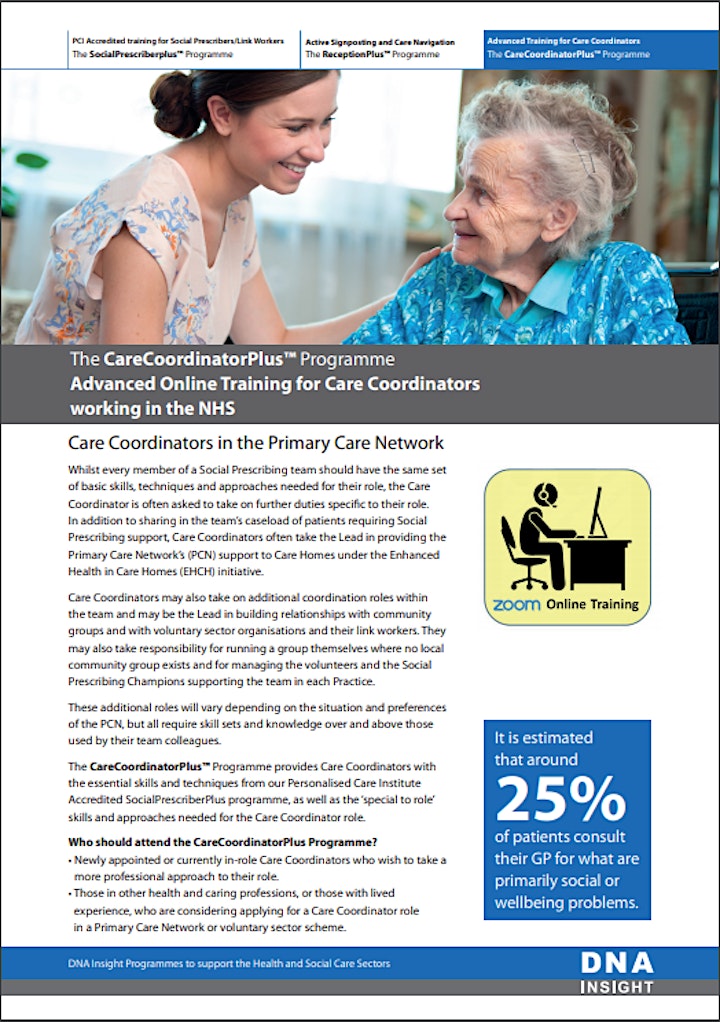 Date and time
Location
Refund policy
Refunds up to 7 days before event
Eventbrite's fee is nonrefundable.
Organiser of Online CareCoordinatorPlus Course for Care Coordinators
DNA Insight is a healthcare training consultancy, providing a wide range of support and training to GP Practices and the voluntary sector in Social Prescribing, Active Signposting & Care Navigation, and Correspondence Management & Workflow Optimisation. Our courses for Social Prescribers, Link Workers, Care Coordinators and Health Coaches are equally suitable for GP or CVS based Link Workers, whether already in the role or looking to move into the role in the future. Please contact us on 0800 978 8323 or visit our website at www.dnainsight.co.uk