About this Event
Pianist Aleksei Demchenko, in collaboration with the Russian Culture House (Rossotrudnichestvo), London Russian Music Academy, Tchaikovsky Music School and Russian Embassy in the UK present 'Kids for Kids' - a charity concert of children to support the Gift of Life charity.
The concert will be streamed on the YouTube channel of the Russian Culture House.
Gift of Life is a sister charity of Podari Zhizn Foundation, Russia. Its main goal is to raise funds in the UK and other European countries for the treatment of seriously ill children in Russian hospitals including the purchase of critical anti-tumour medications, which are not yet available in Russia.
The charity also arranges visits of foreign specialists to the Dmitry Rogachev National Research Center of Pediatric Hematology, Oncology and Immunology (Moscow) to perform surgeries and consult Russian doctors on unique surgical methods.
Since 2011, the Gift of Life raised more than £7.5 million and helped hundreds of Russian children.
All donations collected from that concert will go directly to Gift of Life charity.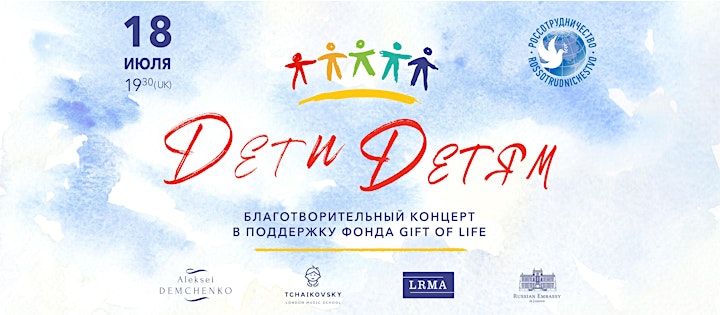 В сотрудничестве с Лондонской русской музыкальной академией, Русской музыкальной школой им. П.И. Чайковского, представительством Россотрудничества и посольством России в Великобритании пианист Алексей Демченко представляет детский концерт "Дети детям" в поддержку благотворительного фонда "Gift of Life".
Трансляция концерта состоится на YouTube канале представительства Россотрудничества в Великобритании.
"Gift of Life" - сестринская благотворительная организация российского Фонда "Подари жизнь". Главная цель фонда - собрать средства в Великобритании и других европейских странах для лечения тяжелобольных детей в российских больницах, включая покупку важнейших противоопухолевых препаратов, которые пока недоступны в России.
Благотворительная организация также организует визиты иностранных специалистов в Национальный исследовательский центр детской гематологии, онкологии и иммунологии им. Дмитрия Рогачева (Москва) для проведения хирургических операций и консультирования российских врачей по уникальным хирургическим методам.
С 2011 года "Gift of Life" собрал более 7,5 миллионов фунтов стерлингов и помог сотням российских детей.
Все пожертвования, собранные на концерте, идут в фонд Gift of Life.