Do you feel alone and stuck in your entrepreneurial journey? You might just need a Biz Bestie...​
About this event
Here's how YourBizBestie Coffee Chat can help you:
By joining the YourBizBestie community you can mingle with like-minded business owners, get referrals, harness collective wisdom & channel it to solve a big problem of yours and have fun.
All events/sessions are on Thursdays
1. Coffee Chat: this 2 hrs session is when you can talk about anything. It doesn't need to be about business. You can discuss Harry Potter or how to heat your garden office or how your cat snores next to you. Of course, we'll still start with a game, no topic is assigned.

Here's how YourBizBestie can help you apart from the online coffee chat events
2. Online networking: if you want to strengthen your connections, get lots of referrals, fresh ideas & support than you might just want to join a networking group.
We start with a game to melt the ice & build a connection (and have fun), then if anyone has any immediate need for a specific service/product/hire we'll discuss that.
After this, we have about 30 mins of mingling in breakout rooms which you can come drop in & out of. Followed by assigned groups where you have set time to introduce yourself & get to know each other better. And we close the 2 hrs event with free mingling.
3. Mastermind: it doesn't matter if it's marketing, finance, health, or relationships, you'll have a community of experts giving you the best advice to help you achieve your breakthrough transformation. That's what BizBesties do for each other.
We start this 2 hrs session with a game then we discuss a previously voted on topic until the end of the first hour. The second hour is all about hot seats where you can get your answers or give your best advice.
4. Online magazine: every month there will be a nice and shiny (well, not necessarily) magazine that every single member will receive via email. I mean the link to it.
This magazine contains every member (if their membership existed before the cut off date for production of the magazine) and some news around YourBizBestie and the members.
If you're a yearly member, you can include promotion/news/hiring info/etc of your business in the magazine.
5. Private Your Biz Bestie VIP Lounge group on Facebook or perhaps Voxer/Signal/WhatsApp - we can vote about it: basically to have the full community experience and rely on us when you have a question, want to rant, needing a bit of cheering up or advice.
Of course, we want to rely on you too! So please sprinkle your magic fairy dust on your fellow members when they're in need of your wise and sage words.
6. 4 Pitch-free training for yearly members: OK, you're here and want to learn a few bits and bobs about growing your business, managing your finances or team or whatever might be the desire of your heart.
The training sessions will be held online by guest experts to help you with those goals.
Yep, all of those will be recorded and you access them whenever you fancy of a bit of education (of course, only after they have been released).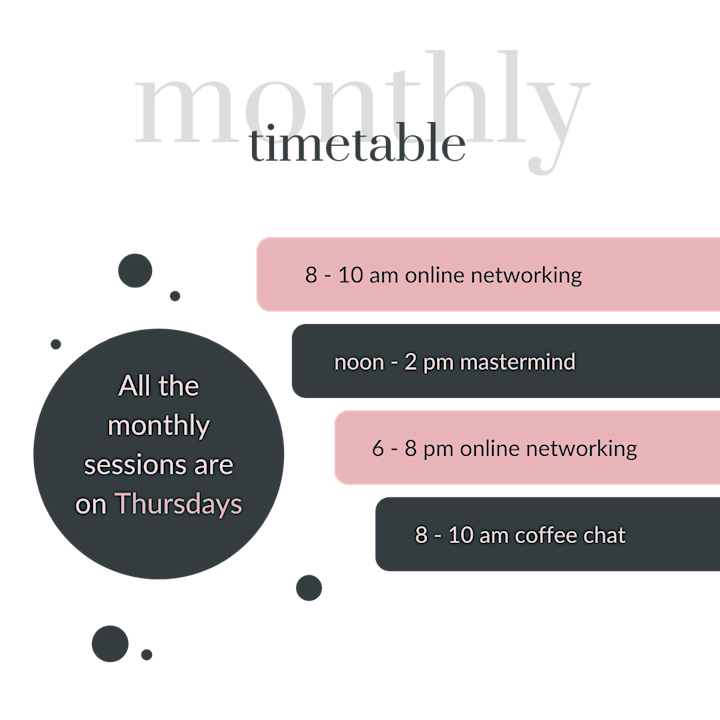 FAQ
Ahem, another Zoom meeting, why, tell me why?
Well, technically yeah, nah, yeah (just to quote Ozzy man), this is another Zoom meeting (however perhaps we're going to use Google Meets too) but it's not the usual boring BS meeting where Karen interrupts everyone with her ridiculous stories.
We do things a little bit differently. And we don't do the generic, 'hey, here's 10 minutes of golden nuggets (pitch in thinly veiled training disguise) from a member to educate you about something.
A, you couldn't care less about
B, is boring as hell
C, makes you wonder whether you should accidentally spill coffee all over the keyboard and escape the situation.
We actually play. Yep, you read that right. We do play.
Of course, we don't just play, but we start everything with a game. Because after all, we do have fun. So this is not another boring AF Zoom meeting.
Give it a go!

Shall I join this thingy?
Let me be clear. This is not for everyone.
YourBizBestie genuinely about helping each other, because let's face it, we're in the middle of a sh**storm.
A global one.
So no, you shouldn't join if
you know that you're an AHOLE
you think networking is telling everyone that you're the bestest and they should definitely work with you. Like right now.
you can't handle fun and take yourself too seriously
you're very easy to offend
you think you have all the answers to everyone's issues
you just want to pick everyone's brain with little to no return (a.k.a. you didn't know that you're an ahole but if this is you now you've recognised it. You're welcome)
you couldn't care less about your fellow members and don't really want to participate in things
you can't keep your mouth and tell others sensitive information you've learnt in the community and harm others with being a gossip
you're racist or homophobe
you rip people off
OK, so now we've clarified that let's talk about who should join
you're a somewhat funny person or at least don't hate having fun
you know you need some help because it's easier if you're not facing the same things alone
you're a freelancer or a small business owner or considering becoming one
you value the help of a community and want to be part of something bloody brilliant
you actually want to help others, not just in this community
you want to grow your business and having fun whilst doing it (otherwise you could always go back to have a job that pays the bills)
you're not afraid of being yourself and let people know you (well, at first it's ok to be a bit uptight)
you're coachable or willing to work on it (to get the best outcome from the hot seat sessions you should aim for that)
you genuinely open to suggestions and brave enough to tell people if they're wrong (don't rip their head off but saying comforting things just for the sake of it doesn't help anyone)
I needed to make this list the same length as the don'ts, so I guess accepting my idiosyncrasies is one of those useful things

What kind of games we're going to play?
Online ones. (I know, it was a weak effort from me)
Before I decided to make these events/sessions quite unique with the games I had a bit of research on what happens now on the 'let's meet online' market.
This is what I found;
s**loads of serious people trying to bring in referrals to each other and themselves with very serious faces.
lots of people jumped on the networking wagon and created their own version by copying all the established names
to find a good networking event is nearly impossible (not too stuffy, organised enough and gives you some kind of structure, without being really restrictive)
to join in a supportive community without taking on board the organiser's agenda leaves a lot to be desired
people shaking all the way during waiting to tell their elevator pitch, so they don't hear anything people say before them. In fact or after either as the experience is comparable to the Dementor's kiss, just sucking their soul out
Actually having fun and bonding with the members? No, I haven't seen that.
Apart from doing all the things a networking event, a mastermind and a coffee chat supposed to do for your business and your sanity, I wanted fun. (Basically, this trio already quite different from what you see everywhere else.)
So I got sucked into Google's loopholes of online games we possibly can play and saved those in my bookmarks. There are tons of games, if we want to, we can play a new game every single time over the year.
Have questions?
Ping me an email (viki@yourbizbestie.co.uk) and I'll happily asnwer your questions!
Date and time
Location
Refund policy