Welcome to company class with Russell Maliphant Dance Company.
About this event
Russell Maliphant Dance Company will be hosting online classes for a limited period of time from 1st Feb - 1st April. These classes will be led by Russell or dancers from the company - please see their details below.
Classes are focused on increasing body awareness, articulation and strength whilst exploring choices in movement and dynamics within a playful practice. Drawing on anatomical information as a resource for movement and improvisation, class will encourage connection, balance and listening to the body in movement.
The classes are suitable for professionals, dancers in training and those with a few years physical training or movement experience.
Each daily class will last for 75 minutes from 10:45 – 12:00 (GMT)
Participants must be aged 18 or over.
Cover Photo © Dana Fouras
Booking Up
Please individually register so that we have a clear idea of numbers attending the class each day to ensure there is - virtual - space for you all.
You can book and pay per class, or save money by booking a week of classes in advance.
£5 for one class
£20 for the week of classes
Support
Russell Maliphant Dance Company aims to create an inclusive environment that promotes and values diversity. We encourage all to participate and engage with our events. If you are unable to make a booking and need assistance due to visual impairment or any other disability, please let us know. We will be happy to assist you.
We are doing all we can to keep costs as low as possible and we do understand that cost may be a barrier for some. For those who would like to take class but are unable to pay, please email m.bynoe@russellmaliphant.com as we are able to offer a limited number of free places each day. Your information will not be shared.
Our Autumn programme of classes
Week 1: Monday 1st Feb - Friday 5th Feb
Week 2*: Monday 8th Feb - Friday 12th Feb
Week 3 : Monday 15th Feb - Friday 19th Feb
Week 4: Monday 22nd Feb - Friday 26th Feb
Week 5: Monday 1st March - Friday 5th March
Week 6: Monday 8 March - Friday 12th March
Week 7: Monday 15th March - Friday 19th March
Week 8: Monday 22nd March - Friday 26th March
Week 9: Monday 29 March - Thursday April 1st
Class will always be led by Russell Maliphant or an RMDC dancer.
* Week 2 will be taught by Russell Maliphant which will be recorded. Recordings will largely be used for internal use, but screenshots or a short excerpt may be used on our company website and/or social media platforms. If you have any questions regarding this, please get in touch with us.
Accessing the classes
Once you have registered and booked your selected class / classes, you will automatically receive an email with the link to join the session(s).
Please join via Zoom from 10.15 am with enough time to connect and settle in before the class starts at 10.45am.
Please use the same name on Zoom as you used to register on Eventbrite so that we can recognise you, and admit you to the session.
Make sure your sound is on.
We invite you to switch your camera on, however if you prefer to work in private, you may switch it off.
Select "Speaker View" on the top right corner of your screen to enlarge the teacher's image.
You can download Zoom by clicking on this link https://zoom.us/download
PLEASE DO NOT SHARE THE LINK – everyone will need to register for the class, we will admit you to the class each day. We can only do this if you are on our lists - please do register.
Health and Safety
Participants must be aged 18 or over.
Please wear loose fitting comfortable clothing that you can move freely in.
Find a comfortable space where you will not be interrupted for the duration of class.
Keep a bottle of water nearby.
Be aware of objects that could cause injury and clear these out of the area you will be moving in as much as possible. We appreciate that space may be confined and have taken this into account.
If you have these - we encourage you to use a yoga mat, knee pads or a cushion for floor work, although these are not essential.
Our Teachers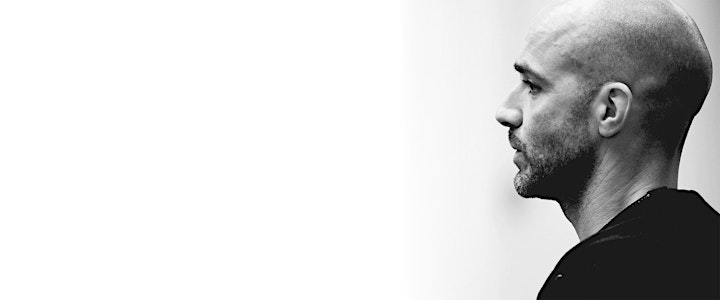 Russell Maliphant formed RMDC in 1996 and has been exploring movement throughout his career. His classes incorporate experiential anatomy and awareness for an improvisational approach to movement and training influenced through his studies in fascia and structural integration. He initially trained at The Royal Ballet School as well as The Rolf Institute in Boulder, Colorado. Photo (c) Panayiotis Sinnos.

Alethia Antonia trained at London Contemporary Dance School and Northern School of Contemporary Dance. As a freelancer, she has worked with James Cousins Company, James Wilton Dance, Heather Walrond Company, Chhaya Collective and Extended Play, alongside developing her own independent work. Alethia joined RMDC in 2019 and has been performing and teaching for the company since. Photo (c) Mickael Marso Riviere.
Edd Arnold trained at Rambert School before becoming a member of Balletboyz from 2017. He joined Russell Maliphant Company as a dancer in 2019. During the last 3 years Edd has also worked with Jose Agudo, Pascal Merighi, Tj Lowe, Thick and Tight and Michael Keegan-Dolan. Edd also creates his own work and teaches for RMDC on a regular basis.
Grace Jabbari trained at Rambert School, and has worked with Russell Maliphant Dance Company since 2015, in both commercial and company works. Alongside performing, Grace frequently assists Maliphant on choreographic projects, including 'Opus 131' on Lyon Opera Ballet, 'The Thread' and a new work on National Youth Dance Company. Other work includes: Holly Blakey, Mark Bruce Company, Florence and the Machine, Damien Rice, Dior, GAP, Selfridges and Marks & Spencer's. Photo (c) Dana Fouras.
Folu Odimayo trained at the Northern School of Contemporary Dance and has since worked with a host of choreographers and companies including Michael Keegan-Dolan and National Dance Company Of Wales. Folu joined Russell Maliphant Dance Company in 2019 for the creation and tour of Silent Lines.
Will Thompson trained at Rambert School and joined Russell Maliphant Dance Company in 2019. Through his career he has led class for various companies. He has also taught various youth groups of different abilities, led professional class at The Place on behalf of RMD and is currently teaching at Rambert School. Photo (c) Jack Thomson.
These classes are supported by Arts Council England, #HereForCulture, and John Ellerman Foundation.
Please submit any questions to: m.bynoe@russsellmaliphant.com
By joining Russell Maliphant Dance Company online company classes you declare that you are aged 18 or over, are in good health, and assume all responsibility for injury or damage that may result from participation in our online classes.

Organiser of Online Company Class with Russell Maliphant Dance Company