The Fashion Network and The Ecommerce Club in collaboration with Pimberly present an Online Customer Journey Masterclass!
About this event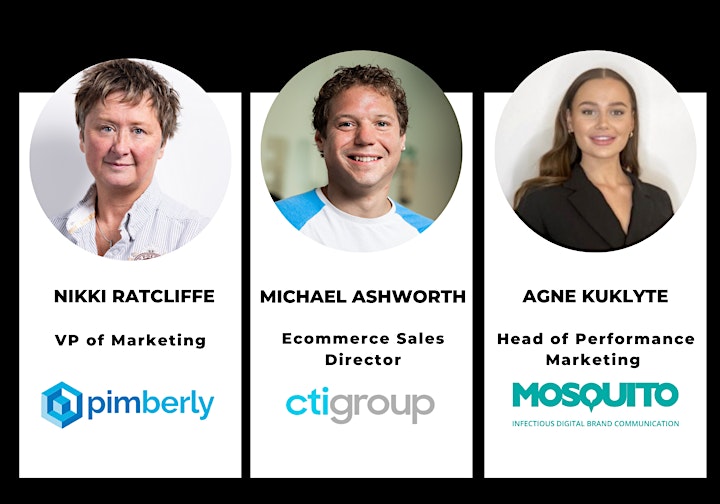 The Fashion Network and The Ecommerce Club in collaboration with Pimberly and CTI Group present an Online Customer Journey Masterclass!
In this interactive webinar we will look at all aspects of the customer journey, starting with the search process, through to the purchasing stage, ordering, delivery/pickup and then return (if required).
Our panel of expert ecommerce professionals will examine the consumer expectations, current industry best practice and will have a look at what technology there is on the market to aid retailers to provide a seamless circular buying journey.
Our Panel -
Discussion points -
Where does the purchasing journey start?
What happens after search?
A step by step walk through
How does good use of PIM help retailers to smooth the buying journey?
Returns how are things changing here?
Consumers biggest frustrations with the customer journey
Panellist Bios
Michael Ashworth co-founded ecommerce agency and web hosting provider Nublue with his brother Tom in 2005. They sold the business in 2019 to CTI Digital, where Mike now works as Ecommerce Sales Director, overseeing new business and helping clients to find the right solution for where they are in their ecommerce growth journey.
Nikki Ratcliffe has a degree from the University of Northumbria where she read French and Russian with International Business Finance and also holds the Postgraduate Diploma in Marketing from the Chartered Institute of Marketing. She has 14 years' experience of executive level marketing positions in the technology sector, including positions at Sharp Electronics (UK) Ltd, Xpert Systems and as Director of Marketing at Redstone plc, where she developed a commercially focused marketing function driven by its contribution to the achievement of business objectives. Prior to joining Pimberly, Nikki led the Marketing team at Jigsaw24, the UK's largest Apple and Adobe Systems Integrator.
As VP Marketing for Pimberly, Nikki has built and developed the Pimberly brand from the ground up. She is responsible for Go To Market Strategy and driving demand generation. With a strong track record of accelerating business growth for tech businesses, Nikki implements strategic marketing initiatives that drive full funnel pipelines.
Agne Kuklyte started working in the world of marketing at the age of 15, Agne has over 9 years of experience within digital marketing remit and has recently been awarded in Performance Marketing World 30 under 30 list. Following roles within social media, PR, email, content, SEO & paid media remits, she turned her focus towards leading fully-integrated campaigns which have racked up few awards along the way. With experience in B2C/B2B projects within retail, travel, automotive, third sector, pharmaceutical, higher education & martech industries in Europe & US, Agne uses her full-breadth of experience to guide brands strategically, across both marketing & wider business strategy, to deliver consistent growth against business objectives.