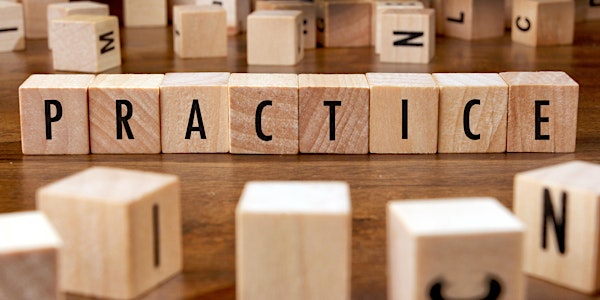 Online Deepening Practice Day - Self-Compassion
A quiet, peaceful day where course participants can explore and deepen their mindfulness meditation practice.
About this event
Taster Session | Introductory Workshop | Course | Continued Practice
IMPORTANT: This event is being delivered online via Zoom. Please read our Further Guidance around this before booking. Please also retain your Eventbrite booking confirmation email which will provide your Zoom access link.
Please note that we do offer a refund policy but it does not match the limited options offered by Eventbrite, please see the 'further guidance' link above for details on this.
Our continued practice workshops are an ideal next step for those who have completed a mindfulness course, offering an opportunity to maintain, deepen or reconnect with your meditation practice, to dedicate time and to come to value simply 'being'.
This day encourages you to tune into what you need for your own self-care. There will be guided meditations to breathe kindness into yourself, to bring compassion to others and an opportunity to create our own wishes for wellbeing laying the ground for Loving Kindness.
Practice Day Overview
These days include a series of guided meditations, periods of silence and gentle exercises supported by an experienced facilitator. Gently guiding you through the day, time is allowed for discussion, relaxation and on-line connection with old and new friends. These practice days have a theme that focuses the day towards particular practices that nourish your inner being and inspire your continued journey.
Join us for the day and an opportunity to…
Relax, refresh and rejuvenate yourself
Learn and experience new meditations and mindfulness practices
Nourish, cultivate and develop your continued mindfulness practice
Deepen your meditation practice and strengthen the skills learnt during your course
Develop your mindfulness and compassion skills to use in your daily life helping you become and remain calm, relaxed, focused and present.
Who is this day for?
This practice day is designed to support our course participants and graduates, or those with an established meditation practice. Recommended for current course delegates as well as for past delegates whose practice has waned or as a way to nurture and support your ongoing journey.
This retreat is not suitable for beginners, but we do offer a range of alternative events (including taster sessions and introductory workshops) which are ideal for those exploring mindfulness for the first time. Please check out our upcoming events for more details.
Please contact the course instructor to discuss any questions or concerns you may have regarding attendance on practice days. They will be happy to discuss your particular circumstances and how you may best be supported during the day. If a practice day is not felt to be suitable at this time alternatives suggestions will be offered to support your continued mindfulness practice.
Please note, certificates of attendance are available upon request.
Please click here for our further guidance around:
Commitment required in attending a mindfulness course.
Is it the right time for me to practice mindfulness, including details of times when care may be needed in joining a group mindfulness course.
Using Zoom, including guidance on accessing the training and troubleshooting
Practising Presence Online, how we ensure a supportive learning environment for yourselves and others
What further information will I receive?
What if I miss a class?
What is your cancellation policy?
How do I know if someone teaching mindfulness is appropriately trained?
I am considering training to teach mindfulness, will this event enable me to do this?
How your workplace might offer mindfulness training
Our Privacy Policy.
The Facilitator
The facilitator for this day retreat is Robert Broughton.
Robert has a personal meditation practice going back 36 years and started teaching meditation courses in 2009. Since then he has taught approaching 100 mindfulness courses within the NHS, Cancer Charities, Schools and to the public. He has also spoken about mindfulness in healthcare on many occasions and in 2014 he was invited to join Leeds University/White Rose Consortium for Mindfulness in Education research team as an expert member. Robert qualified as a mindfulness supervisor and mentor from Bangor University in 2017.