Please join us for an informative evening full of essential facts every woman should know about the menopause!
About this event
We're delighted to be online for this talk with guest speaker the Mindful GP, Dr Molefi.
The evening is also a fundraising event in support of Mandy Macqueen's 2020 London Marathon for our mental health charity The Counselling Foundation. We have some fabulous raffle prizes to win; all whilst learning the facts and helpful information about menopause.
Hot flushes, night sweats, erratic periods, vaginal dryness, weight gain, aching joints, mood swings, tiredness, anxiety, depression and forgetfulness - the list seems endless!
"Yes, we are talking about the menopause, and thank goodness we are now talking openly about it! It is no longer the taboo subject of years gone by."
Dr Molefi, a local GP and menopause expert, will share some insights and practical advice on how women can thrive during this monumental transition.
For most, the menopause is a natural phase in life that occurs generally between the ages of 45 and 55 years.
A woman's experience of the menopause is completely unique to the individual however, whilst some may sail through seamlessly, others can suffer distressing and debilitating symptoms that have a significant impact.
According to Dr Molefi, the key to a smoother transition during this important phase is a healthy lifestyle earlier on. This minimises the severity and intensity of menopausal symptoms and long term impact on the mind and body.
There will be a 45 minute presentation followed by the opportunity for you to ask absolutely any of your questions in a safe, friendly environment. Like our work with mental health, we want to eliminate the stigma associated with what has been a not so discussed, but hugely important topic and assure you that no questions are too small or embarrassing.
So please join us for what promises to be a good night and all for a good cause.
All proceeds from this key fundraising event are in aid of Mandy Macqueen's 2020 London Marathon run, which will support of The Counselling Foundation to provide a high demand subsidised counselling service offered by our mental health charity. www.counsellingfoundation.org
Find out more about our guest speaker for the night, Dr Wendy Molefi the Mindful GP here.
The cost of the talk is £15 plus booking fee.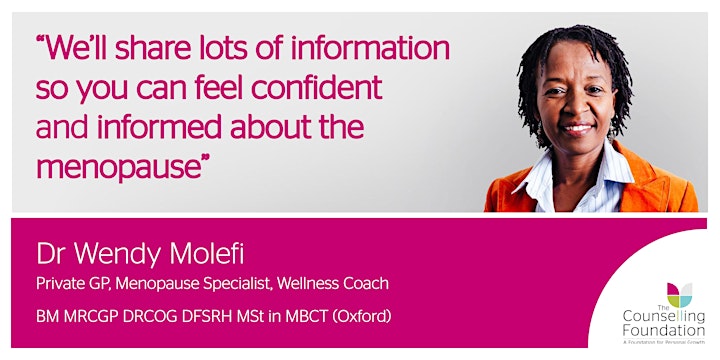 Date and time
Location
Refund policy
Organiser of Online Event: Approaching the Menopause Mindfully | Talk | Q&A