Join the FIRM team for this online event focused on hiring manager partnerships
About this Event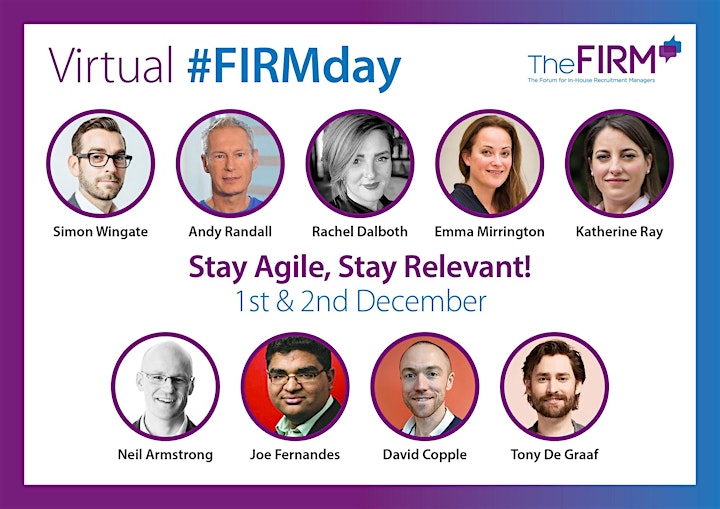 Registration begins both days at 9.00am BST
Each day closes 12.30pm BST
Sessions include:
"Using agility to stay one step ahead of your hiring managers"
Although things may be quieter now, it's a great time to build agile ways of recruitment for when the bounce back comes.
Agile strategies to navigate Covid and future proof for 2021 and beyond
- main challenges faced and why Covid was a business continuity issue
- short term changes we made to adapt
- looking ahead, how do we future proof our TA strategy?
Excelling at Recruiting in a High Volume World
It's no secret: the COVID-19 pandemic has triggered one of the worst jobs crises since the Great Depression, with unemployment rates going through the roof. The result, reported by recruiters worldwide, is a dramatic increase in the number of applications per job posting, with an over 1400% increase for some roles.
With a jobs recovery not expected by economists until after 2021, employers with job openings have an incredible opportunity to win great talent. But, how do they do this with a (smaller) team of recruiters, who now need to wade through hundreds, if not thousands, of applications per posting? Topics explored will include:• Defining Recruiting Enablement
• Driving more efficiency throughout the hiring funnel
• Nurturing top candidates when hiring is on hold
• Determining what quality of hire means for your company
• Protecting diversity and creating a sense of belonging in your candidate experience
• Adopting a data-driven, evidence-led approach to recruiting
Recruiting at the speed of change. How to increase your talent acquisition agility
• Increasing competition for talent and now Covid are driving more change in talent acquisition than ever
• Tribepad will share some examples of talent acquisition agility from their client base
• They'll also show some tools for handling volume and helping organisations deliver the kind of that allowed Tesco to handle 1 million applications in just one week
Agile responses to a changing market
2020 has changed the recruitment industry dramatically. Not only has the pandemic impacted jobseeking behaviour, but it has also forced recruiters to change their strategies. We will look at data which shows how jobseeking has changed, and what this means for recruiters' talent acquisition strategies. We will also discuss how businesses have demonstrated agility to recruit successfully through the pandemic.
Annual Membership Survey Insights
We reveal the results of our 9th annual membership survey – from TA strategic priorities through to employer branding and technology Emma shares what's hot and what's not for the world of talent acquisition in 2021!
How to stay on an Hiring Success Path in an agile business environment
In an ever-changing environment, it is important that you are able to be flexible. But how do you combine being flexible and keep building in the right direction at the same time? The answer lies within the Hiring Success Framework
Staying agile, resilient and adaptable in an ever-changing world
Join Katherine Ray from Talentology and our very own Rachel in this personal development session focusing on resilience, agility and adaptability. The session will provide insight into why these are becoming increasingly important skills for TA folk, and will get you thinking about your own mindset and how to build these skills for the future.
Plus not forgetting our popular virtual round table discussions and our fast paced speed networking!
There are so many benefits to attending a #FIRMday Event! But what we hope you take away from the two virtual half days is:
Great networking with in house recruiter peers
Understanding the key challenges facing in-house recruiters today
Upskilling/ capability building in a supportive and friendly environment
PLEASE NOTE:
By registering for the event, you will automatically receive updates from The FIRM regarding research, events and news. You can unsubscribe at any time.