Multiple Dates
Online Exercise Class with Ella Beaumont (WheelPower)
Join WheelPower and Ella every Thursday evening at 6pm to experience a free online exercise class from the comfort of your homes.
About this event
Ella will be taking us through a short 40 minute workout aimed at keeping you fit and active. No experience is necessary, and everyone is welcome. Members of your household can join in too!
Our Weekely Evening Exercise Class featured on the BBC One Show (May 2021)
Provisional programme:
11:00 to 11:05 - Welcome and introduction
11:05 to 11:45 - Workout (approx. 40 minutes)
11:45 to 11:55 - Q & A opportunity
11:55 to 12:00 - WheelPower programmes
Location
In your home or garden!
Equipment
A laptop/computer or phone to access the class via Zoom.
A bottle of water
Some weights (or something that can act as a weight, for example, two tins of beans, bottles of water etc)
A broom (or something similar)
Preferably a theraband or resistance band (or something similar, ie. something that can be stretched out, tights are a good substitute or even a tyre inner tube!)
WheelPower's Weekly Workout Schedule:
Tuesday - 11am: Fitness Class with Ben Clark (from AdaptToPerform)
Wednesday - 11am: Yoga Class with Nina Boswell-Brown (from SittingFit Yoga)
Thursday - 6pm: Fitness Class with Ella Beaumont (from Ella's Wheelchair Workouts)
Charity Number
265498
Your privacy
We will always store your personal details securely. We'll use them to provide the service that you have requested, and communicate with you in the way(s) that you have agreed to. Your data may also be used for analysis purposes, to help us provide the best service possible. We will only allow your information to be used by suppliers working on our behalf and we'll only share it if required to do so by law. For full details see our Privacy Policy or contact 01296 395995.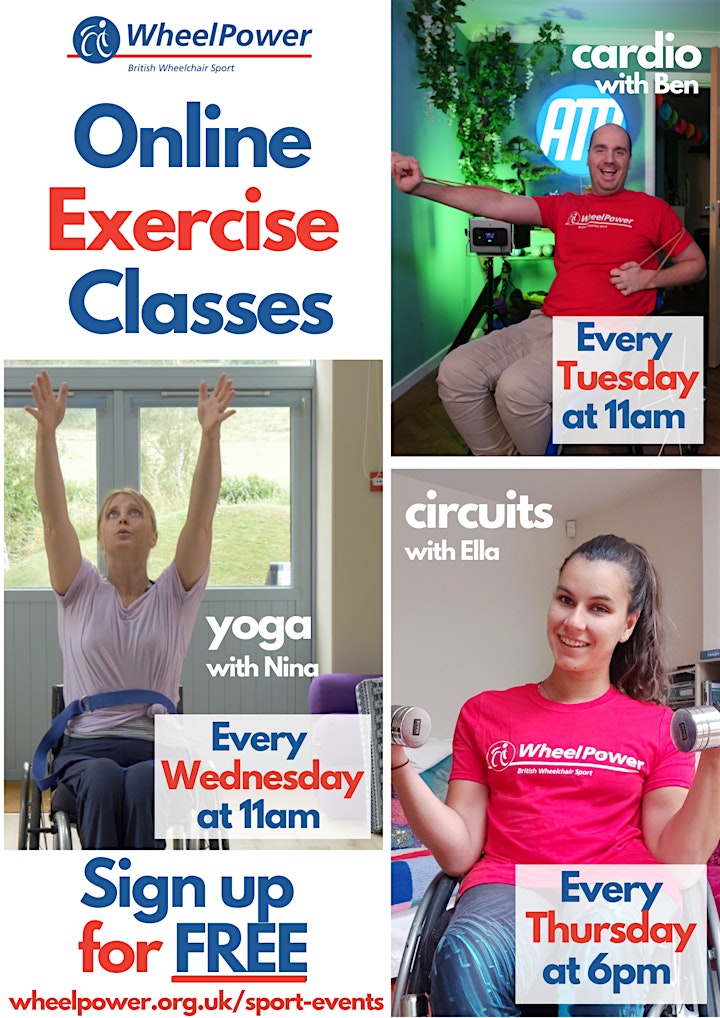 Organiser of Online Exercise Class with Ella Beaumont (WheelPower)
WheelPower is the national charity for wheelchair sport. Providing opportunities for disabled people to play sport and lead healthy active lives.
We have been providing opportunities in sport for people with physical impairments for over 70 years.
Based in Stoke Mandeville, the home of the Paralympic movement, WheelPower is at the heart of wheelchair sport.