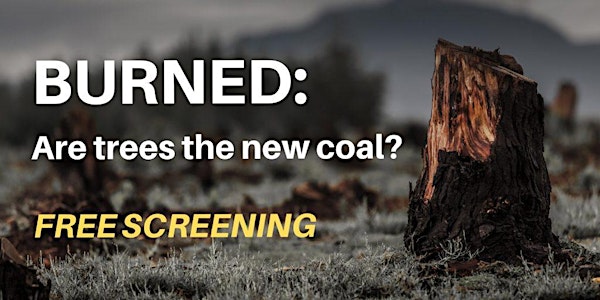 Online Film Screening of 'BURNED: Are The New Coal?'
Online Film Screening of "Burned: Are trees the New Coal?"
About this event
UK power stations receive over £1 billion every year in renewable subsidies to burn trees as biomass energy. But should burning trees in power stations really be considered renewable energy? What impact is the UK biomass industry having on forests around the world? And what is burning millions of tonnes of wood pellets doing to the air we breathe?
To find out more, please join Biofuelwatch, Cut Carbon Not Forests and Bristol Friends of the Earth for an online screening of the award-winning documentary "Burned: are trees the new coal?" with special guest speakers.
BURNED explores the biomass industry in the Southern USA, and how Drax Power Station in Yorkshire is a major player in tree burning in America and across the world. The film tells the story of how woody biomass has become the fossil fuel industry's latest attempt to greenwash itself as part of the climate solution, and of the people and parties who are both fighting against and promoting its adoption and use. It also explores how government subsidies are propping up the industry.
We'll also be joined by Mac Legerton and Donna Chavis, two activists from North Carolina who have seen the destruction of the wood pellet industry first hand. They'll tell us about what they have experienced and take questions after the film has ended.
The full-length, 1 hour and 15 minute version of the film will start at 6:40pm GMT. Our guests will begin speaking at 8pm and the whole event will finish before 8:30. All are welcome!
Find out more: https://burnedthemovie.com/