Learn what the measurement and metrics mean and possible actions to take to enhance your marketing objectives.
About this Event
HOW DOES THIS WORK?
We have been delivering training courses throughout the UK for the past 5 years and the same courses are now available online. You can choose between a scheduled course or book a bespoke session for you or your team.
Each session is customised and well suited for individual or small groups. All sessions are practical and save you the cost and time of travelling.
4 hours live online workshop
Delivered in a small group of 4
Interactive sessions and you can ask questions
Training content will be shared with you after your session
1-to-1 optional consultation after the course to answer any specific questions
WHAT WILL I NEED?
Online conferencing set-up. We will send you the link to join the course.
Speakers and a microphone
OPTIONAL – A webcam
If you prefer to book online training other than the date scheduled, we can help with that too. Get in touch to discuss.
═══════════════════════════════
Wouldn't it be great to find out the source of your website traffic and conversions?
Google Analytics helps you analyse visitor traffic and helps you to understand your customers better. Most importantly, it will help you to track your customer's journey throughout the purchase cycle, which makes it easier for you to help your current customers and win new ones.
With Google Analytics you can define goals, match customer journeys to site usage and extract actionable insights from the data produced by your website. In this training, you will learn what the measurement and metrics mean and possible actions to take to enhance your marketing objectives.
 With our Google Analytics training, expect to reduce your customer acquisition costs and spend on your best-performing channels. 
✔️ Find out more about our Google Analytics Setup Service 
Who is this workshop suited to?
Digital Marketers, Directors, Managers
 What will you learn?
 Quick Introduction
Which metrics are significant to measure for your website?
Google Ads integration with Google Analytics
Using filters to include and exclude traffic  
Customers Acquisition
Analysing traffic sources: Direct, referring sites, and search engines
Channel Grouping and how to set them up
Custom URL tagging for email, social media
E-commerce tracking and conversion reports
Funnel Visitations to improve conversion 
Customer Behaviour
Search console report – getting insight on search queries
High traffic pages and how to monetise them
Find out what keeps users engaged with behaviour flow on site  
Customer search phrases onsite
Mobile visits vs desktop visits
Segment your data, understand the business trend and respond
Using the secondary dimension and pivot view in reports
Creating a remarketing list 
In-depth Audience analysis
Geography / Language – your most valuable region
Demographics – you most valuable customer age/gender
Frequency & recency of users – how many visits are needed to convert? 
Conversions Analysis
Different types of goals for different types of businesses
E-commerce goals 
Custom Alerts & Real-Time Reports
Real-Time reports
Custom alerts to stay on top of trends
Create annotations to keep track of your discoveries 
Reports / Dashboards
The key reports to use
Social traffic in reporting
Event reporting
Data exporting to your stakeholders
Creating custom reports and dashboards suitable for you 
Conversion Attribution
Multiple sources in a conversion path
Different options for attribution models 
Connecting Google Analytics with your Digital Marketing Plan
Using Google analytics support your marketing objectives
KPIs to track with Google Analytics
Creating a measurement plan 
Introduction to Google Tag Manager 
Prerequisites for this course
Typical attendees are digital marketers, company directors and managers. No previous experience of Google Analytics is needed, though it's expected that you will have a website already running Analytics.
═══════════════════════════════
Looking for a bespoke course? We are happy to provide in-house Amazon training to you and your team.
Call us on 0161 3272 923 or 0751 88 39629 Please note by booking a ticket to this event, you agree to our event T & Cs ( Please read )
 * Register as an Individual, if you are not VAT registered.  
TESTIMONIALS   
| Ted Harris, Cheetham Music School
Helped me build on the knowledge I already had. Prabhat was interesting and affable. Very fluid session which allowed me to focus on what was important to me.
| Frances Bibby, Social Comms
Prabhat is a very genuine and patient person with a wealth of digital and eCommerce marketing experience and knowledge. I've been to one of his conferences and one of his workshops and each time left having learnt something valuable. His events are educational but also fun and welcoming, a good community to get involved with. 
| Ashley Toth, Burntwood
I recently took part in a Google Analytics training course given by Prabhat which thoroughly covered all the basics of the platform. Prabhat had clearly done his research into the company I work for (along with the other student's business) and was able to relate the different tools and functions of Google Analytics to our key goals and how we might best take advantage of GA. I would recommend this course to anyone looking to gain a better understanding of Google Analytics and how it can benefit your business.
Just a few of the fantastic organisations who've attended our previous training.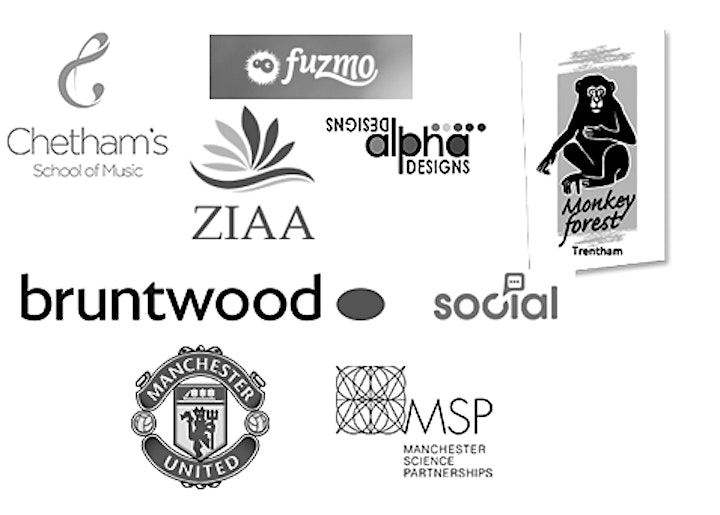 Date and Time
Location
Refund Policy